A Museum Of CANDY Is Opening & The Details Will Make You Want To Prepare Your 'Grams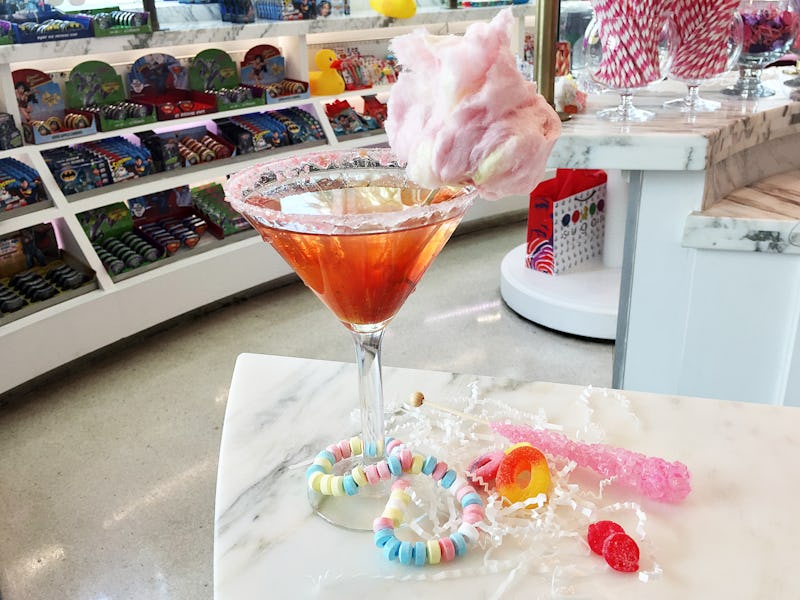 Courtesy of Sugar Factory
Let's be honest with ourselves: when we were younger, we all wanted to live in Willy Wonka's chocolate factory. We wanted to lick Wonka's wallpaper. We wanted to swim in his chocolate river. We all wanted to brave the risks and sample Wonka's Fizzy Lifting Drinks. While we won't be touring Wonka's factory anytime soon (except for in our dreams), there's a more than suitable alternative on the way: Sugar Factory is opening the Museum of Candy this summer in New York City's Limelight Club space, according to a press release from Sugar Factory emailed to Bustle.
If you need a little refresher, Sugar Factory has both restaurants and stores all around the globe dedicated to candy madness and all kinds of out-of-the-box dishes. A quick gander at their online menu reveals excessive, over-the-top, and 100 percent fantastic items like cocktails decorated with candy and something called the Apple Pie Waffle, which definitely sounds like something I want to be involved with. If their menu is any indication, might we expect the Museum of Candy to be equally awesome?
YES.
According to their announcement, the museum will feature more than 15 "experiential rooms" with various themes, a dessert marketplace (the first in the world!), a restaurant, outdoor cafe, edible murals, and — brace yourselves — a candy-themed unicorn and the world's largest gummy bear.
It sounds like heaven on earth — so good that I'm not sure how anyone could come up with it; but according to founder Charissa Davidovici, lots of people contributed to the original concept of a museum for candy. She says in the announcement, "The idea to create a Museum of Candy originated from the imagination of my inquisitive children and my own personal dreams about a magical candy land." She also explains the idea partly came from seeing how many people have loved taking photos with Sugar Factory's iconic, life-size Candy Dot wall, as well as their imaginative menu items.
Behold: the wall.
While New York is the starting point, Sugar Factory plans to add two more locations in the future. It will be a tastebud-tingling experience both delicious and pleasing to the eye. And let's face it: any restaurant that features a 24-scoop ice cream dessert called the King Kong Sundae deserves its own museum (or three).
Outrageous? Abso-friggin-lutely. But look at how it sparkles.
While the Museum of Candy looks to be the first of this kind, there are indeed other museums devoted to giving you a serious sugar rush. The Dessert Museum, located in the Philippines, is made of eight sweet rooms and features a sprinkle slide, candy cane groves, cotton candy picking, and sample tastings, according to their website. You had me at sprinkle slide.
There's also the Museum of Ice Cream, with locations in Miami, San Francisco, and Los Angeles. You should know they have a swimming pool of sprinkles. No life vest needed. Yes, this is real life.
What a time to be alive! If you try to tell me one of your biggest dreams in life hasn't been to swim in a pool of sprinkles, I will choose to believe you are lying to me.
With Sugar Factory's worldwide presence and a lengthy list of celebrity visitors, it's safe to say the Museum of Candy will be beyond impressive. While the website is up, there's not much to it yet, as the announcement was just recently made. You can expect updates in the future, though. Tickets will include candy and dessert tastings, and you should keep on eye on the museum's site and social media pages for more information about the grand opening. Make sure you arrive hungry.