Jennifer Morrison Hasn't Struggled As A Female Director, But She'll Fight For Those Who Are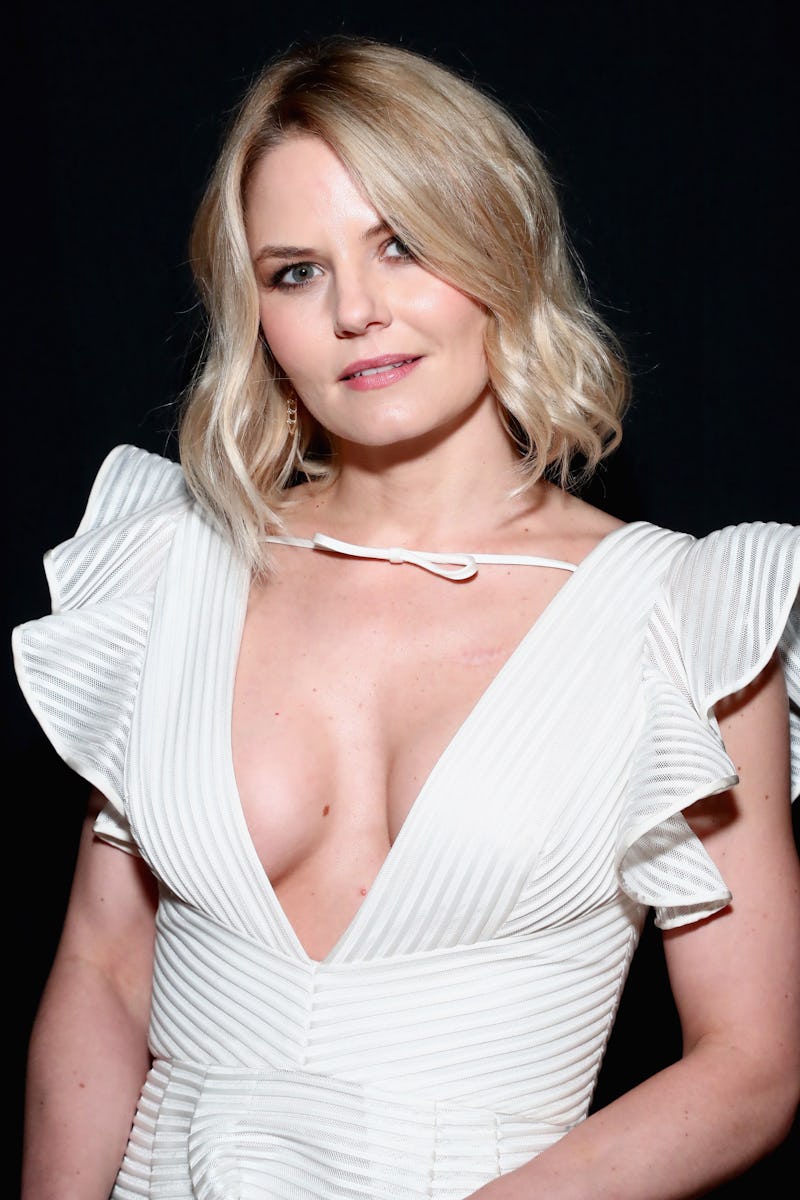 Astrid Stawiarz/Getty Images Entertainment/Getty Images
It's been almost a year since the announcement that Jennifer Morrison would leave Once Upon A Time after six seasons with the show, and her career hasn't slowed down since. The actor's feature directorial debut, Sun Dogs, premiered at the 2017 Los Angeles Film Festival, and the movie will be available to stream on Netflix on April 6. Morrison is clearly at home both in front of and behind the camera — but she isn't taking the fact that she has the opportunity to delve into the directing world lightly.
"It would've probably been a much harder journey had I done this 10 years ago," Morrison says in a recent phone interview. "Because I wouldn't necessarily have the support that I'm getting. I wouldn't be any less talented or any less capable, but perceptions may have been in the way of me being able to do the sort of things that I'm doing."
Currently, the sort of thing that she's doing is directing the likes of Allison Janney, Melissa Benoist, Ed O'Neill, Xzibit, and Michael Angarano in Sun Dogs, a film about a mentally disabled man whose patriotic desire to save lives by joining the army in the wake of September 11 leads him on a misguided adventure. Morrison is also been working on her first script, as well as more directing projects like the upcoming film Fables. Despite the dire statistics for female filmmakers in general, Morrison says her own experience moving behind-the-scenes has been largely positive — but that doesn't mean that she can't affect change so that her journey can be shared by other women.
"I've been very lucky that along the way there have been incredible people who have stepped up behind me and supported me, that have been a combination of men and women," she says. "I obviously want to keep championing putting female voices in the world and I want to keep putting great female characters in the world... I feel very lucky that it's the time when women are getting their chance."
Of course, times aren't perfect. According to an annual study conducted by the Center for the Study of Women in Television and Film at San Diego State University, of the top 250 domestic grossing films of 2017, women only accounted for 11 percent of directors. In fact, of all "directors, writers, producers, executive producers, editors, and cinematographers" on those 2017 films, women only made up 18 percent — one percent less than the amount that worked on films in 2001. In the past, female filmmakers were an accepted rarity, but these days, the Center's annual report causes outrage and real demands for change, not just passive acceptance.
And while Hollywood might still be slow to make progress, that doesn't mean that people like Morrison can't help by creating more opportunities for women behind the scenes. Due to her success with shows like Once Upon a Time and House, the actor has a platform, and you'd better believe that she's using it.
"You want to be in a business and in a world where everyone's voice is considered and everyone's stories are told and all perspectives are considered and equally weighted," she says. "And since we aren't there, and since I am a woman and I'm in a position where I've earned some visibility, I feel a responsible to stand up for all the other women that I believe in as well."
For that reason, Morrison was a 2017 HERLead Advisor, for an organization that is "designed to equip young women with the leadership skills they need to effect global progress, invest in their communities, and begin their journeys as the next generation of leaders." She joined other actors in wearing black to the Golden Globes in support of the Time's Up Movement. On Twitter, meanwhile, she's expressed support for Lady Bird director Greta Gerwig, How to Get Away With Murder star Viola Davis, and Jurassic World star Bryce Dallas Howard. She's also supported Dessember, a movement to raise money to raise awareness and eradicate sex trafficking, using "fashion to advocate for women who've been exploited for their femininity." To follow Morrison on social media is, essentially, to be as socially aware as she is.
The passion that the actor displays for uplifting women's voices is perfectly in line with what she considers to be her ultimate purpose in life: creating and building connections between humans. So many of the characters in Sun Dogs — Ned and those around him — are searching for something to give them purpose, and, in telling Ned's story, Morrison has been working to fulfill her own.
"I'm fascinated in the idea of participating in and encouraging intimacy," she says. "I think that we're all looking for that [human connectedness] in some way in life, and if you can tell stories that represent the possibility of that kind of intimacy, you're going to encourage putting that in the world."
That search for connection is present between the characters in Sun Dogs, and it's certainly at the heart of Once Upon A Time. The closeness between the cast and crew of the show has always been obvious, which is why it comes as no surprise that Morrison will return for the Once Upon A Time finale even after her exit from the show. She's wished OUAT co-star Colin O'donoghue a happy birthday, designed a OUAT shirt to raise money for Jacobsen Syndrome research, and even thanked the creators for allowing her to work on the show months after her final episode aired. On and off the screen, Morrison clearly places value on the connections that she has made.
But even as she steps back onto the set of one of the shows that made her beloved to so many, Morrison is still moving forward. While she doesn't know yet what her next project will be, there's an aspect of filmmaking that she's interested in exploring. "I'd actually like to do something with a little bit more action," she says. "I feel like that's definitely in my future."
Whether it happens now or a few years down the line, there's one thing fans can be assured of: Morrison will be using her opportunities to champion for others any way that she can.