Sunday Riley's C.E.O. Rapid Flash Serum Is Vitamin C Magic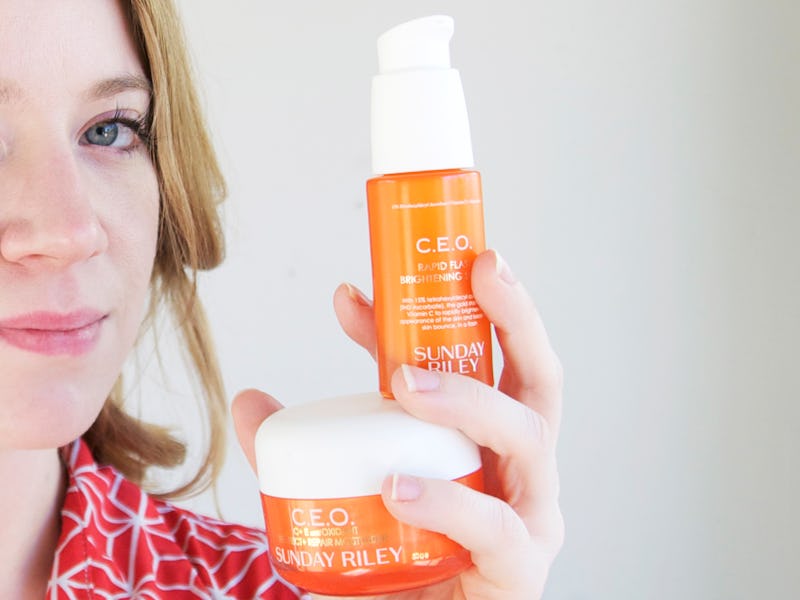 I remember the first time I met Sunday Riley, the Texas-bred, chemistry degree-wielding woman behind the eponymous brand beloved by pretty much every beauty editor in the industry. The first thing I noticed? Her skin, obviously.
Girlfriend has brilliantly mastered the whole "lit from within" thing we all strive for with every scrub, slather, and blend. If I'm being completely honest, it was actually hard not to be distracted by her luminosity while talking face to face about the line. I mean, seriously, rumor on the street is that she's actually been using anti-aging products since before turning 13. Talk about dedication to her craft.
In any case, every time Sunday Riley — the company and the woman — launch a new product, it's a highly anticipated event that warrants a confetti-doused celebration. Much to the delight of brand fangirls and the greater skincare obsessed community, Sunday Riley has launched two new products within the last four months, and both have earned quite a bit of buzz. I'm talking, of course, about their C.E.O. lineup, which consists of the C.E.O. C + E antiOXIDANT Protect + Repair Moisturizer, which hit stores in late December, and the serum counterpart, C.E.O. Rapid Flash Brightening Serum, which just launched on April 4.
C.E.O. C+E Antioxident Protect and Repair Moisturizer, $65, Sephora; C.E.O. Rapid Flash Brightening Serum, $85, Sephora
We'll start with the moisturizer. This is only the second moisturizing cream from the brand, the first being Tidal Brightening Enzyme Water Cream. which was launched in the winter of 2016. The primary difference between the two moisturizers is that C.E.O. is a bit heavier. It's oil-based instead of water-based, and it's formulated with 5% tetrahexyldecyl (THD) ascorbate, a more stable, lipid-soluble derivative of vitamin C.
Tidal Brightening Enzyme Water Cream, $65, Sephora
For those unacquainted, vitamin C (l-ascorbic acid) is a powerhouse of an ingredient, but it's often quite expensive due to its finicky, volatile nature. As noted, the C.E.O. moisturizer and serum use THD ascorbate, which is a derivative of vitamin C that boasts many of the same benefits. In addition to being more stable, THD is actually able to penetrate the skin more effectively since it's lipid soluble.
Like vitamin C, it protects and treats skin from UV exposure and nasty stuff in the environment, increases collagen levels, and brightens skin while reducing melanin production. At the end of the day, it makes for fewer wrinkles and sunspots, as well as a brighter, more even complexion.
Then there's the C.E.O. Rapid Flash Brightening Serum, which I am very excited about. I think it might be one of my favorite products from Sunday Riley (right up there with Good Genes, Ceramic Slip and Martian) because it does a stellar job of what the brand promises: Immediate results and long term payoff.
Like the moisturizer, it contains THD ascorbate, only in a much more concentrated dosage. Where the moisturizer has a five percent concentration, the serum boasts 15 percent. It also contains "saccharide isomerate extract" to reduce pore size and boost skin barrier function, glycolic acid to refine skin and support cell turnover, and "phytosterols complex" to reduce redness and sensitivity.
I apply C.E.O. Rapid Flash Serum after I cleanse and tone and before I apply a moisturizer (and yes, I've been using both C.E.O products in my lineup for the past couple weeks). The formulation feels less viscous and more creamy compared to other serums out there, and as you can see, is white instead of clear.
Once applied, I can feel an ever-so-slight tingling sensation, and I can actually see a noticeable difference in my skin almost immediately. It looks hydrated, of course, but it also looks fresher and brighter. I also like knowing that with extended usage, the vitamin C will do its magic to improve my skin and keep me looking younger for longer.
Both of these products promise to even out complexion, boost hydration, and protect and treat skin from the environment and sun exposure. The moisturizer is worth a try, but if you're only going to try one now, I would opt for the serum primarily because of the immediate results and the higher vitamin C concentration. I'll just go ahead and call it: This product will be a major favorite in the Sunday Riley lineup — all you have to do now is get your hands on it.