This Filipino Beauty Brand Only Makes One Product & It Keeps Selling Out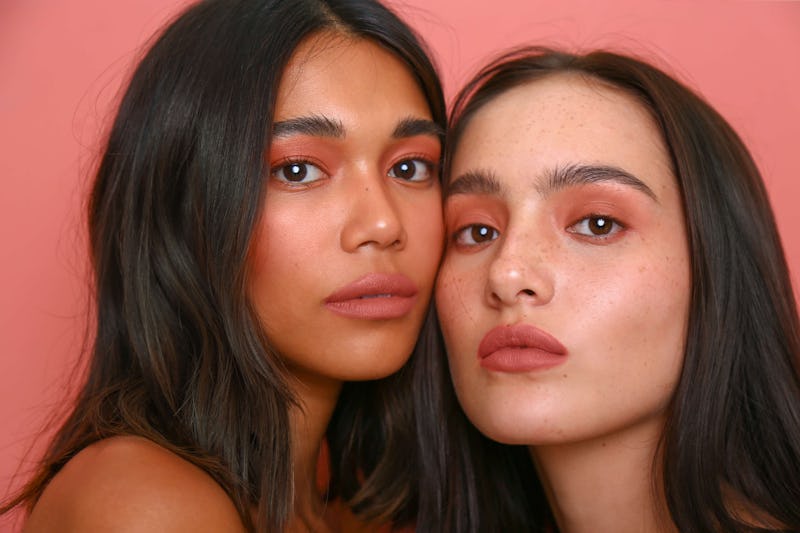 Sunnies Face
When Sunnies Face, a lipstick-only brand, officially opened for business on Aug. 8, the founders of the company did not anticipate their website breaking down. After all, they had only revealed the brand's existence to the public a mere seven days earlier when they posted their first Instagram photo. A week later, customers flooded sunniesface.com so aggressively and so en masse, that all of their Fluffmattes (the adorable name of their lipstick) sold out in less than 15 minutes. The unexpected amount of activity caused the website to go completely dark.
But should it really come as a surprise that Sunnies Face experienced such immediate fame? It had all the makings of a successful millennial beauty company, even before it sold its first lipstick. The branding, for one, was just the right amount of retro and minimalist, from the logo to the packaging. The company sells one single product and yet it feels inclusive. There are only nine, super wearable shades in one "weightless modern matte" formula, all of which were tested to be "universally flattering" on all skin tones, according to the brand. At less than $7 a pop, they're also pretty affordable. And then there are the founders of the brand — social media famous It girls with a combined following of almost four million and a slew of already thriving businesses under their belt.
If these characteristics remind you at all of Glossier, you're not wrong. There are a lot of similarities between the two brands, from the art direction (chic minimalism) to their sales models (limited drops followed by restocks). But here's the thing — you can't get a Fluffmatte in the United States. Sunnies Face is based in the Philippines and it's hoping to turn the Filipino beauty industry on its head the way Emily Weiss' brand did for the U.S. in 2010. While some have called them out on being copycats, Sunnies Face thinks imitation is the sincerest form of flattery. (Bustle reached out to Glossier for comment, but did not receive a response at the time of publication.)
"Glossier is a brand we look up to," Martine Ho, Creative Director and one of the founders of Sunnies Face, tells Bustle over email. "They're a modern beauty company changing the skin care conversation. We love how approachable they are when it comes to their customers; we share similar core ideas — be it design, product-led marketing, providing a new customer experience for the 2.0 consumer. They're game-changers, and we feel that any brand that isn't inspired by what they've done isn't looking in the right direction. They inspire us and we would consider ourselves lucky if we're able to add to the conversation they started."
But don't get it twisted — Sunnies Face is not trying to become the Glossier of the Philippines. While Ho says they were inspired by the skin care-first brand, Sunnies Face was developed by color-obsessed women for color-obsessed consumers. It's makeup first. To communicate this obsession, Ho and her co-founders — Georgina Wilson, Jess Wilson, Bea Soriano-Dee, and Eric Dee — decided that launching with one core product would be the most effective (and perhaps savviest) way, especially among millennial and gen Z shoppers.
"We wanted to start with a single product that shows what we stand for as a brand, which is the best-of-the-best formulas, really wearable colors, and minimalist packaging," Ho explains. As beauty influencers and consumers themselves, Ho and her co-founders found makeup to be "overwhelming at times" with the seemingly endless product selections from major beauty brands. "We wanted to give our market that room to breathe, to be able to live and understand our product," she says.
Even though Sunnies Face only sells one kind of product (for now), it took them two years to develop Fluffmate. "We started with over 350 testing colors in over 22 different formulas. It was non-stop testing on each and every skin tone," Ho says. "From Caucasian tones, to light-skinned Asian complexions, to fairer mestizas, to warmer tones, to richer morena skin — we tried it on everyone." If a color didn't fit a certain undertone, Ho says they eliminated it until they narrowed it down to the nine most wearable shades that "looked good on everyone."
In a country where colorism very much still exists, Sunnies Face's purposeful decision to create lipstick for people of all skin tones, a la Fenty Beauty, is considered pretty progressive in the Philippines. "Already tried out diff brands & shades of lippies and only some would fit me bcos of being morena. I'm just so happy that @sunniesface have created shades that would fit anyone [perfectly]!" one customer tweeted about the range. Their choice to also feature not just light-skinned women in their ads is a monumental move, especially in a market where there are still countless beauty ads targeting you to "whiten" your skin. Sunnies Face is all about embracing your natural beauty, and it's clear that the company's messaging resonates with young beauty consumers in the Philippines.
It's only been three months since Sunnies Face launched, but the buzz they've created is one that most new brands could only dream of. Ho tells Bustle that they could not have predicted how big of a hit Sunnies Face would be. In addition to customers breaking the website within minutes of launching, they also flocked to the two brick-and-mortar shops the brand opened in Manila shopping centers. Videos posted on social media showed lines of people wrapping around the mall and inside the store, waiting for their turn to swatch and pose for photos.
Ho believes that Sunnies Face's biggest challenge is figuring out how to keep up with market. "It's so overwhelming and our team is working extra hard every day to catch up with the demand. It's amazing and we're really thankful for all the support we've gotten," she says.
So, what's next for Sunnies Face, once they catch up with demand? "Definitely more makeup," Ho promises. On the website, Sunnies Face is currently offering a frosted packaging version of Fluffmate for the holidays, but there's no news of any new products as of press time.
Ho also mentions a hopeful move to the American market. "We can't wait to bring Sunnies Face to North America and have everyone try it," Ho shares. Unfortunately, Americans will have to wait a while. According to Ho, they have no tentative date yet but they are working to bring Sunnies Face stateside in the next coming years. "Sunnies Face, as is the rest of our brands at Sunnies Studios, have always been intended for the world to enjoy, not just here in the Philippines." Get ready, everyone — Sunnies Face is coming.