'Supernatural' Is Ready For A Female-Focused Spinoff & You Can Get A Taste Of It Tonight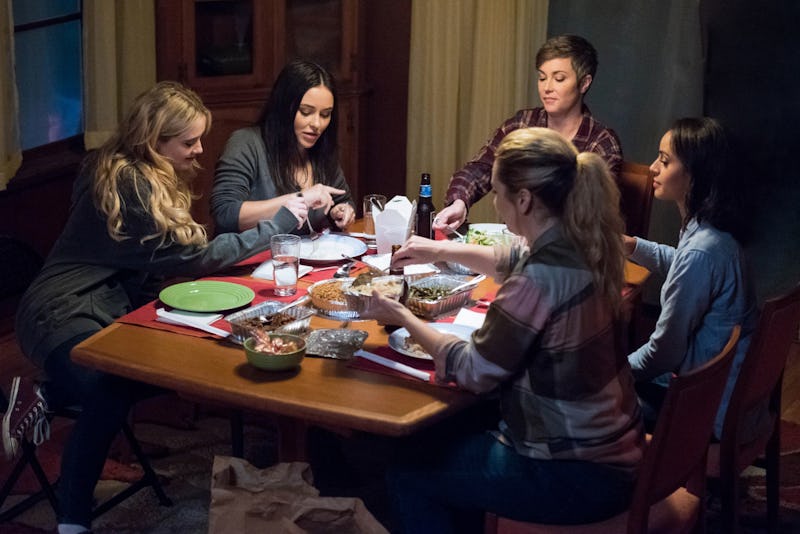 The CW
It's time for a little bit of female empowerment on Supernatural, and that's something we can all use right now... even Sam (Jared Padalecki) and Dean (Jensen Ackles). The Winchester brothers found themselves in a bit of hot water when The CW series went on a break for the holidays. The midseason finale, "The Bad Place," ended with Sam and Dean accidentally getting thrown into another dimension full of monsters with no way out. The Supernatural midseason premiere "Wayward Sisters", which will double as a potential backdoor spinoff for the all-female led Wayward Sisters, finds Jody Mills (Kim Rhodes) rounding up all her pseudo-daughters and fellow monster-hunting law enforcement sister Donna Hanscum (Briana Buckmaster) to find the Winchesters, because honestly, who run the world? Girls.
The episode opens with Claire Novak (Kathryn Newton) hunting on her own, and she's doing a pretty good job minus a few cuts and bruises. But then Jody calls her. "It's Sam and Dean, they're missing," she tells Claire. "They were on a hunting trip and I haven't heard from them for a few days. It's time to come home." Those words may sound familiar to Supernatural fans — it's how the series first started 13 seasons ago when Dean brought Sam back into the family when their dad John Winchester (Jeffrey Dean Morgan) went missing.
"It's a direct homage to the beginning of Supernatural in how it's coming together," Ackles says about the potential new spinoff series on the Vancouver-based Supernatural set. "I love that aspect of it, that the genesis of both of [the shows] are very similar in that aspect."
While Ackles admits that "obviously the stories will be a little different," it's the heart of Supernatural that is mirrored in Wayward Sisters. "It is this gathering of characters to go and save their friends, their family," he says. "So right then and there that's a great foundation to build stories on." And Padalecki adds with a wry smile, "It worked for us, I guess."
Padalecki is excited for fans to get to see the female characters of Supernatural get the spotlight, first in the midseason premiere and, if The CW moves forward, with their own spinoff series.
"We get to see these girls flushed out quite a bit and see what their world is like," he says. "And the return of some characters that we introduced this season with Patience [Clark Backo] and with Kaia [Yadira Guevara-Prip]."
Buckmaster thinks the timing is perfect for an all-female version of Supernatural. "I think it's part of what's growing in media right now, having women storytelling, and telling things from their point of view," she says. "It's something that I certainly was looking forward to, telling a story from a woman's point of view."
Since a majority of the Supernatural fanbase is female, Buckmaster is happy to finally give viewers a story and characters they can relate to. "It's going to give the fandom an opportunity to feel like they're telling their story," she says. "I think it's going to make them feel more involved and it's going to get them more excited about the show, if that's humanly possible."
Since Wayward Sisters lives in the same world as Supernatural, Buckmaster doesn't think it will feel like a different show compared to Supernatural. "I think that it's very similar in tone," she says. "I wouldn't say that it's a drastic change, other than it literally is coming from a female point of view. The stories are still in the same vein of Supernatural, so I don't think it's going to be this huge shift for the fans. I think it's going to be just slightly heightened."
But what Buckmaster is most excited for fans to get to see is how badass all the females are. "The women in the pilot are not there to solely serve the Winchesters or to serve any men; they're there to help others and save themselves," she says with a smile. "That's an exciting opportunity for the viewers to see six regular women from all walks of life learning to save themselves and be their own heroes. I think now is the time that television and movies are discovering that a lot of women want to have their stories told by women; they want to have their voices heard."
Both Padalecki and Ackles are so psyched for the spinoff that they're already campaigning to have more crossovers with Wayward Sisters in the future. "I hope to God to do it," Padalecki says. "I became a fan of Supernatural and as a fan of Supernatural I would love to help it keep going with the Wayward Sisters and vice versa and have them come back to our show."
Ackles adds that "everybody's really excited to be a part of this. I think if we can certainly help them get their foothold, then absolutely." And Padalecki jokes that he doesn't "want to spend the rest of [his] life acting. "But I would happily guest star on their show," he says with a smile. If Supernatural does end at some point in the very far future (like in 20-30 years), at least we'll have some strong females to carry the torch if Wayward Sisters gets picked up to series.