Crowdfunding Campaign Raises More Than $50K For Female Cyclist Who Flipped Off Trump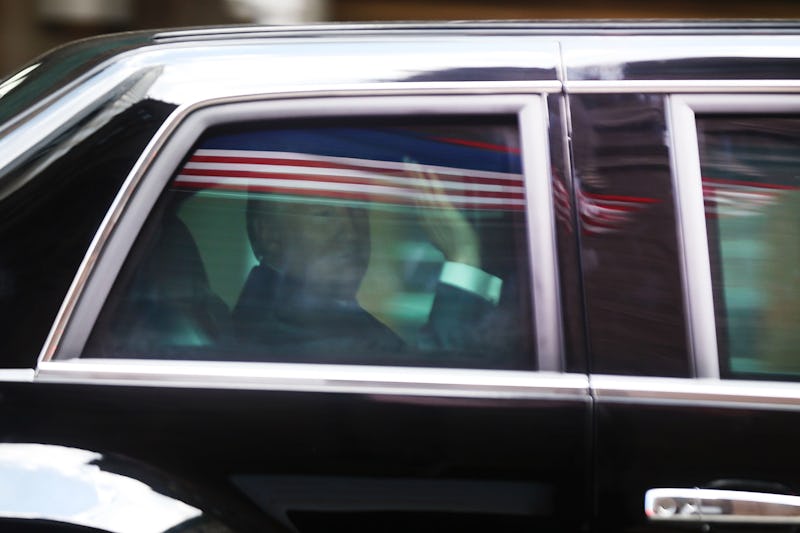 Spencer Platt/Getty Images News/Getty Images
A crowdfunding campaign has raised more than $51,000 for the female cyclist who gave the president's motorcade the finger and was fired from her job after a photo of the incident went viral. More than 2,000 people have already donated to the campaign, the proceeds of which will reportedly go directly to Juli Briskman, since it was launched four days ago.
"Juli Briskman is an inspiration to us all," Rob Mello, the campaign's creator, wrote in the story behind the campaign. "This week we learned that she was fired from her employer for exercising her first amendment rights. You can show your support by donating here." Bustle has reached out to Mello for comment.
Briskman's employer, the government contractor Akima, opted to fire the 50-year-old single mother earlier this week after she voluntarily outed herself to her bosses as the then-unidentified woman in the viral photo. According to the Washington Post, Briskman was concerned she might eventually be recognized from the photo. But although Briskman was hoping her honesty would allow her to get ahead of any potential issues the viral photo might stir up, her employer apparently felt otherwise. They fired her, claiming she'd violated their code-of-conduct policy when she posted the photo to her personal social media account.
In an interview with the Huffington Post, Briskman claimed she'd stressed to her bosses that the incident had occurred outside of work and that her social media accounts did not directly name or include any references to Akima. Despite that, Briskman said her employer told her she was prohibited from having "lewd or obscene things" in her social media profiles and they felt the photo could end up hurting them as a government contractor.
According to Mello, Briskman has "been officially connected" to the aptly titled "Thank You Juli Briskman" campaign. "I have connected with Juli and she has been officially setup as the beneficiary on this GoFundMe campaign," Mello alerted campaign donors. "All proceeds are being donated directly to Juli."
To be clear, Briskman was apparently not involved in the creation of the campaign. Rather, she became linked to the campaign as its designated beneficiary only after it was launched.
Among the more than 2,100 people who have contributed to the "Thank You Juli Briskman" campaign are, reportedly, actress and outspoken Trump critic Rosie O'Donnell. Bustle has reached out to O'Donnell for confirmation of the donation.
Briskman told the Huffington Post it was a gut reaction to seeing President Donald Trump's motorcade that caused her to raise her middle finger as he passed by. "He was passing by and my blood just started to boil," Briskman told the Huffington Post. "I'm thinking, DACA recipients are getting kicked out. He pulled ads for open enrollment in Obamacare. Only one-third of Puerto Rico has power. I'm thinking, he's at the damn golf course again." Briskman told the news outlet she'd flipped the motorcade off more than once as it passed her.
While the photo of her quickly went viral after it was included White House press pool reports, it is not known if the president saw Briskman flipping off the motorcade as he drove by.
Although the photo resulted in some major life changes for Briskman — along with losing her job she's become the center of much debate since her identity was revealed — she claims she has no regrets. "In some ways, I'm doing better than ever," Briskman told the Huffington Post. "I'm angry about where our country is right now. I am appalled. This was an opportunity for me to say something."
But Briskman may not be unemployed for too long. According to the Washington Post's Petula Dvorak, the former marketing executive is currently "sorting through scores of job offers."