Is Justice Anthony Kennedy Headed To Retirement?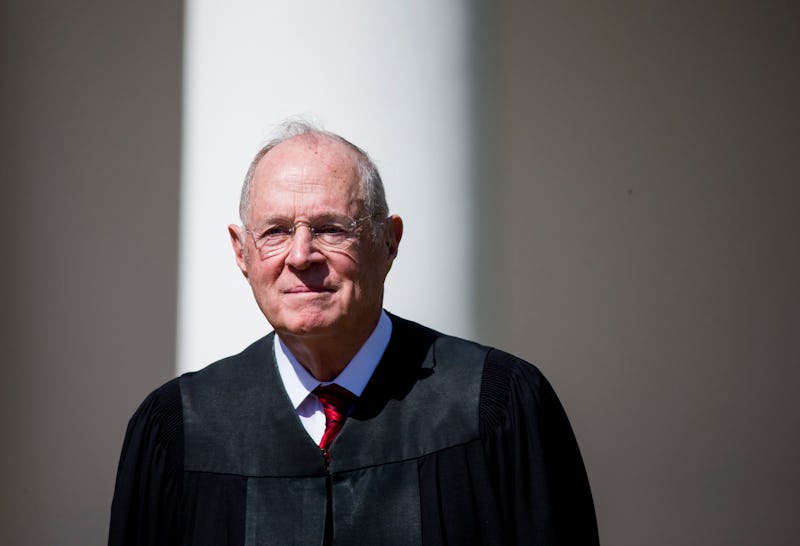 Eric Thayer/Getty Images News/Getty Images
All throughout the 2016 presidential election, Republican elected officials had a very compelling argument on their side to attract conservative voters to the polls: what about the Supreme Court? With Senate Republicans having taken the unprecedented step of blocking former president Barack Obama's nominee for a full year, the GOP had set the stage to secure a conservative Supreme Court for a generation. And now, according to reports, Supreme Court Justice Anthony Kennedy is considering retirement, meaning the Republicans could end up nabbing another seat on the court less than one year into President Donald Trump's first term.
The seat that was meant to be filled by Obama nominee Judge Merrick Garland last year, according to the traditions and constitutional norms of the Senate, has already been filled by Trump in the form of Justice Neil Gorsuch. The 49-year-old Gorsuch replaced the late Justice Antonin Scalia, however, who was a staunch conservative.
In other words, the political and ideological balance of the court didn't significantly change by Gorsuch's addition and Scalia's subtraction. But a retirement for the 80-year-old Kennedy, long the crucial swing vote in most of the court's 5-4 split decisions, would be another matter entirely. That would allow Trump to tilt the balance of the court distinctly to the right ― and if he picks a justice as young as Gorsuch, it could be that way for a long time.
To be clear, it's too early to say just yet whether Kennedy will actually decide to say goodbye to serving on the high court. Justices serving very late into their lives is by no means uncommon. But Kennedy's been rumored to be mulling retirement for months, and those rumors have heated up in part thanks to an event marking his 29th year on the court.
Previously, Kennedy has reportedly held these reunions with his former law clerks every five years. But this time, it's happening on his 29th year, having been rescheduled from its original date in 2018. This has led some observers to suspect he might not plan on still being on the bench by the time his 30th year rolls around.
If he does depart, the GOP-led Senate would be in prime position to push through whatever nominee Trump selects, given that it already stripped the judicial filibuster during the Gorsuch confirmation process. It would also mean that the court's conservative wing would likely be considerably younger than the liberal bloc ― while justices Alito, Roberts, Gorsuch, and Thomas are all still under 70, justices Ginsburg and Breyer are 84 and 78, respectively.