Reactions To 'Surviving R. Kelly' Winning An MTV Movie Award Show How Important The Doc Is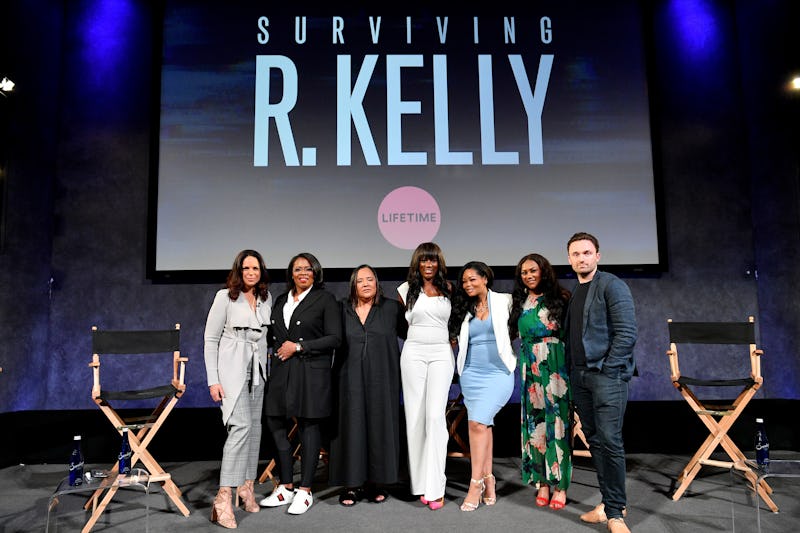 Dia Dipasupil/Getty Images Entertainment/Getty Images
Sometimes, an award can speak to a message more powerful than a movie. When Surviving R. Kelly won Best Documentary at the MTV Movie & TV Awards, there was a statement about believing women and continuing a conversation about sexual assault, beyond an awards show stage, was made. Brie Miranda Bryant, Senior Vice President of unscripted development and programming for Lifetime, spoke with a group of women who spoke about alleged abuse in the documentary.
As to be expected, the trophy for Best Documentary symbolized much more than a film award. Bryant declared:
"This isn't just a trophy to us. It speaks to the cultural impact that it generated from this documentary. This team believes in the power of numbers. Fifty-four individuals sat to tell this story… entire production teams assembled their shields to tell this story... survivors walked through the fire and stood again to tell the story… journalists, activists, bloggers, tweeters who continued to say the name of these survivors, these parents, helped to tell this story… thank you, especially to those individuals who never wavered despite how daunting this journey has been."
Bryant continued by expressing gratitude to the strength of the survivors and their allies, for feeling empowered enough to speak out for the film. Understandably, several on stage got emotional during the moment.
"To our survivors and parents, we know the journey doesn't start or stop with this journey but the world is listening now," Bryant said. "Because of your bravery, others are speaking without shame and being heard without judgment. Because of your courage, you created change and you survived."
The reactions on Twitter, unfortunately, were mixed. Some on Twitter laughed the win away or wanted to know why such a "serious" issue was being awarded on the historically "fun" night. But that was exactly Bryant's point. Far too often, stories from survivors are ignored, yet dream hampton's documentary gave survivors a voice. The MTV Movie Awards — much like the VMAs — are about documenting where pop culture is really at. And in 2019, that means recognizing everyone's story.
Hampton wasn't at the MTV Movie & TV Awards on June 17, but she likely would be proud of Bryant and the women getting to take home the golden popcorn for the brave work that they did. Which was the whole point of putting the documentary together in the first place.
Hampton said in a New Yorker interview in January, "I want justice for these women. And I would like them to define that —what restitution looks like for them. They're never going to get back what they lost in these very critical years, these formative years in their lives. So I believe that, if the criminal-justice system can find him guilty, then so be it. I also believe in social death. I believe in boycott and divestment and sanctions. It's been a practice of mine since I became political around South Africa, as a twelve-year-old. I believe in that practice, and I think he's someone we should have turned away a long time ago."
The MTV Movie & TV Awards might seem like an unlikely venue for the doc to get recognition for some, but Bryant's speech and the reactions of the women on stage with her are proof that hampton's documentary has already made an impact.