Susan Collins' Response To The FBI's Kavanaugh Probe Will Leave You With One Question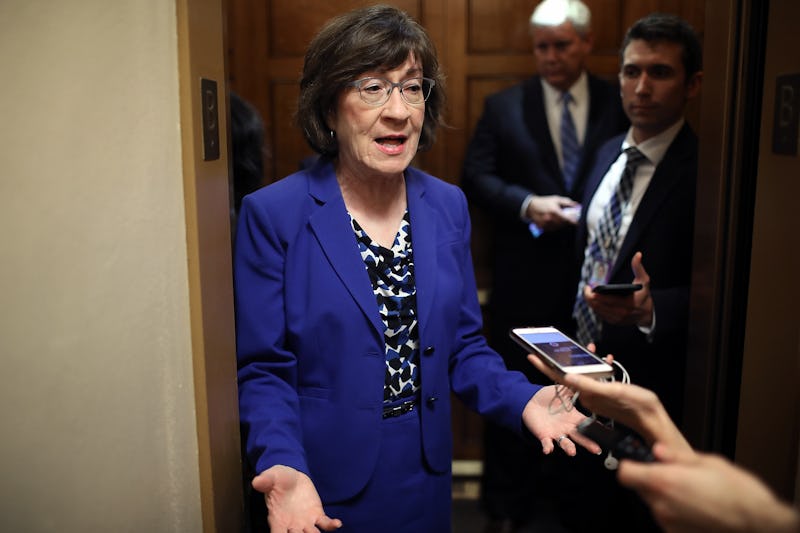 Win McNamee/Getty Images News/Getty Images
The investigation into the allegations of sexual assault against Brett Kavanaugh — all of which has vehemently denied — wrapped up Wednesday, and now all eyes are on a key group of undecided senators for indications of how they will vote. One in particular, Sen. Susan Collins, praised the Kavanaugh FBI investigation as "thorough."
Adding that she hadn't finished reading the entire report yet, the Republican lawmaker told CNN at the Capitol on Thursday, "It appears to be a very thorough investigation." Despite her complimentary opinion, Collins still has yet to clarify how she will be voting on the nomination. A preliminary procedural vote is set to be held on Friday, and the final confirmation vote could come as early Saturday.
Collins and Sen. Lisa Murkowski have been two of the most closely scrutinized members of the Senate during the Kavanaugh deliberations, in large part because of their pro-choice views. Though Collins said that Kavanaugh referred to Roe v. Wade as "settled law," during a meeting, his history suggests a more complex opinion. Last fall, he dissented on a circuit court abortion case, arguing that an undocumented 17-year-old should have to wait to receive her procedure, even though she had fulfilled all the requirements to receive one.
And although Kavanaugh has skirted disclosing his personal opinion on abortion rights, President Trump did specifically promise to appoint pro-life judges to the Supreme Court. It has also been widely reported that Kavanaugh was picked off a list of candidates compiled by anti-choice conservative organizations like The Federalist Society and the Heritage Foundation.
Collins, on the other hand, has indicated that a threat to Roe would be an issue for her. "I would not support a nominee who demonstrated hostility to Roe v. Wade because that would mean to me that their judicial philosophy did not include a respect for established decisions, established law," she told CNN in early July.
In the months following, Collins has consistently kept her cards close to her chest regarding her final decision on the nomination. After sexual assault allegations against Kavanaugh first surfaced publicly last month, Collins, like other GOP senators, criticized Democrats for an "11th hour," attempt to derail the confirmation. "It is really not fair to either [Kavanaugh or Christine Ford] the way it is was handled," she told The Hill.
Collins has a decades-long reputation as a moderate figure in the Senate. She voted against the repeal of Obamacare in 2017, as well as against the nominations of Betsy DeVos and Scott Pruitt to the president's cabinet. She has also frequently criticized the president for his controversial statements, most recently when he mocked Ford at a rally on Tuesday.
As the Senate draws nearer to the confirmation vote, protests and appeals for Collins' vote have reached a fever pitch. Anti-Kavanaugh activists raised more than $1 million, promising to donate the money to Collins' future senate race opponent if she votes yes. Maine women protested and shared their stories of their sexual assaults with her staff. And on Thursday, a group of more than 100 clerks for federal and state judges in Maine sent her a letter voicing their opposition to Kavanaugh.
"His elevation to the Supreme Court will undermine public faith in the Court and the judiciary as a whole," they wrote. "A vote for Judge Kavanaugh would send the message to the American public — and women in particular — that sexual assault is not serious and the voices of survivors do not matter."