This Obama Alum May Challenge Susan Collins For Her Senate Seat In 2020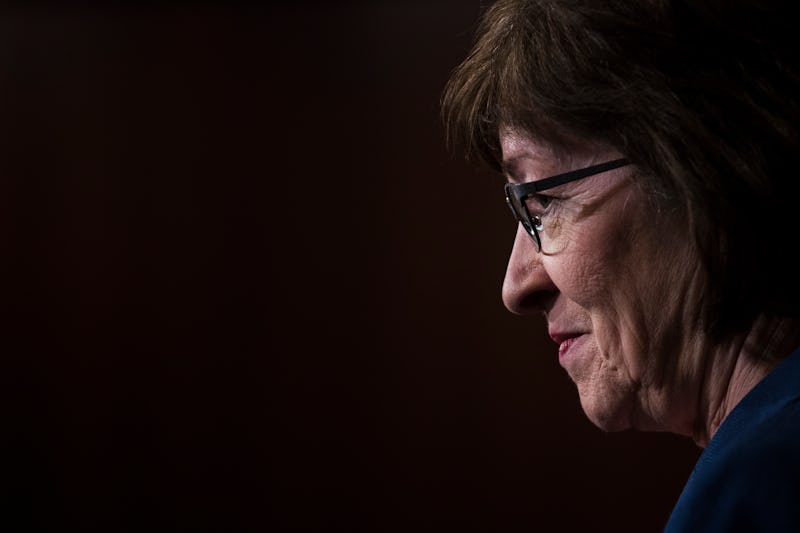 Drew Angerer/Getty Images News/Getty Images
When Sen. Susan Collins signaled her intention to back Brett M. Kavanaugh's nomination to the Supreme Court on Friday, donations from frustrated voters eager to support a candidate willing to challenge the Maine Republican began flooding in to a crowdfunding site. At the time, however, it wasn't clear just who that opponent might be. But former National Security Adviser Susan Rice hinted she may challenge Collins in 2020, saying Sunday she plans to consider an election bid after the midterms.
"I have been moved by the enthusiasm," Rice, who spoke Sunday at The New Yorker Festival, said of the reactions she's received since first announcing her interest in potentially running against Collins in 2020. "I'm going to give it due consideration after the midterms."
Rice tentatively threw her hat into the ring Friday with a one-word tweet published just hours after Collins announced her intention to support Kavanaugh's nomination. "Me," the former Obama administration official tweeted in response to a tweet in which former White House Communications Director Jen Psaki asked, "Who wants to run for Senate in Maine?"
But as news of her tweet spread, Rice appeared to walk back her statement. "Many thanks for the encouragement," she tweeted late Friday. "I'm not making any announcements. Like so many Americans, I am deeply disappointed in Senator Collins' vote for Kavanaugh. Maine and America deserve better."
Collins, however, has so far appeared to dismiss the idea that Rice might unseat her. "As far as Susan Rice is concerned, her family has a home in Maine, but she doesn't live in the state of Maine," the Republican senator said Sunday in an interview on CNN's State of the Union. "Everybody knows that."
In an interview with CBS' 60 Minutes later that same day, Collins also lashed out at the groups who used the threat of crowdfunding to attempt to influence her vote on Kavanaugh. "This is a classic quid pro quo as defined in our bribery laws," she said. "They are asking me to perform an official act and if I do not do what they want, two million plus dollars is going to go to my opponent."
"I think that if our politics has come to the point where people are trying to buy votes and buy positions, then we are in a very sad place," she went on to say.
In 2009, however, Collins characterized Rice as having "strong ties" to the state of Maine and said those ties were "the foundation of her character" in her testimony to the Senate Foreign Relations Committee following Rice's nomination to serve as U.N. Ambassador.
While speaking Sunday in New York at The New Yorker Festival, Rice pushed back on Collins' claim her ties to Maine were superficial. "My ties to Maine are long and deep," Rice said, per The Hill. "My family goes back generations. My grandparents emigrated to Portland, Maine, in 1912. They stayed in Maine until they died; they raised five children there. For the last twenty years, I've been a homeowner in the state of Maine."
But although Rice said she plans to consider a 2020 bid, she suggested it wasn't a sure thing just yet. "It's a complicated political environment," Rice said. "There are lots of good Democrats in the state of Maine. I will have to do a lot more homework before I make a decision."