Authorities Are Investigating Suspicious Packages Sent To Cory Booker & Kamala Harris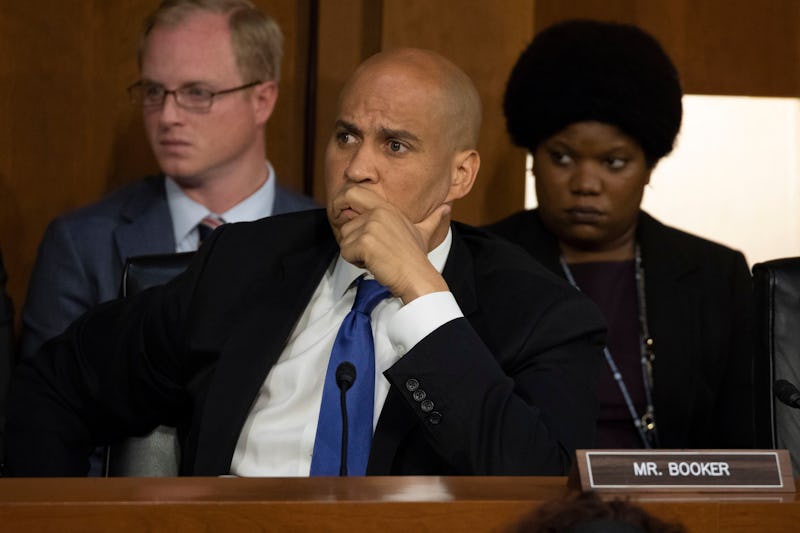 Shutterstock
Federal authorities have discovered additional explosive devices in suspicious packages sent to Sen. Cory Booker and former Director of National Intelligence James R. Clapper Jr. The packages uncovered early Friday bring the total number of potentially violent pipe bombs sent to prominent Democratic figures and Trump critics to 12 so far.
Update: On Friday afternoon, AP reported that local authorities were investigating a suspicious package mailed to Sen. Kamala Harris' office.
Earlier: "The FBI has confirmed an 11th package has been recovered in Florida, similar in appearance to the others, addressed to Sen. Cory Booker," the agency said in a statement issued Friday morning. Sen. Booker's office declined to comment to Bustle.
According to CNN, the package bearing Clapper's name was addressed to CNN's New York offices — Clapper is a contributor to the cable news network — and found at a Midtown Manhattan United States Postal Service facility. It was reported to local law enforcement early Friday.
"We are responding to a report of a suspicious package in the vicinity of West 52nd Street and 8th Avenue, #Manhattan," the New York City Police Department said Friday in a tweeted statement. "Please avoid the area and expect a police presence and heavy traffic."
While the FBI has not yet commented on the suspicious package addressed to Clapper, The New York Times has reported that it looked similar to a package containing a pipe bomb that was found Wednesday addressed to former CIA Director John Brennan, care of CNN.
In comments to CNN on Friday, Clapper said he was "really not surprised" to learn a package potentially containing a pipe bomb had been addressed to him. "This is definitely domestic terrorism, no question about it in my mind," he said.
But the former director of national intelligence appeared steadfast in his belief that whoever was behind the suspicious packages, which appear to have targeted prominent Democrats and critics of President Donald Trump, wasn't going to silence him or others speaking out against the president's policies. "This is not going to silence the administration's critics," Clapper said. "I think anyone who has in any way publicly been a critic of President Trump needs to be on extra alert and take precautions with respect to mail. But, at the same time, we shouldn't get too overblown about it, too overwrought about it at this point."
Clapper also said he had "a lot of confidence" in all of the various law enforcement agencies involved in the matter. "I know a lot of resource, a lot of dedication, a lot of energy, and a lot of professionalism is being dedicated to tracking down the perpetrator or perpetrators and people should take heart in that," he said.
Earlier this week, 10 packages containing pipe bombs were found addressed to President Barack Obama, former Vice President Joe Biden, former Secretary of State and 2016 Democratic nominee Hillary Clinton, Rep. Maxine Waters, former Attorney General Eric Holder, former CIA Director John Brennan, and actor Robert De Niro. According to the FBI, all of the packages were mailed in kraft bubble mailers with printed return addresses bearing the name "DEBBIE WASSERMAN SHULTZ" (sic), an apparent reference to Florida Rep. Debbie Wasserman Schultz.
While President Trump initially appeared to blame the media for the packages, accusing them of causing "the anger we see today in our society," he later condemned the explosive devices and called for Americans to "come together." On Friday, however, Trump lashed out at "lowly rated CNN and others" for criticizing his response and "ridiculously comparing this to September 11th and the Oklahoma City bombing."
The president also appeared to suggest Friday that news of the apparent pipe bombs was somehow responsible for slowing GOP momentum at the polls ahead of November's midterm elections. "Republicans are doing so well in early voting, and at the polls, and now this 'Bomb' stuff happens and the momentum greatly slows — news not talking politics," Trump tweeted. "Very unfortunate, what is going on. Republicans, go out and vote!"