ColourPop Knockout Palette Swatches Are So Pretty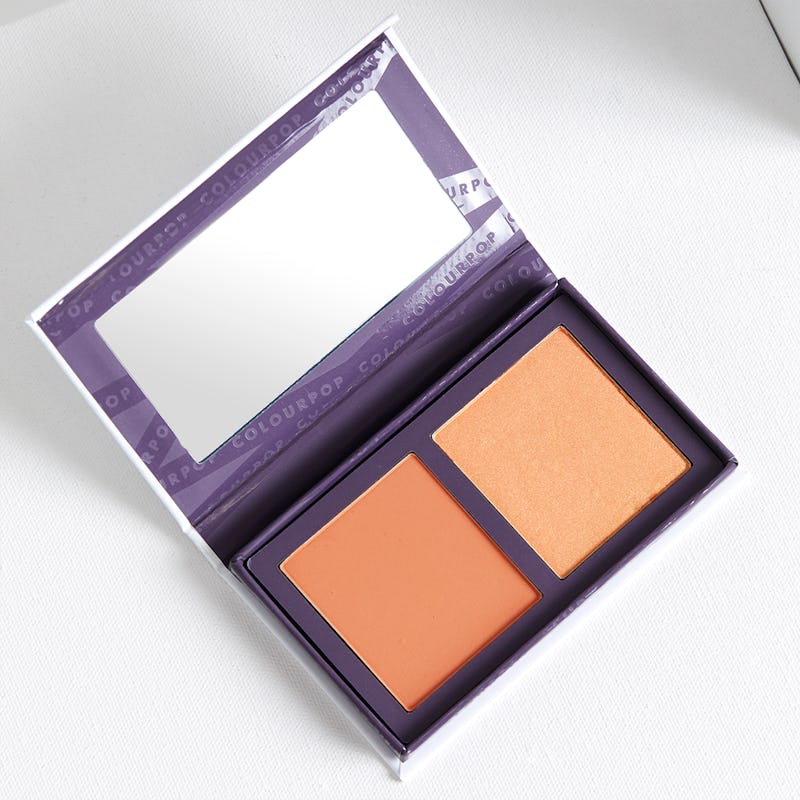 Courtesy ColourPop Cosmetics
ColourPop's got me in the mood for spring! Winter can go on somewhere because once I get these peachy colors across my cheeks, I'll be ready for warm weather! Swatches Of ColourPop's The Knockout Palette prove that this product is the only makeup item you'll need this season.
The palette was still in stock on the ColourPop website at the time of publication, and it's going for just $16. That, on top of the incredible colors it holds inside, should give you more than enough reason to add it to your cart as soon as possible! It houses the first-ever pressed powder blush to come from the brand and a glowing highlight shade. So yeah, like I said, it's the only thing needed in your beach bag.
The blush is called "Excuse My French," and it is packed with peach pigment. The "Likes To Watch" highlight is an orange-y gold and will be the perfect way to complete your makeup look. According to the brand's Instagram Stories, these powders may be bold, but they're still super wearable, no matter your skin tone. Trust me, you'll keep The Knockout Palette on repeat all season long. And once you see these hues in action, you'll be convinced to add peach to your beauty routine, stat.
This palette is absolutely gorgeous.
Between the packaging and the shades, this baby's bound to brighten up your personal makeup collection.
Add a pop of color to your cheeks with this perfectly peach blush. As you can tell, it looks amazing on a variety of skin tones, too.
Not bad for the first blush the brand's ever made, hey?
Finish off the look with a light dusting of tangerine glow.
This highlight absolutely beams in the light.
You can really see it shine when applied to the cheek.
All in all, these two make an unbeatable duo.
The Knockout Palette, $16, ColourPop Cosmetics
This combo will have you on-trend. ColourPop really knocked it out of the park with The Knockout Palette. Make sure you add it to your cart just in time for spring break!
You can shop this item and even more coral color on the ColourPop website now!