Rihanna Is Coming Out With A HUGE Highlight Palette & You Need To See The Blue Shade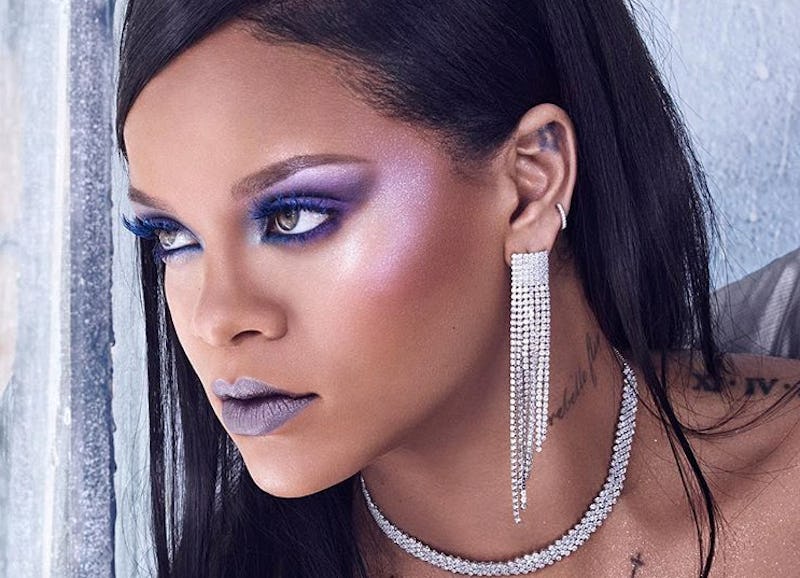 Fenty Beauty on Instagram
Ms. Fenty is probably the master at dropping bombs (preferably in diamonds) on those most obsessed with her line. One would think that after spending a whole week shocking fans with a collection of nude shades in her Stunna lip paints, the "Work" singer would be exhausted. However, now that Fenty Beauty is launching a highlight palette, it doesn't look like she's losing steam anytime soon.
After a year of Fenty's existence, the beauty brand is releasing its first highlighter palette and the swatches are glitter heaven for the holiday season. In the standard Fenty Beauty way for releasing new products, the brand shared a sneak peak on its Instagram, swatching each of the 7 highlighter shades on different skin tones to represent each foundation category. As per usual, the palette makes every complexion pop with shimmer.
Perfect for the upcoming cuffing season, this palette is sure to blind your winter bae with these 7 universal shimmers to shine up your cheekbones. Although the cooler months have yet to hit hard with chills to the cheeks, the ChillOwt Killawatt Foil palette has beauty gurus begging for frost. And looking at how these highlighters slide on the skin, no one would mind rocking these iced out looks.
Keeping it all in the family, RiRi sticks to the name of the other smaller highlighter palettes and brings us these hyper-metallic highlighter shades. Just when fans thought Trophy Wife was the highlight of the Killowatt collection, Rihanna hits hard with these shimmery contenders. Just take a moment to appreciate that ocean blue highlight that everyone will probably slay a cut crease.
Although presented as a collection for winter, this sleek highlighter palette contains plenty of heated shades. Other than the purples, icy pinks and that stunning royal blue, the palette glimmers with oranges, coppers and tangerines to add some warmth to a frozen face.
If you're worried these shades may be difficult to apply, fear not. These 7-shades of metallic stay true to the cream-to-powder formula that you know and love in the previous Killawatt highlighter shades.
Luckily for those of us who can't wait another day without these metallic finishes, there's no need. When it comes to Fenty Beauty product reveals, Ri leaves fans with no time to even question whether or not to buy her sick releases, delivering the ChillOwt Killawatt Foil palette to fans on Oct. 4 in stores and online. Sadly, the rest of the world will have to wait until Oct. 12 for it to hit stores globally.
According to Fenty's Instagram, this is only the beginning of holiday launches for the brand. In the photo featuring Rihanna, herself, she's caught with a deep purple eyeshadow, matching indigo lash lines, and a gray-ish metallic lip. If her face is any indication of what's to come in this holiday collection, buying gifts will be an easy task for the season of giving. That is, if you can stand to give this collection away to someone without having tried it for yourself first.