This Lemonade-Themed Eyeshadow Palette Is Breaking The Internet & It's Not Even Summer Yet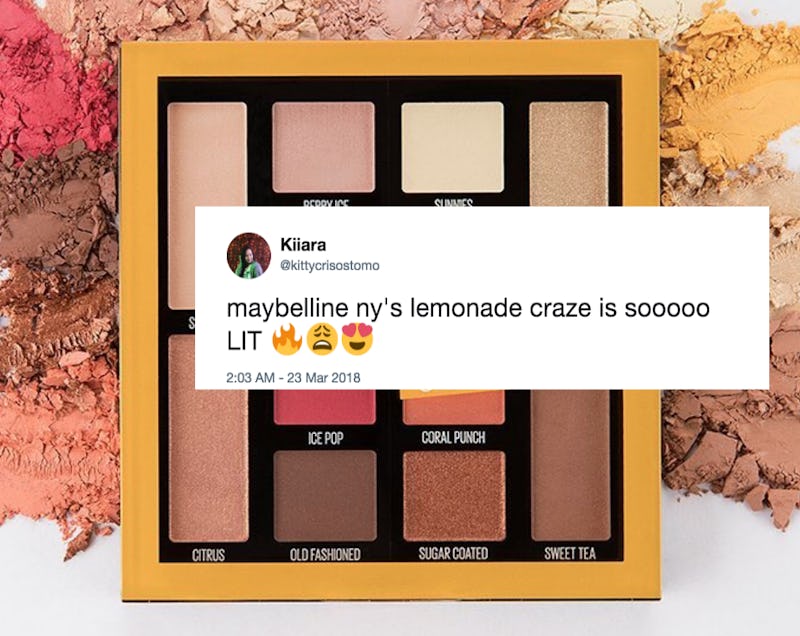 Maybelline Instagram
Lemonade is not just a watershed Beyonce album that made the ultimate artistic statement. It's also a refreshing summer drink that has inspired a drugstore eyeshadow palette that's currently breaking the internet. These could be the colors that define the summer of 2018. Maybelline's Lemonade Craze Eyeshadow Palette holds 12 rectangular and square pans of shimmery, summery, and sweet neutrals, with a few pops of color included. It's certainly positioning itself to be the "go-to" palette of warm weather months.
Lemonade Craze includes metallics and mattes, so you can create looks with so much dimension. You can also use it for days without replicating a single style, thanks to to breadth of color and texture choices contained within.
The online hype for the palette has reached such a level that it can be pre-ordered via Amazon right now. We'll pause for a second to allow you to do so. The advance pre-order is a real indicator of the desire for lemonade-inspired looks.
The shadows have seasonally appropriate and yummy names, like Sherbet, Citrus, Old Fashioned, Ice Pop, Berry Ice, Sunnies, Coral Punch, Sugar Coated, Sweet Tea, Strawberry Lemonade, Lemonade Craze, and Main Squeeze. So it's basically all the things you need, love, and enjoy during the hot climate months.
The colors are complimentary. Therefore, you can craft neutral, nude looks that are suited for the office. You can also design sunset smoky eyes for date night, day trips, and beyond. The color combos are endless and will allow you to fully indulge your creative side.
The brand showed off this swatch video on its Instagram, which displays the depth of the pigmentation and reveals how smooth and blendable the shadows are. The palette launches digitally on Friday, April 13, per the pre-order link. This additional Maybelline Insta post states that the palette will arrive at physical U.S. retailers in May and June. So the launch is staggered.
At $10.99, it's a total steal and you will undoubtedly use it through September. The colors are so wearable that you are pretty much guaranteed to hit pan on several — if not all— of them. Allure got a sneak peak of the palette and reported that it has a soft, lemony scent. Can this palette get any better? It seriously checks off all of the boxes and impacts all of the senses.
Here's a Lemonade Craze look IRL. It's edgy and gorgeous. Of course the Twitterverse is all about this palette.
It is indeed lit! It's packed with so many universal shades.
This user was not stoked that there weren't more true or base yellow shades included. She makes a legit point. But there are plenty of golden shades and yellow undertones in the palette. Plus, there are so many varietals of the actual beverage, from pink to strawberry, which also provide inspo for the palette.
This user is expressing her needs and wants. We can't blame her. This palette is generating so much chatter for a reason. It's that darn good.
Maybelline obviously has a hit on its hands. Imagine how stunning these lid hues will look when paired with dewy, bronzed summer skin, courtesy of your fave liquid or powder product? With all the weekend getaways you may embark on during the summer, you want to travel lightly but have options when it comes to makeup. This portable palette can be the only one you pack. It avails itself of an abundance of looks. You could even buff some of the more intense, concentrated shadow colors, like Ice Pop, onto cheeks. Because #Multitasking!
Maybelline's Lemonade Craze is happy to serve as your spring and summer eyeshadow wardrobe.