Too Faced Is Launching A Diamond-Inspired Makeup Collection & Here Are The First Swatches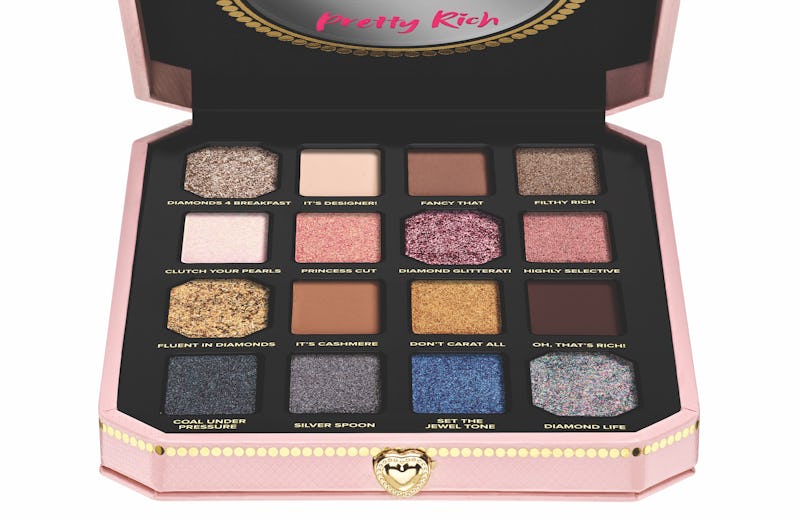 Courtesy of Too Faced
Ever since Marilyn Monroe put on that fuchsia gown, walking sultrily down a flight of white steps crooning the OG "Diamonds Are A Girl's Best Friend," nothing's ever been the same. Makeup, though, has far surpassed diamonds in the race to be a gal's BFF, but Too Faced cosmetics has brought on both in it's new Pretty Rich collection. Because what's better than applying mass amounts of glitter to remind you that you're fabulous?
Giving fans a close-up at the world of luxury, the Pretty Rich collection features a newer, richer eye shadow palette, two additional Diamond Fire Highlighters, six glittery shades of lip gloss, a highlighting brush, a new glitter face mask, and a dazzled up version of your mascara fave, Better Than Sex & Diamonds.
Too Faced's co-founder & chief creative officer, Jerrod Blandino spoke with Bustle in an exclusive interview on how this glitzy collection was born from its original Diamond Fire Highlighter.
"[The highlighter] was inspired by the ring [Too Faced co-founder and Blandino's partner] Jeremy gave me for our 20 anniversary," he said. "I wanted to create a product based on what a diamond means to me—it's eternal, glamorous, and beautiful."
There's always something satisfying about doing the absolute most with makeup, and once you get a look at this lineup of glam, there's really no going back to basics.
When a Too Faced eyeshadow palette claims to be dripping in diamonds, this is one that doesn't disappoint. The 16-shaded palette features some universal hues to make every eyelid look boss and expensive. With four mattes, four glitters and eight shimmers, you're bound to charm your next snuggle bae this November.
For those who deep dabble in eye shadow (as in, hitting pan routinely) there are four diamond-shaped pressed gel-glitter shadows that minimize glitter fallout, so you shine in the places you actually want to. It also features colors that make any skin complexion glow.
Honestly this is like a sophisticated holiday party jam-packed into one palette.
The Pretty Rich product line also features its six high shine Rich and Dazzling Lip Glosses, one of which is a shade created with model Jordyn Woods called "Social Butterfly." Naturally, it's also Blandino's favorite product in the collection.
"It's so beautiful on every single skin tone," Bladino told Bustle. "This gloss gives your lips mirror-like shine without that sticky feeling. It's so plush and juicy, it looks like diamonds on your lips."
Gloss isn't meant for everyone, but if Too Faced is bringing an end to sticky lips, then it may be a winner gloss for fans.
In the beauty world, is there really such a thing as makeup without skin care? Debatable. But most times, you don't want one without the other, and Too Faced is releasing an updated version of its radiance-boosting glitter peel-off mask. In a new diamond powder-infused formula, the mask exfoliates the skin to eliminate dullness and tiredness. What's a diamond makeup collection if your cheeks don't shine?
"I want everyone who wears this collection to feel like their most glamorous, beautiful self when wearing these products I created," Bladino says. "It's your time to shine, baby, and this is the collection that helps you do it."
The Pretty Rich eyeshadow palette and Diamond Fire highlighters from the collection drop in Too Faced stores and on its site on Nov. 29, while the lip glosses, Disco Glow Job, and Better Than Sex & Diamonds launch on Dec. 9.
Let the countdown begin beauty buffs. And even if you're not a rich girl, this is the collection to help you fake it in one full beat.