I Started Swimming In The Sea Every Day & What I Learned Will Stay With Me Forever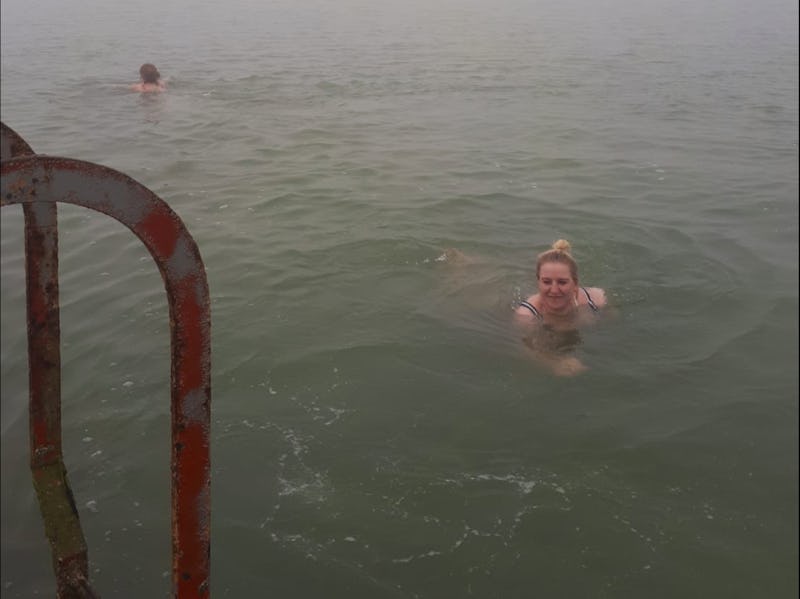 Aoife Hanna
Moving to the seaside is one of those things you dream about. When you're at work and your mind wanders off into a beautiful abyss of dogs and space and an easier life. Long strolls on the beach and heaps of swimming, getting back to nature, getting toned, being able to be more smug on social media. This is what happiness is about. Especially the swimming in the sea every day part, which I absolutely love.
I moved to Margate in winter and budgetary constraints being what they are — I had £2 in my bank account for 3 weeks — a wetsuit wasn't really an option. That put the sea out of bounds for a little while, so my dream of being an all-weather swimmer wasn't quite realised. However, with summer upon us, I am in that bloomin' big old pond every day and I am amazed by what I have learned by swimming in the sea every day.
Outdoor swimming, or wild swimming as it has become known, is proven to be like, super good for you. So, why the heck not?
Are you envisioning some sort of graceful, goddess like mermaid creature? An olympic synchronised swimmer moving powerfully through the water? Well, that is not quite me. And to be honest, you don't need to be one to enjoy the joy that is outdoor swimming. So here's what I learned.
This article was originally published on