Swimsuits For All Is Making Your 'Baywatch' Swimsuit Dreams Come True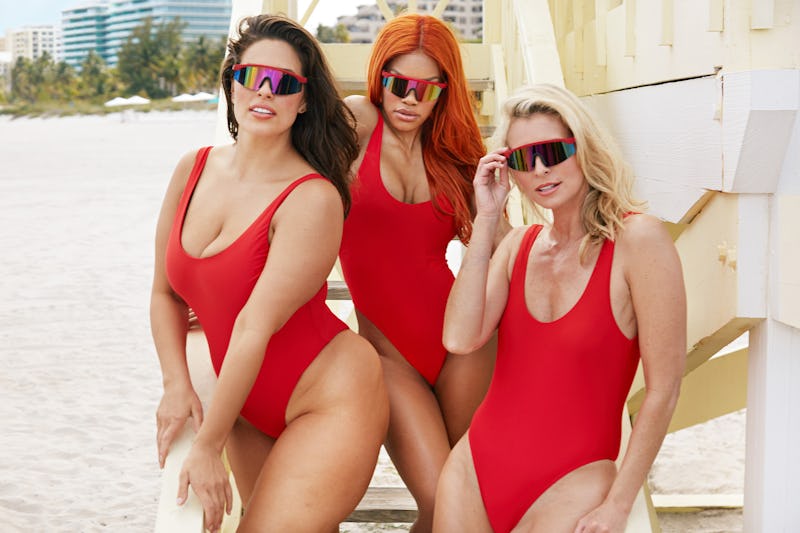 Courtesy Swimsuits For All
It's official: red is the swimsuit color of the summer. And no, I'm not talking about the one you saw floating around Instagram, but the classic '90s one-piece that the fictional lifeguards of Baywatch would wear in every single episode. Swimwear line Swimsuits For All is reinventing the iconic red bathing suit with a seemingly Baywatch-inspired campaign starring some of your favorite models-of-the-moment. Grab your whistle and polarized sunglasses, because this is one trend that won't be going away soon.
With the '90s classic television show Baywatch being turned into a movie, out this month, it only makes sense that this once-vintage look is getting some new life. Swimsuits For All, a bathing suit brand known for working with Ashley Graham, has released a red one piece that is sure to excite fans of the show. It does not appear to be an official collaboration with the movie, but it is called the Lifeguard Swimsuit, and suit is a bold tomato red shade with a low-cut back, just like you remember it from the '90s. All that's missing is the Baywatch logo at the bottom.
If you're wondering how something so basic could possibly be trendy, allow Graham, along with Teyana Taylor and Niki Taylor, to show you. All three women are faces of the campaign promoting the suit.
Although Swimsuits For All expanded their line to offer up to size 34 in some styles, the Lifeguard Swimsuit is only currently available in sizes 4 to 24. It just recently launched, but the Lifeguard Swimsuit is currently sold out in size 24. All other sizes are still up for grabs on the website, as of May 19. Looking like a Baywatch star will cost you $58.80.
It's worth noting again that this is not a collab between the fashion brand and movie, although the campaign accompanying the suit also appears to be inspired by Baywatch. The Swimsuits For All suit more closely recalls the original '90s look, while the film opts for different swimsuit styles with zip-up options, bikinis, and adding the color blue.
Something tells me that I'll be seeing red all over the beach this year. Especially since fans are already showing that they're a fan of the style on Twitter.
Now you can!
Uh oh.
It looks like it will live on forever!
I don't know about you, but one look and I'm sold.
Prepare for an invasion of red.
Thank goodness for Swimsuits For All making it so easy to nail the trend!