You've Been Singing T-Pain's "Buy U A Drank" & "All I Do Is Win" Wrong This Whole Time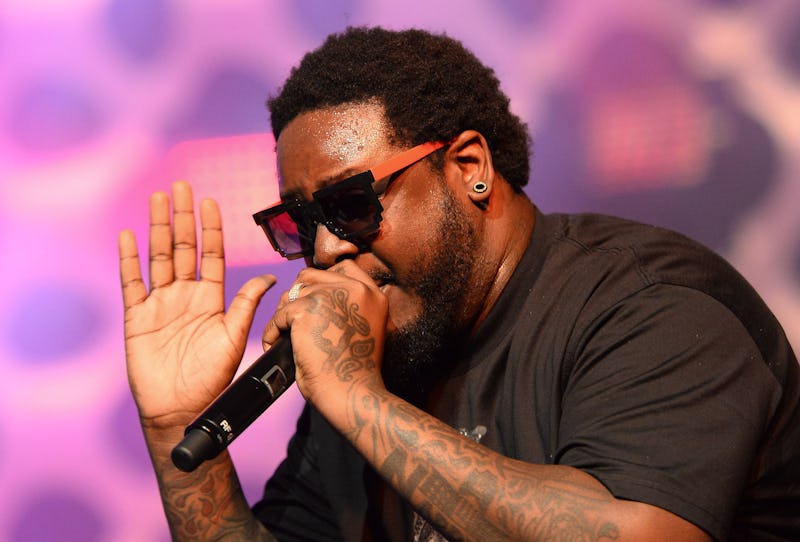 Ethan Miller/Getty Images Entertainment/Getty Images
Misheard lyrics are just a part of life, but this time, some listeners are being thrown for a serious loop. This week, T-Pain cleared up some of his lyrics that have been misunderstood for years, and Twitter is completely freaking out about it. After all, you think you've sung "Buy U A Drank" and "All I Do Is Win" while you're driving so many times that you know both songs word for word, but as it turns out, you've probably been singing them both wrong this entire time.
T-Pain chose to drop these bombs on Twitter on Wednesday, rocking many of his fans' worlds. Apparently, in the chorus of "Buy U A Drank," he's saying, "I'm a buy you a drank/and then I'ma take you home with me" instead of saying "ooh wee I'ma take you home with me," as we've all been singing.
And in "All I Do Is Win," the most quotable part of the song is totally different, too. You might have been singing, "Everybody's hands go up/And they stay there/And they stay there" but in reality, that second "and they stay there is actually "and they say yeah." Mind. Blown.
Even though this seems impossible, there's no point in arguing with T-Pain. If anyone would know, it'd be him, right?
First, came the truth about "Buy U A Drank":
And then, as if to add insult to injury, he added:
It's a lot to take in. It would appear that we've been misunderstanding T-Pain's Tallahassee accent. Or he just changed all the lyrics to fool us all. Another possibility.
Either way, Twitter users have absolutely lost their minds, and people seem to be in a serious state of disbelief over this.
There's this person, who wished T-Pain would have just kept us all in the dark:
She's right. And sorry if you're just hearing about "dancery" vs. "dance soiree."
Then, there are those who think this might just be part of a larger conspiracy:
Obviously, Google knows more about T-Pain's own songs than T-Pain would. Case closed.
There are those who are just living in denial:
Others are not really into the way it sounds with the real lyrics, which is valid. After years of hearing one phrase and then trying to plug in another? Who can adjust to something like that?
This person pointed out that his childhood is now ruined, which is obviously sad:
But also it was "Buy U A Drink", so do you really mean childhood?
Some are saying it's way too late to make these kinds of changes, which is true. It's been ten years, T-Pain. Where were these corrections when the songs first came out?
And then, of course, the most important point of them all had to be made. After making us adjust to these real lyrics, he better not have anything up his sleeve from now on... especially not where "Can't Believe It" is concerned. Mansion in Wiscansin or bust.
But like T-Pain said in his tweet, ultimately, what the accurate lyrics of these are songs doesn't really matter — it's up to his fans to decide the way they want to interpret it, which is the true beauty of music. Let's just hope that nobody else decides to come forward with more lyric corrections, though, because it doesn't look like Twitter would be able to handle it.