Taco Bell Is Opening A SLEW Of New Cantinas, And All Of Them Come With Booze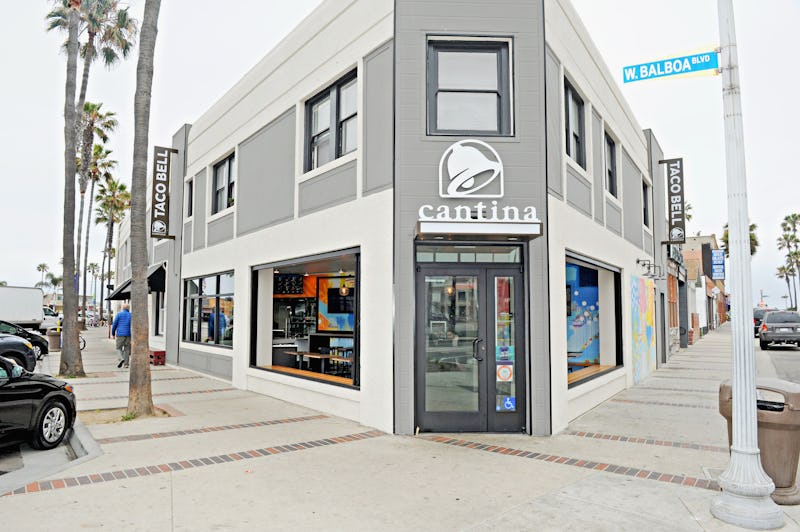 Joshua Blanchard/Getty Images Entertainment/Getty Images
Are you a fan of Taco Bell, but feel like visiting one is just not a classy enough experience? OK, so there probably aren't a lot of people who would answer "yes" to that question — Taco Bell being decidedly not classy is kind of the point — but that isn't stopping new Taco Bell Cantinas from opening up around the country. At these new restaurants, Taco Bell fans can order their 7-Layer Burritos in style. Oh, and there's alcohol, too.
Taco Bell Cantinas have already started opening around the country, but on Aug. 2, the fast food chain announced plans for a whole bunch more. Three Cantinas will be opening in Manhattan this year, in addition to the six that already exist in New York City. Sixteen Cantinas have opened across the country in the past year with more planned for Madison, Wisconsin; Brooklyn, New York; Boulder, Colorado; Hollywood, California; and Chicago, Illinois.
And Taco Bell is planning to go big outside of the Cantinas, too. Their press release notes that they're set to open 100 more Taco Bell... Regulars by the end of the year; 1,000 new domestic restaurants by 2022, "300 of which will be Urban In-Line or Cantina concepts"; and they plan to operate 1,000 international Taco Bells by 2022. (By the end of this year there will be around 500 international restaurants.)
So, there are three types of Taco Bells going on here, which may just be two more than you realized existed when you started reading this article. Regular Taco Bell you probably understand, so we're good there. An Urban Inline Taco Bell is one that exists in a city and has new features but no drive-through. Taco Bell Architect Christina Hernandez explained in an interview for the fast food restaurant's website, "Urban Inline restaurants have no drive thru, localized designs and artwork, an open kitchen, digital menu boards, and a 'Shareable Menu' with unique menu items not found at your regular Taco Bell." What's a Cantina, then? "Cantina restaurants have all of the same qualities as Urban Inlines, but they serve alcohol."
Drinking alcohol at a Taco Bell might sound odd, especially if you were only ever used to eating Taco Bell after drinking while in college. As for what they serve, according to Delish, the options include wine, beer, sangria, and alcoholic Freezes. (In June, it was reported they were testing a rosé one.) Taco Bell previously had its own beer, Beach Bell, but only at the Cantina located in Newport Beach, California, and only for a limited time. The alcoholic offerings are meant to appeal to millennials who live in urban areas and like to have drinks when they go out to eat, according to QSR.
If you want to go to a Taco Bell Cantina yourself, unfortunately, Taco Bell's location finder does not currently say whether a location is a Cantina or not — at least not until you click on "details" about a specific location. (For instance, if you click on the Newport Beach Taco Bell Cantina, the details show that it is, in fact, a Cantina.) That said, there is a site called Living Más (of course) that shows a map of Cantina locations.
There may not be a Cantina near you just yet, but seeing as Taco Bell is really looking to expand, it might not be long now.