Taco Bell Is Adding FRIES To Its Menu & They'll Only Be $1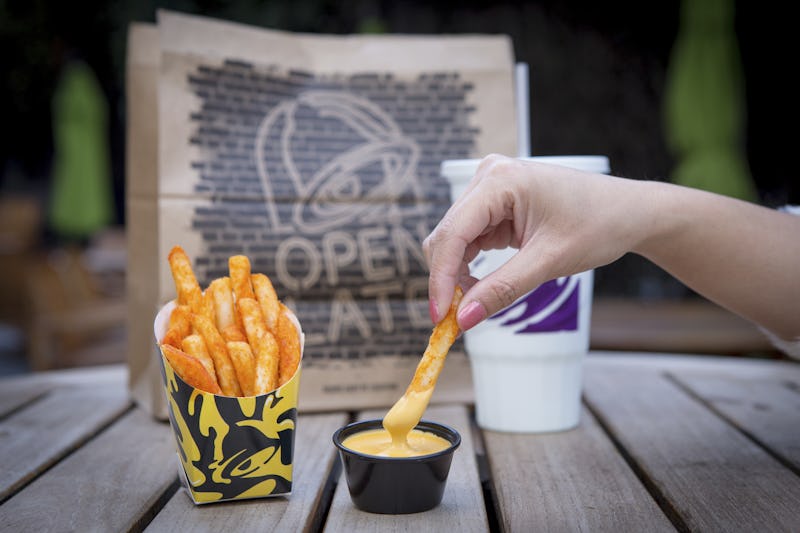 Courtesy of Taco Bell
Finally, Taco Bell has removed one step from your hedonistic Thursday night routine. As of Jan. 25, the beloved fast food purveyor will be providing you with the fries you will inevitably stuff into your Gordita Crunch. That's right: Taco Bell is adding fries to its nationwide menu. No longer will you be forced to make two separate drive-thru stops on your way home from work to gather supplies. Instead, a single Taco Bell employee will bear witness to your glorious dinner plans. Praise be to the great chalupa in the sky!
Now, you might be asking yourself how french fries could be part of authentic Tex-Mex cuisine. I assure you, they are as authentic as cheesy roll-ups, cinnamon twists, and the crowning glory of every stoned college kid's diet, the Cool Ranch Doritos Locos Taco. But in case you need more convincing, the delicious deets are as follows.
According to a press release sent to Bustle, Nacho Fries will be coated in a "bold Mexican seasoning," and each order comes with a side of nacho cheese sauce. The best part? They only cost $1 a la carte. If you're feeling particularly munchy, you can order the fries "Supreme," which adds pico de gallo, beef, and sour cream, for $2.49 or "Bell Grande," which adds all those ingredients plus nacho cheese, for $3.49. They will also be available as part of a $5 box containing a Doritos Locos Taco, Gordita Crunch, and drink. The only thing it's missing is the antacids you'll need to buy later for the inevitable heartburn.
Feeling hunger pangs yet? Feast your eyes on your new favorite 3 a.m. snack.
The addition may not come as a surprise to Taco Bell enthusiasts. The chain tested fries at a location in Irvine, California, near the end of 2016. One year later, it added "California Loaded Fries Burritos," which came stuffed with french fries, to select locations in West Virginia. This January, though, marks the first time fries will be added to Taco Bell Menus nationwide. Tragically, they will only be available for a limited time, so if you plan to give them a try, you'll want to do it sooner rather than later.
Nacho Fries are part of a push to introduce more types of food to Taco Bell's dollar menu, which already consists of 20 items like the Fiesta Potato Breakfast Burrito and the Spicy Potato Soft Taco. Last month, it announced it would add 20 more $1 menu items both nationwide and in test markets over the course of 2018. As CNBC points out, this has ignited something of a war between fast food chains; Jack in the Box and McDonald's have also stepped up their dollar menu game recently. It's a dream come true for bored high school students and broke college kids alike — and apparently, the dollar menu still manages to earn Taco Bell a decent amount of money. The chain told CNBC that its $1 items earned more than $500 million in 2017.
But back to the important stuff, i.e., fried potatoes covered in nacho seasoning. Needless to say, people were stoked to hear that Nacho Fries have finally made their debut. "Can you be anymore [sic] beautiful?" asked one Twitter user.
Since it opened its doors in 1962, Taco Bell has managed to stay relevant in a changing fast food landscape by frequently testing out new menu items and partnerships with other brands. Some of these limited edition foods come back to stay — the Doritos Locos Taco has proven successful beyond what anyone would have reasonably expected — while others never return once they're taken off the menu. Something tells me, though, that Nacho Fries might stick around.