Why You're About To Be Obsessed With 'Thor: Ragnarok' Director Taika Waititi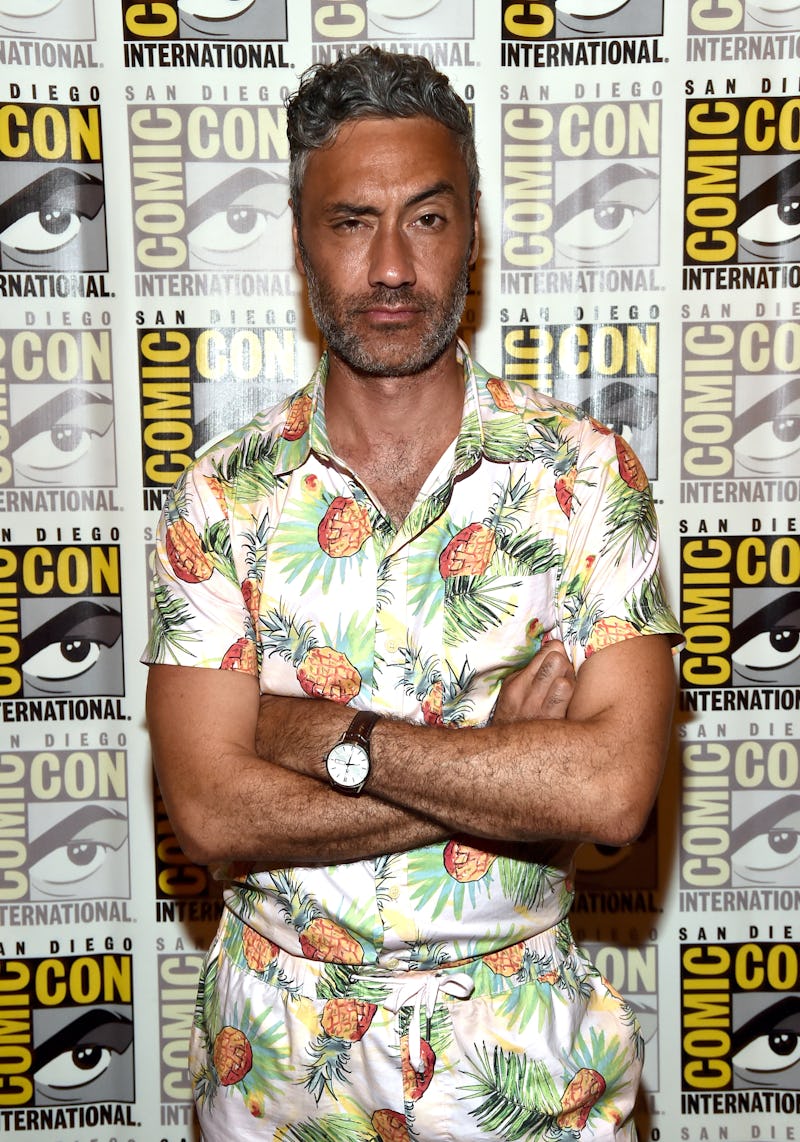 Alberto E. Rodriguez/Getty Images Entertainment/Getty Images
By now you've probably already heard the news. That is, the news that Thor: Ragnarok is one of the best movies to come out of the Marvel Cinematic Universe yet. That's largely because the film is filled with colorful and funny characters including new faces like Jeff Goldblum as the Grandmaster and Cate Blanchett as Hela, the villain you might secretly root for. One of the most surprising characters in the film is a Kronan named Korg, a giant mass of rocks. People might expect him be as evil as the Kronan in The Dark World, but in fact it's the opposite, as Korg is delightful and soft-spoken, despite his menacing appearance. And to make things even better, Korg is played by Taika Waititi in Thor: Ragnarok, and is proving to be such a big hit that Marvel Studios already has plans for the director's on-screen return to the MCU.
Korg definitely steals the show in Ragnarok, and the president of Marvel Studios, Kevin Feige, has taken note. In an interview with Fandango, Feige revealed that Korg and his alien friend, Miek, will definitely be back on the big screen soon enough. "We have plans for Korg and Miek," Feige said. "When and where we'll have to wait and see, but we, like the audience now that they've seen them, can't get enough." That's definitely true, because Korg is the epitome of a gentle giant.
The contradiction between Korg's tough (literally) exterior and his delicate voice is funny enough as itself, but Korg is also really funny for what he says, which makes sense because Waititi is pretty much a comedic genius. The filmmaker has an extensive background in indie comedies, and he clearly brought some of that experience into his latest film because Ragnarok will have you in stitches.
Waititi didn't only bring his comedic background to his role as Korg, though; he also brought a cultural reference that honors his home of New Zealand. In an interview with The Project, an Australian news talk show, Waititi called his inspiration for the voice of Korg as a "Maori bouncer from K-road in Auckland." He continued, "The kind of movie I want to see is a movie where an alien talks like this, and he's just kinda [like] 'hey g'day Thor... My name is Korg, as you can see I'm made of rocks, I know it's freaky," demonstrating his character's high-pitched, hilarious voice.
As for how Waititi ended up playing a part in the movie he was directing, the filmmaker had a joke for that, too. In an interview with ET last April, the director said, "Being made of rocks, we really wanted to get someone like The Rock to play him, but there wasn't enough chicken or salmon in Australia to sustain both him and Chris [Hemsworth]." "So, the next best thing was a hot--super hot--export from New Zealand. A great character actor named Taika." Not only is he funny, but he's humble too.
Waititi attributes a great deal of Raganrok's comedic success to a lot of improvisation, which he used for his role as Korg. While on The Project with the movie's stars, Chris Hemsworth and Mark Ruffalo, Waititi explained that improv is "What happens is when people don't know their lines," causing his co-stars to break out in laughter. It's no secret that Hemsworth is a fan of Waititi, and in an interview with Vulture, the director said that if you look closely, you'll likely find Hemsworth laughing at the movie's jokes. "Oh, there are parts all through the movie where he cracks up for real. For real," Waititi revealed.
Like Hemsworth, MCU fans can't get enough of Waititi, and even though not much has been revealed about the future Korg project, it almost certainly will be a must-see.