Trump Wants To Know How You Feel About The Media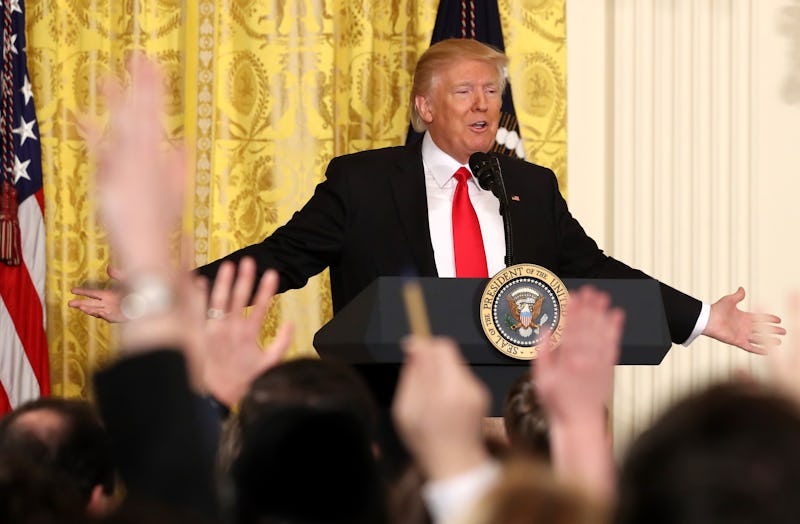 Mark Wilson/Getty Images News/Getty Images
If you thought President Donald Trump calling CNN "very fake news" at his Thursday press conference would be as far as he would take things, you thought wrong. Following the conference, the Trump Make America Great Again Committee sent out a survey — are you up for taking Trump's Mainstream Media Accountability Survey and letting him know what you think about media bias? You can find the survey here.
By taking the survey, you'll be doing "your part to fight back against the media's attacks and deceptions," according to the email blast sent out by the political action committee. That wording in itself is clearly slanted against the media, and the survey seems to follow the pattern of a "push poll," a campaign technique which contains biased questions to guide respondents towards a certain choice, the Boston Globe reported. The 25-question survey's questions include, "Do you believe that the media creates false feuds within our Party in order to make us seem divided?" and "Do you agree with President Trump's media strategy to cut through the media's noise and deliver our message straight to the people?"
Once you submit your answers to the survey, you're required to enter your name, your email address, and your zip code to record your "vote." Though this information could be used to identify you, or sign you up to receive emails from the PAC, there's no disclaimer before you hit "submit." The American Association for Public Opinion Research recognizes "the right of active participants to be provided with information about how personally identifiable information that we collect from them will be used," according to its code of ethics.
The Trump PAC doesn't specify how this information will be used. As SFGate points out, we neither know what Trump's PAC plans to do with the information, nor do we know how many people received the poll in the first place. After submitting your information, rather than being given an informational disclaimer, you are taken to a campaign contribution page. There, you can donate, either one-time or on a monthly recurring basis, to "fight back against the media's attacks and deceptions." (The PAC's words, not mine.)
There are other issues with the Trump committee's survey; as Erik Sherman points out in a piece for Forbes, there doesn't seem to be any sampling methodology, and the hosting site of the poll, Trump's candidacy website, "is as far from a neutral setting as you might find." Additionally, during the survey, the media is mainly depicted as television, with little coverage of other forms of mass media.
We'll have to wait and see what happens with Trump's survey, but I for one would be wary about submitting personal information.