'Taken' Fans Are Rallying For Another Network To Pick Up The Action Series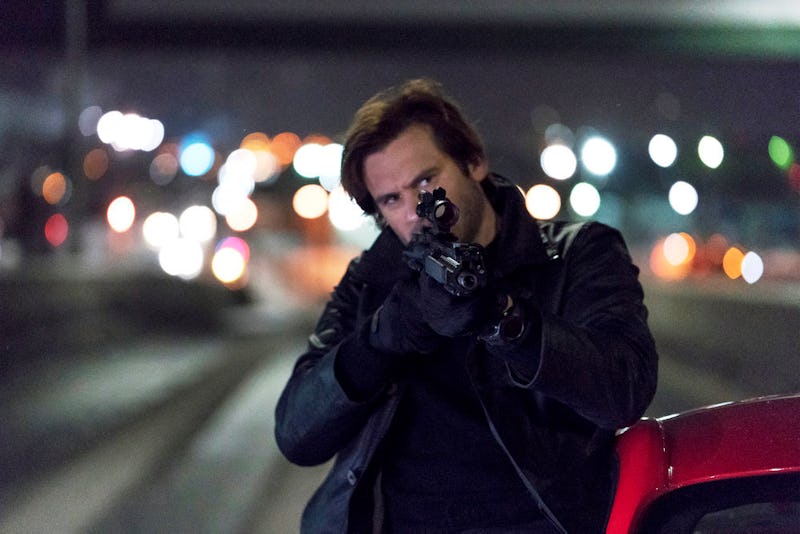 Panagiotis Pantazidis/NBC
Bad news for those obsessed with TV's resident Liam Neeson action spin-offs — NBC's Taken has been cancelled, according to TVLine, and thus will not return for a third season on the network after its finale on June 30. The outlet reported back in May that Taken, based on the 2008 Neeson thriller and following franchise of the same name, was the lowest-rated NBC drama in its demographic during Season 2. It was also nearly the least successful in terms of viewership on the network, second only to Timeless, which has since been cancelled as well.
It's been kind of a slow death for the series, which aimed to elaborate on the past of Bryan Mills, Neeson's character from the films, and elaborate on how exactly he cultivated that "specific set of skills." According to The Hollywood Reporter, Taken performed fairly well in its inaugural season, but was then put on hiatus after only four new episodes in Season 2 due to low ratings. Even after it was eventually brought back, things didn't get better in terms of viewership, and it was yanked from the schedule altogether.
There were also showrunning and cast shakeups in the time between Season 1 and Season 2, though it's unclear if that had anything to do with the show's demise. According to Variety, a whopping six cast members, including Gaius Charles, Brooklyn Sudano, Monique Gabriela Curnen, Michael Irby, Jose Pablo Cantillo, and James Landry Hébertwillm exited the show after Season 1 as Taken's new showrunner Greg Plageman took over from Alexander Cary.
Though Taken's following apparently wasn't as large as the network needed it to be to sustain it long-term, there are plenty of fans taking to Twitter about their desire for another season of the show. The power of social media has helped save other shows from cancellation, but it seems too soon to tell if that could be the case with Taken.
It's possible that this might not be the end for Taken, though, even though NBC is done with it. According to The Wrap, Universal TV is already trying to get Taken picked up by another network and continue the show. NBC and Universal TV both declined to comment on The Wrap's story, which was based on an anonymous insider's report, so there's no telling how much weight viewers can put behind that possibility.
There was also a fair share of criticism of the show — it seems not everybody is heartbroken over its end. It only has a 32 percent positive score on Rotten Tomatoes, and critics weren't too kind to it when it premiered. The Hollywood Reporter's Daniel Fienberg called it "just another NBC action drama in which a government team faces a different limited threat each week," and Collider's Allison Keene wrote that "there's not enough of the movie Taken to engage fans of the films, nor enough of a good TV thriller to keep casual viewers interested."
The people behind the show definitely seem to have plans for the future, so if there were a way for it to be picked up somewhere else, they likely wouldn't lack for story.
Star Clive Standen told Collider that when taking a movie to TV form, it's important not to rush the story, and to keep things going for a long time to come. "With a TV show, you hopefully will have 50 hours and you don't have to worry about the end until you're in the last season," he said. "We all know that season to season, you never know if something is going to get dropped or if it's going to find its natural conclusion, but you don't want to rush. It's a marathon, not a sprint."
Even though NBC seems done with the series, the current TV landscape is broader than ever before, and perhaps with enough fan support, Taken could find a home elsewhere.