You Watched The 'Queer Eye' Episode Where Tan Almost Quit & Didn't Even Know It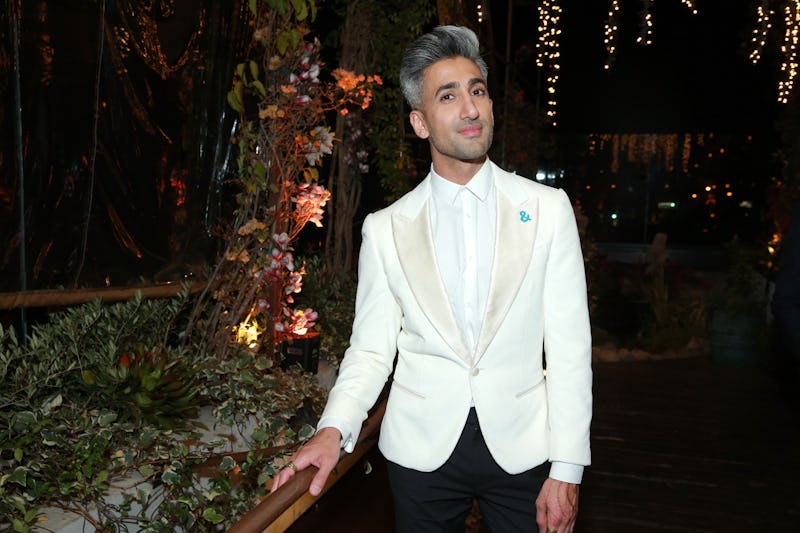 Rich Fury/Getty Images Entertainment/Getty Images
There's plenty of emotional substance in Netflix's Queer Eye reboot, but it mostly seems like the Fab Five — Antoni Porowski, Karamo Brown, Bobby Berk, Jonathan Van Ness, and Tan France — just have a ton of fun. While filming one episode, though, France says he almost quit Queer Eye — and, according to the stylist's interview with Refinery29, fans actually ended up watching a watered-down version of the scene play out on screen.
In Episode 3 ("Dega Don't"), the guys all pile into a car to go meet their next makeover "hero." Before they get there, though, their SUV gets pulled over by the police, while Brown — the show's culture expert and an African American — is at the wheel. Keep in mind that they filmed the show in the South (Atlanta, Georgia and its surrounding suburbs), during a time when police brutality against people of color is a known occurrence.
"The police officer says, '[Brown] has to get out of the car' and Jonathan [Van Ness] is like, 'I just don't want him to get shot.' Rightly so. When you step out of the car, that spells trouble," France told Refinery29. "It was an incredibly real situation for us," he continued. "Yes the camera crew knew what was happening. We didn't, so as far [as] we concerned, trouble was afoot. So it was just building and building."
To clarify: No one in the Fab Five knew that this situation was set up to reveal that, Henry, the police officer who'd pulled them over was the best friend and nominator of their next makeover hero, Cory. The producers had planned for Henry to stop the guys' car, but they hadn't planned for Brown — or anyone in particular — to be driving that day, according to TV Guide's Feb. 14 interview with the culture expert and producer David Collins.
"The guys and I in the morning, we actually all physically fight for who gets the keys," Brown told the publication. "Sometimes we're driving for two hours, and so if you're in the driver's seat you are definitely gonna be awake and control of the radio. That morning I was adamant that I wanted it, not knowing that [getting pulled over] was going to the part of the show."
After stopping their car, Henry asked Brown for his driver's license — which he didn't have. "We have follow cars that the producers are in behind us, and we drop our stuff with them," Brown told TV Guide. Cory then asked Brown to step out of the vehicle, immediately causing noticeable panic among Van Ness, Berk, Porowski, and France.
"I whipped out my phone so fast to start recording [the incident]," Van Ness recalled to Entertainment Weekly, "and I did not know we were getting pulled over. I was super-duper uncomfortable." After Brown got out of the car, the "set-up" was revealed, but he and France — who is British-Pakastani and the only other person of color on the show — were furious.
"Afterwards, we were fuming, saying 'this can never happen again. This wasn't OK. You don't know what it feels like to be a person of color and get pulled over,'" France told Refinery29. "We didn't want to film the next day. We were like 'we're done. That's it.'"
The guys resumed filming after discussing the incident with producers, and ultimately decided that the moment could end up being valuable for viewers. According to TV Guide, in an unaired scene recorded after the set-up, Brown tells France, "I'm so thankful that [the producers] didn't pull me away [from the driver's seat] because that would have been a disservice to the show, and to our experience as people of color."
France, in retrospect, reiterated the scene's value, as well. "Thankfully it turned out great in the end because it's a conversation that needs to be had," he told Refinery29.
Fans can stream the entire episode (Episode 3: "Dega Don't") on Netflix. The police stop set-up goes down within the first few minutes, and it's definitely a scene that's worth watching, discussing, and reflecting about.