Queer Eye's Tan France HATED This 2018 Trend — Until He Found The Confidence To Rock It Himself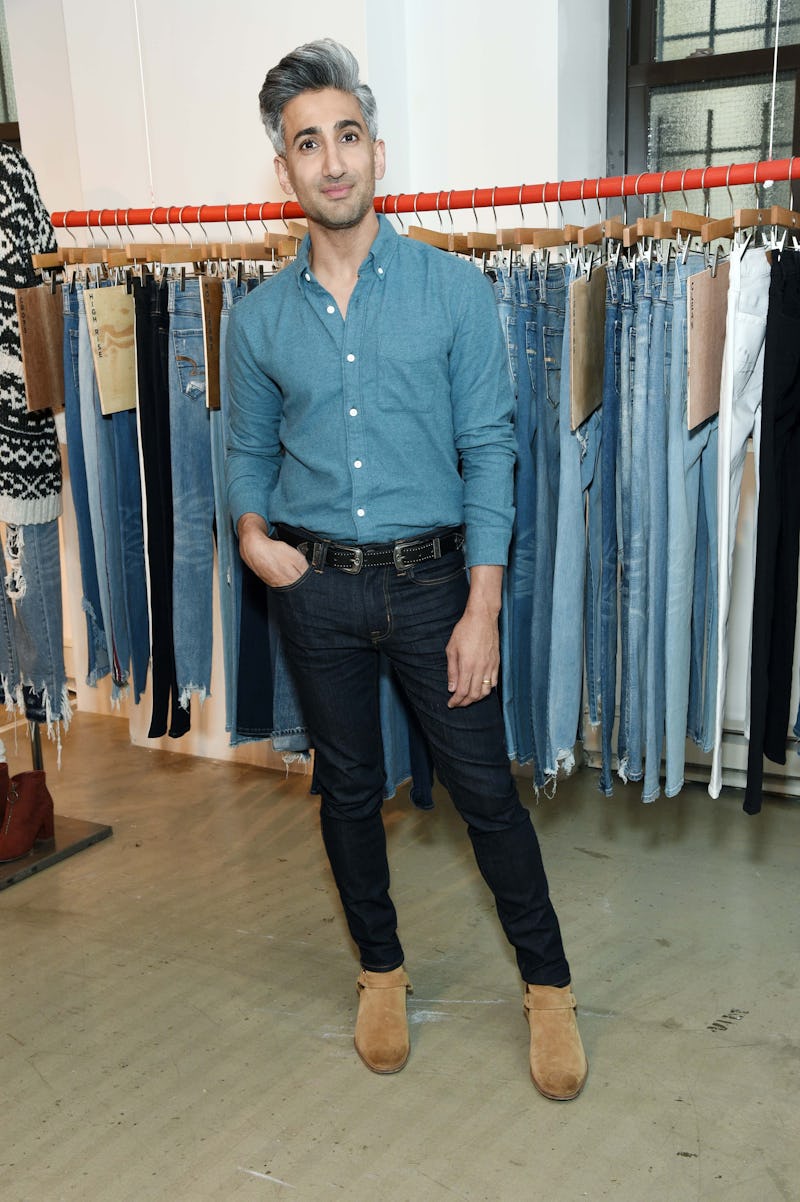 Courtesy of American Eagle
Netflix's Queer Eye is a powerhouse of a show. With multiple Emmys and season three currently filming, it's a watercooler conversation staple and critical darling. The success of the series, undoubtedly, has to do with the charismatic men who are the faces of the series. Style expert Tan France's fashion and confidence advice is the perfect example of why the show is such a success — and is also why he was recently chosen as an American Eagle stylist at large.
Just in case you're one of the ten people who haven't checked out Queer Eye yet, France is the show's "fashion guy" — and he's really, really good at it. In fact, he's so great at style, that he was able to "Queer Eye" fellow Netflix star Hasan Minhaj without even meaning to do so while the duo filmed a promo for Minhaj's show Patriot Act.
When it comes to person style, Tan tells Bustle that he always wants to keep people guessing about what he'll wear next while also staying true to himself. Even when looking at a trend, France approaches it from a perspective of making the trend work for him instead of simply wearing it as he has seen others do.
"The way I feel with things that are a big trend is I try and lean in, and do it my way because that's what it's all about for me," he says.
Tan, for example, hated the dad sneaker trend finding it to look "chunky and cumbersome" and a bit too '90s in the way it was being styled. Instead of dismissing the trend, however, he adapted it. France explains he pairs the sneaker with cropped or tapered pant in more neutral tones for a look that's more himself.
"I found a way to make it work for me," he says. "And now, to be honest, I'm all about the dad sneaker...I had to find my way to do it."
But even though France has such a strong sense of personal style, he isn't totally free of insecurities.
"Every now and then when I look in the mirror, I feel certain things about my body," he says. "I have to remind myself that there's all these different things that I love about myself and I love about my body. Let's go from there instead of that one thing I don't like."
Once you've found those parts of you that you love, France says it's all about learning to emphasize them with your style.
"What part of your body do you truly think is great?," the Netflix star asks. "If you're loving your hips, if your loving your bust, just find ways to highlight those parts of your body and show them off.
"Learn the rules first," he says. "Then start to play."
Perhaps France's biggest piece of confidence advice to everyone is to be kinder to yourself. The stylist says he is no stranger to having days where he doesn't always love every part of himself, and explains that it's a feeling most people understand. Overcoming those moments, he says, is all about realizing that you are your own worst critic.
"You need to learn to love the parts of yourself that other people may, or you may, be concerned about or other people may have commented on before," France explains, "There's nothing that clothes can do for you that you can't do for yourself first and foremost.
"Be kinder to yourself."