Taraji P. Henson's Newest MAC Collection Is Glittery, Gorgeous & Gives Back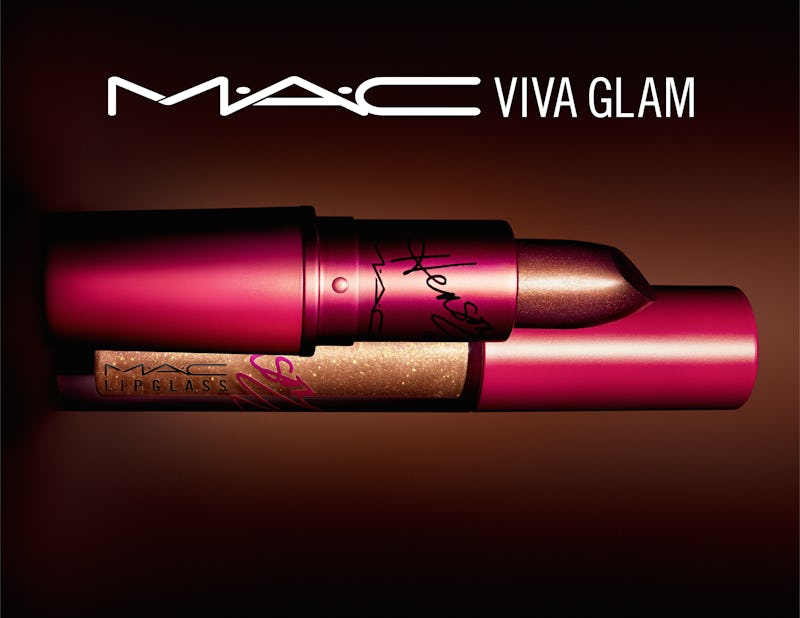 Courtesy MAC
Get your wallets ready, because MAC and actor Taraji P. Henson have teamed up yet again. This time, it's for a good cause. For her second time around with the company, Taraji P. Henson created her own MAC Viva Glam shade. Not only is the color absolutely stunning, but every single cent of the money goes towards helping adults and children living with HIV.
This isn't just your average lip product. While at first glance you might just see a gorgeous color, it's really just a small piece of MAC's long history of giving back as a brand.
The beauty giant created the MAC AIDS Foundation back in 1994, and have since featured iconic, ground-breaking celebrities to promote the campaign. Celebrities such as Ariana Grande, Lady Gaga, and Elton John have joined the Viva Glam ranks -- and now Henson is finally taking center stage.
Henson opted for a copper brown lipstick and matching pearlescent shimmery gloss for her charitable collab. Each shade is available for $17 on the MAC website on Sept. 7 through February 2018.
The full $17 per product will be donated to HIV-impacted populations, so you can think of this as a donation and not a splurge.
According to the MAC website, the money from all product sales are pooled into a grant system. The company doles out amounts to organizations that focus on HIV prevention, treatment, and support of people living or affected by the virus.
Although the company doesn't state exactly which organizations they give to, their site says that they have given over $50 million to 501(c)(3) groups since 1994.
This is Henson's second time teaming up with the brand. The first time around, Henson created products that stuck to a similar tone as her Viva Glam Collection, suiting a wide range of skin tones.
Her first MAC collection, however, is currently discontinued.
It's no surprise that MAC chose Taraji P. Henson to work with them on such an iconic, charitable collection. From playing the feisty character Cookie on Empire to nailing her inspiring role in Hidden Figures, this woman knows how to make a positive impact.
And she also happens to know how to create some pretty gorgeous lip products, too.