Why Tarana Burke Thinks Bill Clinton & Monica Lewinsky's Affair Was An "Abuse Of Power"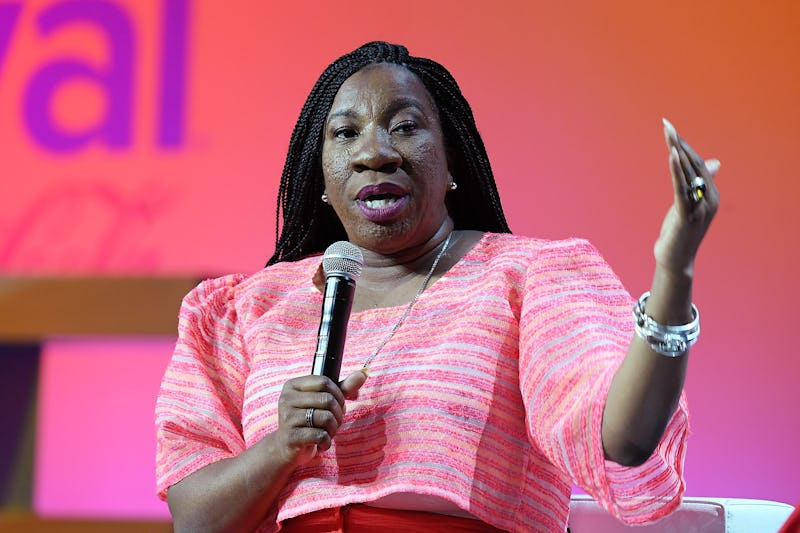 Paras Griffin/Getty Images Entertainment/Getty Images
The founder of the #MeToo movement didn't hold back in a Tuesday interview with The Root about former president Bill Clinton's extramarital affair with Monica Lewinsky. Tarana Burke disagreed with Hillary Clinton's recent comments that her husband's affair with the former White House intern was not an abuse of power. In her interview, Burke said it "absolutely" was, considering Clinton's position and the age difference between him and Lewinsky.
In a CBS News interview that went live on Sunday, Hillary said that her husband should "absolutely not" have stepped down as the president of the United States over his affair with Lewinsky. She also gave a firm "no" when asked whether she viewed the affair between Clinton and Lewinsky as "an abuse of power."
But Burke disagrees. "Sexual violence is not about sex," Burke told The Root. "It's about power and it's about the abuse of power. When I think about the things said about the Monica Lewinsky and Bill Clinton affair not being an abuse of power, that is just tragic and it's wrong. The affair, when it happened, was consensual and I recognize that. I think we all recognize that. Monica herself said it was consensual."
At this point, Burke said, "But it's certainly is an abuse of power. You're talking about an age dynamic but you're also talking about the president of the United States. The amount of power that is in that position alone versus an intern, it's absolutely an abuse of power."
The activist further stated that the former Democratic presidential nominee's comments ignored the opportunity to "be accountable." She urged viewers to consider "different models of accountability" and that "I think now 20 years down the road, it's OK to say: this was an abuse of power. It doesn't mean that he had to step down from his position but it was an abuse of power that I'm sure he regrets."
Some people may wonder whether there is a point in bringing up Clinton's extramarital affair in 2018. According to Burke, this moment in America's political climate could have been an opportunity for "harm reduction."
The activist said, "What that does is reduced some of the harm that Monica experienced in that whole exchange, right, because she was a kid! And so, her life permanently is altered. She has to deal with all of those things. But two people made a choice. And one of those people was the most powerful man in the world. And I think that's just unfortunate."
The #MeToo founder wasn't the only one to criticize what she called the power imbalance in extramarital affair. CNN political commentator Tara Setmayer also tweeted, "Is Hillary Clinton serious? Still making excuses for Bill. Bill was POTUS, the most powerful man in the world. Monica was [a] 22-year-old underling. The power dynamic is indisputable. In the era of #MeToo, many Democrats have said Bill shouldn't have gotten the pass from them back then."
Among those to disagree with Hillary was also Eugene Scott who reports for The Washington Post. In a detailed analysis of Hillary's remarks, Lewinsky's status as an intern, and the influence Clinton wielded as as the former president, Scott called the former secretary of state's comments a "willful misunderstanding of the #MeToo movement."
Disclosure: Hillary Clinton's son-in-law Marc Mezvinsky joined Social Capital, an investor in Bustle Digital Group, in mid 2017 and joined the Board of Bustle Digital Group in early 2018.