Target Expands Its K-Beauty Selection With This Fan Fave Brand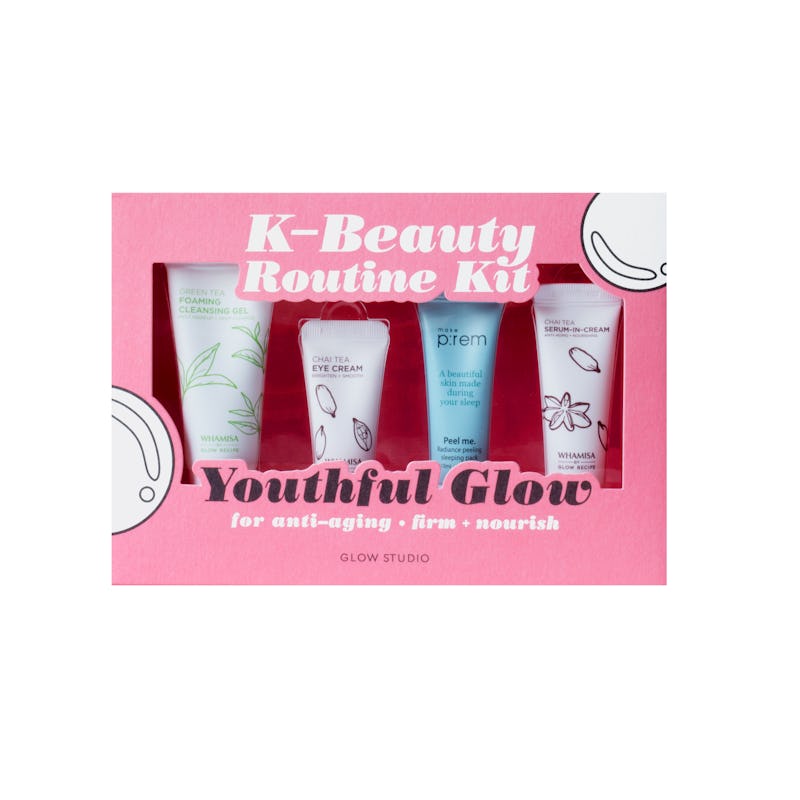 Courtesy of Target
Your skin will soon thank you for being being a Target loyalist. That's because Target is expanding its K-beauty offerings with its new Glow Studio for Target Collection. It's an extensive and epic assortment of additional products, curated by the experts of Glow Recipe.
Exclusive, four-step routine kits are the hero products of this product expansion. That's because these kits both introduce and simplify the usual 10-step K-Beauty skincare system. While a K-beauty enthusiast once told me that the K-beauty faithfuls don't view an intense and detailed skincare regimen as a chore, the Glow Studio kits will help ease noobs into the process by making it a more user-friendly and less intimidating experience.
Additional Target K-beauty exclusives include the Whamisa by Glow Recipe line, which feature green and chai tea-infused skincare products. Green tea is revered for its hydration properties, while chai can plump and energize skin.
Popular K-beauty brands Make P:rem and LJH will now be sold at Target, too.
Glow Studio for Target will be shoppable both in stores and online as of Sunday, Sept. 10.
Prices start at $5 and go up to $38, so it truly is a wide range for all skin types and budgets.
Oil Be Gone Routine Kit, $25, Target
Chai Tea Eye Cream, $26, Target; Chai Tea Serum-In-Cream, $26, Target
This K-beauty extension truly allows Target diehards to enjoy premium skincare brands.
Green Tea Moisturizer, $25, Target
Glow Recipe co-founders Sarah Lee and Christine Chang said in a press release that their goal is to "bring K-Beauty to consumers in an accessible manner... We believe that discovering and buying K-Beauty should be easy and enjoyable and via this special partnership, it can be!"
Hydrated Glow Routine Kit, $25, Target
Lee also explained that the four-step kits are building blocks of the K-beauty ritual.
"Each K-beauty trial kit is equipped with the absolute essentials of a well-rounded skincare routine," she said in the release. "We set the kits up this way to make sure anyone who's picking one up — regardless of their familiarity with K-beauty — will instantly have all the bases covered. From there, it will be up to them what they add or don't add."
Green Tea Foaming Cleansing Gel, $20, Target
Chang also noted how Korean beauty routines are more focused on prevention, rather than treatment, of skin issues.
Hydrate me. Micro Tension Cream, $30, Target
For Koreans, skincare is considered a vital form of self-care, and hydrated, nourished skin remains a priority in Korean culture. That's something we can all apply to our daily lives, especially from Korean-based brands.