Target Pulled A Father's Day Card That People Called Offensive From Its Stores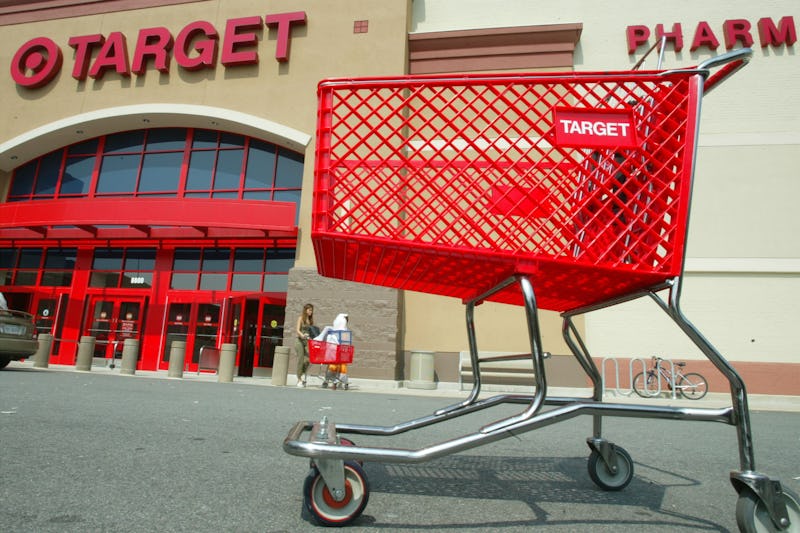 Alex Wong/Getty Images News/Getty Images
With Father's Day only a few days away, merchandise themed towards the holiday is everywhere. Target has responded to criticism about a "baby daddy" Father's Day card, and the chain is pulling the cards as a result, BuzzFeed reported. The card has a sketch of a couple that appears to be Black on the front, and the inside says, "You're a wonderful husband and father — and I'm so grateful to have you as my partner, my friend, and my baby daddy! Happy Father's Day." Various internet users suggested that the card's premise played off of stereotypes of Black parents, and Black fathers in particular, with one Twitter user posting that "Baby Daddy is not a term of endearment" and calling the card an "insult to black fathers."
Target issued an apology via Twitter on Wednesday, June 13, stating that it was not the brand's intent to offend any of its customers. "We were made aware of some concerns about this card last week and are working with our vendor to have it removed from Target stores. We appreciate the feedback and apologize. It's never our intent to offend any of our guests with the products we sell," the tweet read. American Greetings, the vendor who produced the card, also issued a statement, stating that "This particular card was created for, and addressed to, a loving husband — which the inside copy makes clear," as USA Today reported. "However, we now see that the front page, taken out of context, can communicate an unintentional meaning that we are strongly against perpetuating and is not consistent with our company purpose and values." Per USA Today, the company went on to say that it has pulled the card from its stores and wants to "apologize for any offense we've caused."
"Baby daddy" is a term used commonly in African-American Vernacular English (AAVE), and it dates back to indentured servitude, according to The Root, along with "baby mama." It's usually used when talking about a man who is no longer partnered with a woman after having a child together, and it's often used derisively. While some families have chosen to reclaim the phrase — and, in fact, other Twitter users were vocal about this use of the term, as BuzzFeed noted — it can be seen as playing off of a stereotype in an insensitive way.
Though both brands quickly apologized and have worked to pull the card from physical stores, people on Twitter wondered how the companies didn't catch that the card could be misinterpreted. Even as a light-hearted nickname, the term "baby daddy" still has racial implications, and the illustration of a Black couple on the front of the card seems to acknowledge that. A public Facebook post from Takeisha Saunders about the card made the suggestion that the card appeared to be one of the only Father's Day cards available that day that "featured a black couple."
It's important to remember that, in the age of social media, potentially controversial products or actions are all at the risk of becoming amplified through social networks — but that isn't necessarily a bad thing. Companies have to consider context and nuance as they release products and advertisements, since this can possibly alienate potential future consumers, or otherwise make them feel understood. Considering this context and nuance can lead to important conversations about word choice and sensitivity, and the more we develop a vocabulary around these issues, the easier it will be to navigate this landscape. Essentially, everything is political these days — and that can lead to a better understanding of everyone's experiences.