Target Has A Brand New Disney-Themed Beauty Line & It's Proof We CAN Have Nice Things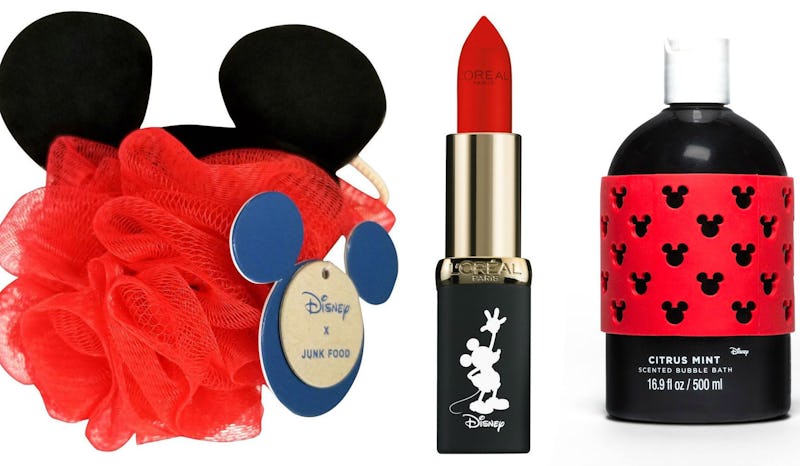 Target
If you're a Disney fan, prepare your vanity table because there is a new Mickey Mouse makeup collaboration right around the corner and you'll want to show it off front-and-center in your room. There is a new Disney x Target collaboration made exclusively for the big box store, and it's just about the cutest cosmetics collection you have ever seen. It's a mix of different brands turning out their version of Disney products, including makeup staples like L'Oreal and Lip Smacker. Made to celebrate Mickey Mouse's birthday, the collection is filled with everything from lipstick shades to hand creams to charcoal sheet masks, making it the perfect way to express your love for Disney while also beautifying yourself in the morning.
People will know you're a Magic Kingdom fan right away upon glimpsing your Mickey-Mouse-ear adorned lipstick tube as you reapply on the bus, or your black and white Mickey eyeliner as you touch up your cat eye in your work's bathroom mirror.
A couple of things will be available on line, while the rest you would have to snag in-store. Featuring a modern and minimalist red, white, and black aesthetic, the packaging is so pretty that you'll want to show it off right at the front of your medicine cabinet or makeup drawer. To give you an idea what to expect, below is a breakdown of some of the products.
From cute face masks, to yummy smelling bubble baths, to gravity-defying mascara formulas, make sure you stop by your local Target and see what other Mickey-inspired goodies they're offering this month. You can potentially stock up your whole bathroom with Disney products! And how magical would that be?