Target's New Line Of Adorably Ugly Stuffed Creatures Will Speak To Your Soul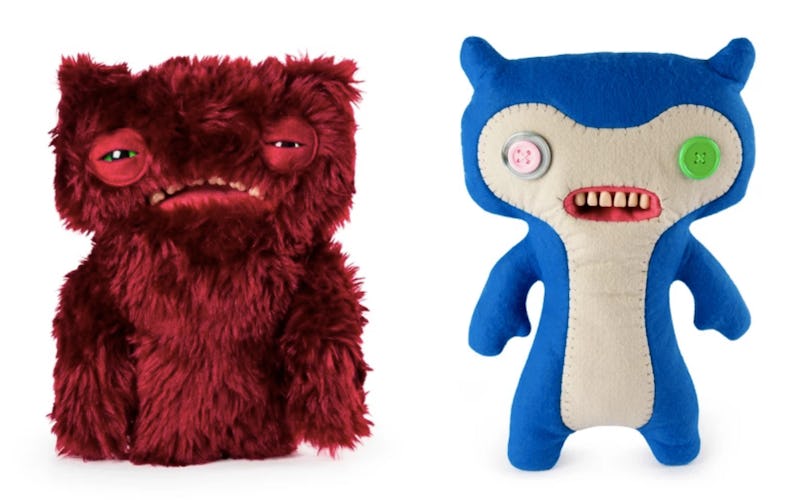 Target
You're never really too old to have a few adorable stuffed toys in your room — hey, they're basically throw pillows. You can use them as decoration, to add a little personality to your room, or something to cuddle if you're having an off day. Luckily, Target has a full line of stuffed toys that can fulfill all three of these purposes: just prepare yourselves, they're not too easy on the eyes.
Target's line of "Fugglers" consist of several strange, funny, and ultimately adorable stuffed creatures. They come in a range of shapes, colors, and most importantly, odd facial expressions. Say goodbye to the popular oversized teddy bear that was all over social media — it's time for a new stuffed toy to get it's moment in the spotlight. The Fugglers are priced from $14.99, and they're actually perfect for the holiday that's quickly approaching: Halloween. If you're someone who loves to get friends little gifts on Halloween, these might be the perfect option — they're slightly spooky but somehow still manage to be cute. Decorate your place with these in time for a Halloween, and you'll be guaranteed to have the most uniquely-festive spot around.
If you're on the fence about buying a Fuggler, the shining five-star reviews on Target's website just might be enough to sway you.
"This little Fuggler is everything I expected him to be and more! He's super cute! My friends are kinda freaked out, but I love him!" one reviewer excitedly commented. Sounds about right (anything that'll freak out friends and get a laugh is pretty much enough to make me want to get it).
"So...he kind of looks like something that your kids been dragging around for months..maybe even years, but to me that just lends to his charm. I just love this guy, he is truly Fuggarific," another reviewer hilariously comments underneath their five-star rating of the toy.
Some of the Fugglers look like they're straight out of Coraline, while others look like characters from Where the Wild Things Are — and the versatility is amazing.
Whatever mood you're in, your Fuggler will be able to comfort and kind-of-scare you. Never let anyone tell you that you've outgrown the ability to have a stuffed toy. Whether you're nine or 92, you deserve that bit of joy that you get from unwrapping a toy. The holidays aren't here yet, but it's never too early to treat yourself.