Target's Holiday Gift Sets Are Under $15 & You'll Just Want Them All For Yourself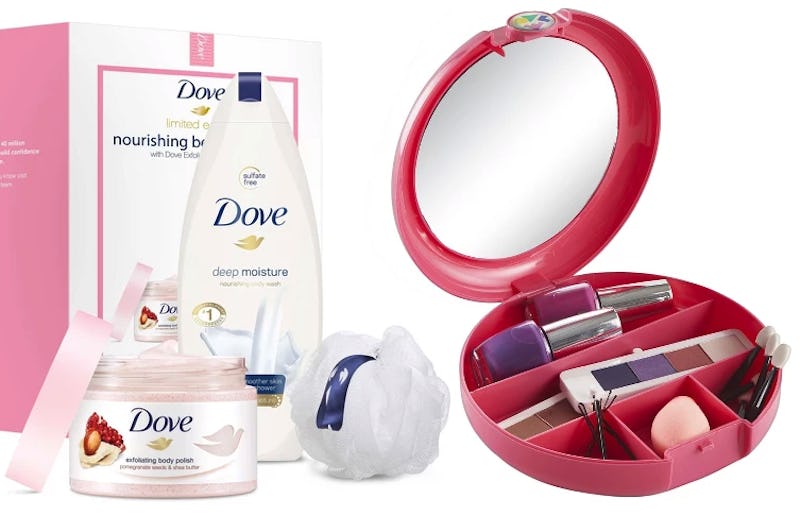 Before you've even had time to stow away your cape and fangs for next year, you're already bombarded with ceaseless reminders that gift-giving season is here. And while holiday shopping is something of a winterized Hunger Games, Target's holiday gift sets may be the gifting hack to steer clear of the upcoming holiday hoopla.
You need a good excuse to head back to Target, anyway, so you might as well bang out your holiday shop while you're there. This Sunday Nov. 4, Target will stock its shelves with a bunch of new seasonal products, which you'll probably be making a beeline for the store's beauty aisle. The various gift sets fighting for your attention consist of body lotion, hair accessories, even nail essentials. Which, by the way, are all under 15 bucks. Just saying, for $15 glam, you better hop on that ASAP!
The indecisiveness gets real whenever this time of year comes around. Every year becomes harder and harder to pick out gifts because you want to top what you got for your family and friends in previous years. And possibly impress them with your gift wrapping skills.
But before you start feeling overwhelmed with what to get, here are some of Target's best gift sets.
eos Blackbetty Nectar Delicate Petals Gift Set
This trio is perfect for the skincare fanatic in your life. This Target gift set brings you eos's Blackberry scented hand and body lotion along with the brand's signature lip balm. This set also comes in coconut milk cherry blossom, cucumber melon, and vanilla orchid.
Dove Beauty Pomegranate & Shea Butter Body Scrub Set
Let a friend unwind in their tub with this winter season with this pomegranate and shea butter scrub set from Dove Beauty. It comes packed with an exfoliating body polish, deep moisture body wash, and a body pouf gift.
Raw Sugar Hair Care Trio Gift Set
This natural hair care set is equipped to help you whip it back and forth with a healing power hair masque, shampoo, and conditioner.
ME! Bath Tini Christmas Tree Bath And Body Gift Sets
Who doesn't want to smell like a forest green Christmas tree after stepping out of a hot bath? And getting 2 bath bombs for $4 is quite the steal during the holidays.
Good Chemistry Rollerball Fragrance Gift Set
Frangrance fans will love this rollerball set by Good Chemistry. The travel-sized trio set brings you the scents of Wueen Bee, Wild Child, and limited edition fragrance, Firecracker.
Burt's Bees Kissable Color Lip Shimmers Holiday Gift Set
Get your (or your friend's) set of smakers in check this brittle season with Burt's Bees Kissable Lip Shimmers. The flavors of peony, fig, and rhubarb come just in time for November foliage.
Adore You Square Eye Palette
This Adore you palette features 12 shades of cooler eyelid shades that you'll want to save for the New Year's Eve party you'll be hitting up. If you know someone staying up til 12, this is for them.
Soap & Glory Hands Yule Love Bath And Body Gift Set
Welcome the holidays to your loved one who's all about moisturizing with Soap & Glory's Hands Yule Love bath and body gift set.
Caboodles Makeup Bags And Organizers
Feeling nostalgic this season? Bring it back to the '90s with this cute Caboodles compact that carries all your small beauty knick knacks.
This is when stores everywhere get hectic and insane. But if you want to get a leg up on your Secret Santa for work or with your pals, Target's got you covered this holiday season.