Target Just Announced A One-Day Sale On Amazon Prime Day So RIP, Your Wallet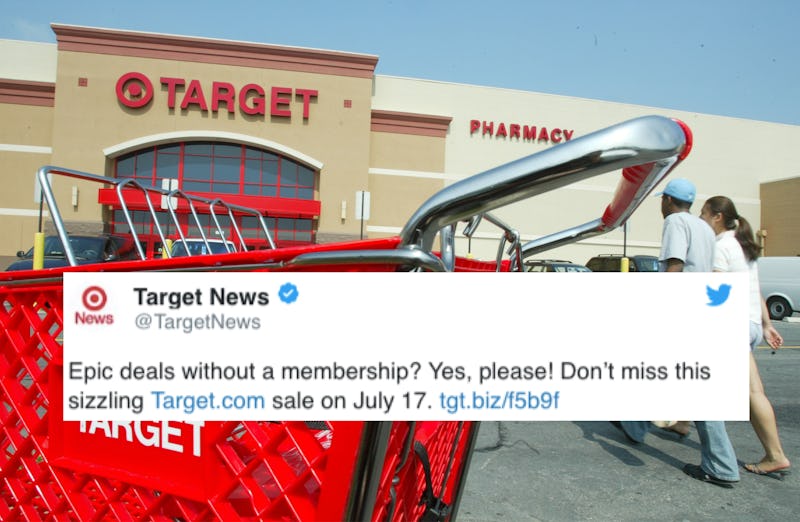 Alex Wong/Getty Images News/Getty Images; Twitter
Amazon's big Prime Day sale is coming right up, and now another brand is getting in on the action. Target is having a sale on Amazon Prime Day, as reported by Market Watch. While Amazon's sale will take place over two days — Monday, July 16 and Tuesday, July 17 — Target's sale will only be on the 17th.
According to a Target press release, the retailer will offer two-day shipping on orders over $35, as well as free shipping and 5 percent off orders for those with Target REDCard. Those who spend over $100 can also receive a a free six-month membership for same-day delivery from Shipt. Among other deals, the sale will include: 25 percent off beauty and personal care items, 30 percent off Target-exclusive homeware brands, $5 off on books when you spend $20, and up to 30 percent off select baby items. Making the sale in more direct competition with Amazon, it will be for just Target.com, not Target stores.
The decision to have a sale on the same day as Amazon Prime Day makes a lot of sense, especially when it comes to comparison shopping. If people are already online shopping at Amazon, they'll probably want to take a look around and see what else is out there and if they can get what they're looking for at a lower price. And with two-day shipping being available on orders over $35 (a pretty low price), Target shoppers will be able to get their orders quickly, too — and without having a Prime membership. Target made that key part very clear when promoting the sale on Twitter:
That said, the sale isn't all that different from Target's usual deals. Target currently is offering free two-day shipping on orders over $35. There are also currently discounts on home products, furniture, clothing, and baby gear. It seems that the sale on the 17th will simply expand this to a few other categories and with higher, wider-spread discounts for some sections.
This year marks the fourth Amazon Prime Day. On the inaugural Prime Day in 2015, the site sold 34.4 million items — a number so big, it's scary to think about — which was 398 items per second, according to Fortune. CNN Money reported that 18 percent more orders were placed than on the previous Black Friday. The vice president of Prime, Greg Greeley, said in a statement at the time, "Going into this, we weren't sure whether Prime Day would be a one-time thing or if it would become an annual event. After yesterday's results, we'll definitely be doing this again."
This year's Prime Day will take place for 36 hours, from 3 p.m. ET/12 p.m. PT on July 16 through July 17. There will be 1 million deals exclusive to Prime members. And if you don't have Prime, Amazon wants to get you in on that, too, with a 30-day trial (free) so you can shop the deals (not free). This year, there will also be deals for Prime members at Whole Foods stores. Amazon is offering sales on Alexa-enabled electronics, too, as well as four months of Amazon Music Unlimited for $0.99 for members who haven't tried the service yet.
Whether you personally choose to shop the Target one-day sale, Amazon Prime Day, both, or neither, it's clear that it will once again be a huge day for sales for Amazon, and probably for Target, as well. With consumers already in a buying mood, there's a good chance they'll share the wealth. Sure, you can buy a new TV on Amazon, but what if you really need something from Chip and Joanna Gaines' Target line with free shipping?!