Target Made Ugly Holiday Dresses That You Will Actually Want To Wear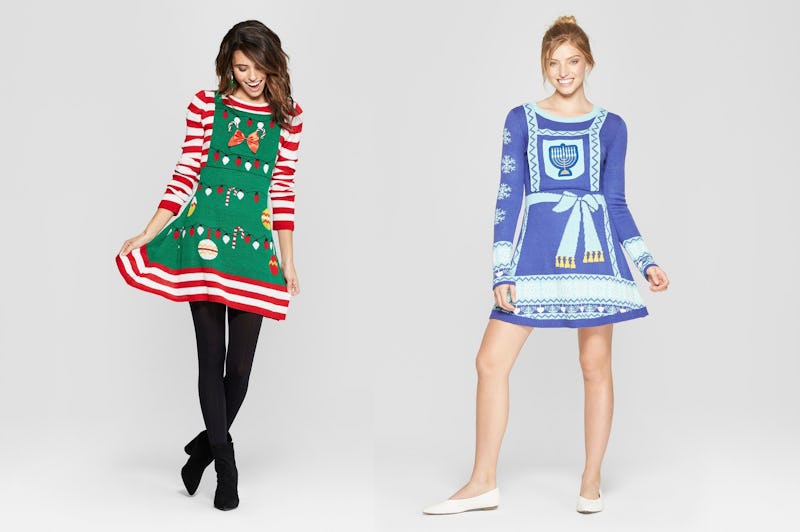 Target
Now that the holidays are officially upon us, it's time to get the hot chocolate a-brewing, the tinsel strewn, and the Hallmark holiday movies turned on in a loop. But for ultimate festive coziness, one needs an ugly holiday sweater — or, to take it a step further, an ugly Christmas dress. Target is now selling "ugly" Christmas dresses, (available in sizes XS-XXL) upping the ante on the kitschy holiday tradition by letting you dress in a complete outfit that delivers head-to-toe holiday cheer.
No matter which holiday you celebrate, there is an ugly holiday sweater version that will help you get into a jolly mood with its flamboyant colors, cheesy prints, and its pleasantly gaudy decorative accents. And now you can take it a step further by expanding that look into a complete dress.
Wear it to everything from "12 Days Of Christmas" bar crawls, to a holiday party at your friend's house, to that moment where you open presents on the big day — there are plenty of uses you can get out of it this season. While these dresses are meant to be "ugly," many of them are actually really sweet and cute. Sure, they're over the top and completely flashy, but that's part of the charm of dressing up for the holidays. Check out Target's selection below, and get ready to turn into all things merry and bright.
Candy Cane Striped Dress
Gingerbread House Dress
Hanukkah Dress
Toy Soldier Dress
From Hanukkah-themed dresses painted in different shades of blue, to gingerbread house frocks that will make you feel full of holiday cheer, these are just the items to spruce up your winter wardrobe.
Did you know that you can find Target promo codes at the Bustle Coupons page? Bustle Coupons is a service provided by Groupon in collaboration with BDG Media, Inc. Each time you use a coupon or promo code from Bustle Coupons to make a purchase, Groupon and BDG Media, Inc. earn a small commission. This article was created independently from Bustle's sales department.