The First Photo Of Taron Egerton As Elton John In 'Rocketman' Will Blow Your Mind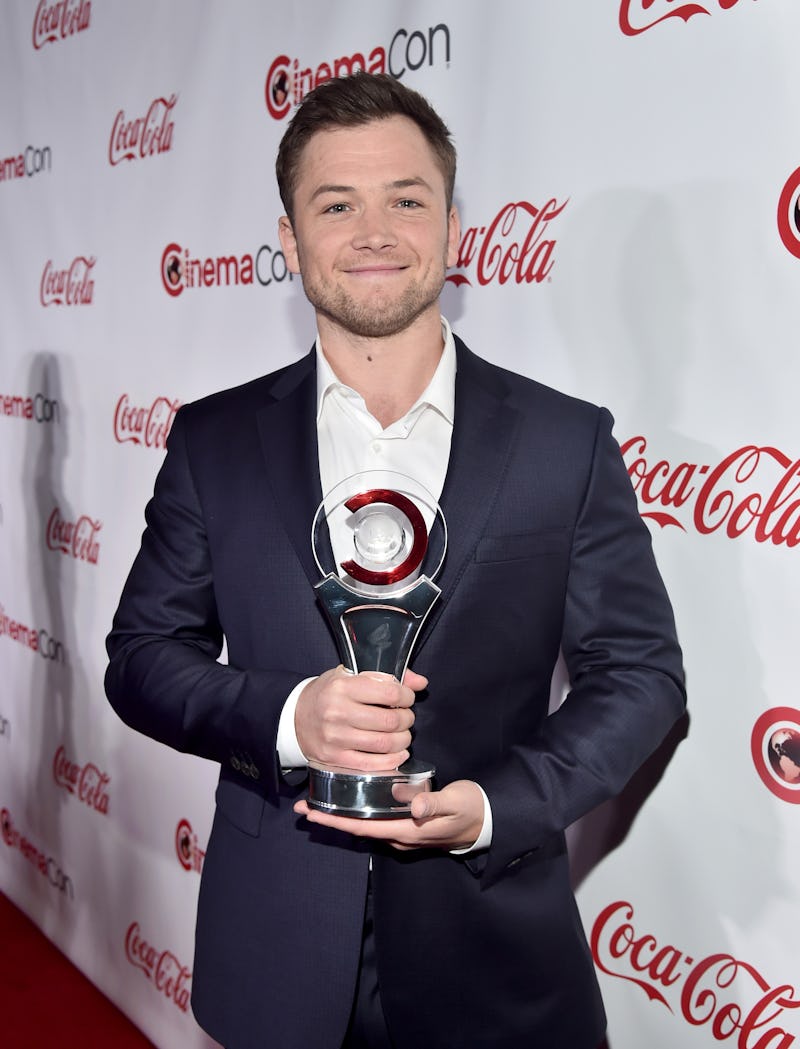 Alberto E. Rodriguez/Getty Images Entertainment/Getty Images
Amidst Friday's chaotic news cycle came unexpected news, a treat for movie and music lovers: the first look at Taron Egerton as Elton John in Rocketman. Not only are audiences pumped for the upcoming biopic about the legendary artist, but they can't get over Egerton's uncanny resemblance to John. The photo, released by Paramount, is just a taste of Egerton in the highly-anticipated role, but it's super promising for what's in store.
In the photo, Egerton sports a pair of John's infamous, bedazzled sunglasses along with a gold jacket, short shorts, and extravagant, multi-colored shoes. He's sitting aboard a decked-out private jet and giving fans a perfect amount of John's effortless attitude and flare. One photo, and he's a star.
John also posted the photo of Egerton, showing his immense support for the actor and the film. He captioned the post: "Hold on to your glasses, this is going to be a wild ride!! Here's Taron Egerton (portraying me!) on the set of the #Rocketman movie. 🚀 #film #comingsoon." So far, fans have responded with remarks like, "I'm hyped af" and "Awesome. Looks legitimate."
Of course, people are calling out the remarkable resemblance between the two performers. "Damn...I truly thought it was you!!" one wrote and another commented, "Holy crap you look so like EJ." With just a quick glance, some may even mistake Egerton as a young John, as one fan commented, "Yasss...the original Kween."
According to Deadline, Rocketman will premiere in May 2019. While it's a bit of a wait, this is exactly the taste fans needed. It's also great to see John and Egerton's great rapport and support for one another. In fact, the two have worked together in the past when they were featured in 2017's Kingsman: The Golden Circle. (Egerton was also in 2014's Kingsman: The Secret Service.) On Friday, Egerton also posted a tweet to get fans excited about Rocketman's upcoming trailer debut and John retweeted the actor's post.
According to Deadline, Rocketman will depict Elton John's skyrocket journey to stardom. The outlet has reported that the film "follows John's rise from being a prodigy at the Royal Academy of Music to becoming a breakout rock legend with his 1972 album Honky Chateau and its mega-selling 1973 follow-up Goodbye Yellow Brick Road." Additionally, The Hollywood Reporter revealed that the film will also dive into John's past issues with drug addiction and the pressures of worldwide fame.
Further, the film's official Twitter describes the movie as "an epic musical fantasy about the uncensored human story of Sir Elton John's breakthrough years." Beyond these brief descriptions revealed to audiences thus far, there's little that fans know about the upcoming film (except the fact that they are psyched to see it).
Back in June, Egerton gave a little taste with a photo on Twitter and the caption "Here we go."
If there's one thing that's certain it's that fans are in for a wild ride. It seems Rocketman will be a film that will pay homage to the legendary star in a way that even his greatest fans will appreciate.