Tarriona "Tank" Ball Lost Her Wardrobe After Hurricane Katrina, But What She Found Changed Her Style For Life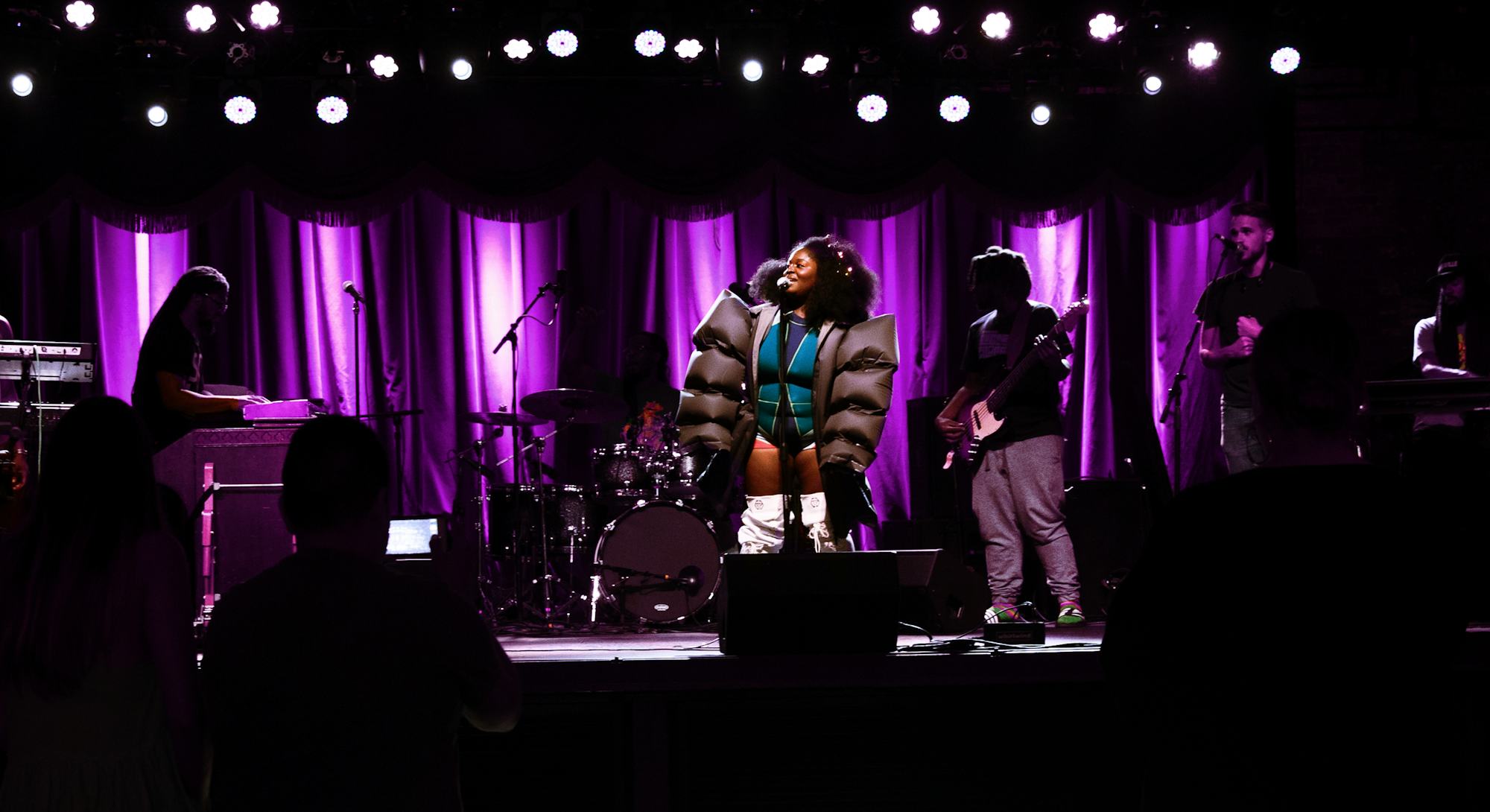 Ashley Batz
In August 2005, six years before the formation of her eponymous funk fusion band Tank and the Bangas and 12 before a NPR Tiny Desk Contest win accelerated their rise to stardom, Tarriona "Tank" Ball's hometown of New Orleans was issued a storm warning. Ball, a few days into her senior year of high school, was keeping busy with church, writing and performing poetry at local cafes (where she would eventually meet her bandmates), and starting her run for prom queen, though she concedes that she had "no chance of winning."
Life was as usual; New Orleanians were used to such warnings in the late summer, at the height of Louisiana's hurricane season, and didn't pay it much mind. But when Ball's principal insisted students and their families evacuate the city, Ball says, "That's when everyone got really scared. You just felt like crying."
Ball's principal was right; this storm wouldn't be like the rest. Hurricane Katrina hit New Orleans on August 29, 2005, killing upwards of 1,200 people and causing $108 billion in damage to over 80 percent of the city. Though Ball and her family did end up evacuating ahead of the storm's landing, her older sister's boyfriend, a police officer, stayed behind to help. Later, he would text them about pulling children's bodies out of the floodwaters.
"It was horrible," says Ball. "That's when we knew it was never going to be the same."
In total, an estimated million people were displaced across the central Gulf coast. Ball and her family took up residence in Indianapolis, Indiana at an apartment complex set up specifically for those fleeing Katrina's devastation. The 800-mile move was a major adjustment for Ball; the self-described "short, quiet nerd" found herself crying on a daily basis, terrified of assimilating to an entirely different group of peers at her new school — not least because of how she looked.
"I'm very nearsighted, but I didn't want to wear my super thick glasses around when I was a teenager," says Ball. "So at that point I'd just been keeping them in my pocket whenever I didn't need them to see the blackboard. I'd be in the hall and someone would yell, 'Hey, Tank!' And I'd have to stop and put my glasses on and be like, 'Oh, hey girl!'"
There was another complication, too. While Ball's school in New Orleans supplied students with uniforms, this new institution did not.
"I remember there were a few days a year at my old school where you could pay a dollar and wear your street clothes," she says. "So you know, for those few days, it was fun to try and look fly! But I'd only been able to bring about three days' worth of clothes with me from New Orleans, so I didn't know what I was going to wear all year."
That's when Ball stumbled upon something that would change her life: an entire room of the apartment complex, filled with clothing donations to the ceiling. Night after night, Ball and her sister conducted near-archeological digs through the piles, finding a new source of self-expression and confidence through fashion.
"Honestly, it was more than just clothes," says Ball. "It was like searching for something we'd lost. Something we didn't even know we'd lost."
Ball, who now favors flamboyant styles ("prints, capes, things that sparkle"), says it's not that the donations were even particularly exciting in and of themselves; it was instead about the freedom to experiment, to gain access to jeans that fit her rather than her smaller sister's hand-me-downs, and to try her hand at styling "men's" garments. And, ultimately, she says she never heard any of her fellow students judge one another on their dress.
Ball's love of secondhand clothing, and of remixing the unexpected, has followed her into adulthood. On and off the stage, her ensembles — a cacophony of graphic prints, sculptural silhouettes, and gender-bending playfulness — are the perfect complement to the distinctive spoken word and singing style she's become known for. She's a chameleon visually and sonically, using her extraordinary range and malleable vocals to rhapsodize on topics from car chases to falling in love at Walmart; her band's backup arrangements include elements like tinkling toy pianos, reggae and glam rock guitar riffs, flute breakdowns, and new wave-style keyboards (the 10-piece likens their eclectic sound to New Orleans-style gumbo).
It's no wonder a woman who sounds, at turns, like Mary J. Blige, Lauryn Hill, and Fantasia Barrino takes pleasure in switching things up — pleasure in dressing, at turns, like the fourth member of TLC circa "Ain't 2 Proud 2 Beg," a majorette as seen through a kaleidoscope, and your favorite wacky pre-school teacher. Like the "soulful Disney" flavor Ball imparts to offset her more somber musings, her shapeshifting wardrobe is about embracing play.
"I can spend hours in a mall and not find anything I like," she says, "but give me a few minutes in a thrift store, and it's a whole different story! I go thrift shopping on tour; I love to see what people wear in different parts of the world. Even if I have 10 minutes between recording sessions, I'm running to the Goodwill down the street."
Ball says thrifting has been especially game-changing for her as a plus-size woman. Although the average American woman is a size 16, it's no secret that there are woefully few stores that offer clothing above a size 12 — and even so, the seas of neutral-colored jersey tunics and leggings they tend to stock are pretty dismal.
"I've always been thick," she says, "And that's fine with me, but it does make clothing shopping more difficult. I'm just lucky I've found that shapes from other eras fit me better. Modern clothing is boring, but it's also just not cut for people like me."
Ball has come a long way in her sartorial and body image evolution since that summer in 2005. Today, she not only wears her glasses because she needs them; she actually wears them, along with her regally printed blouses, futuristic jumpsuits, and technicolor crop tops, as a fashion accessory. But there's one habit above all that she perfected in the Midwestern cold, and that has really come to define her style.
"I'm crazy about layering," says Ball. "I just love wearing a million things at once. To the point where I'll be sweating my ass off under the stage lights, and my bandmates will be making fun of me.
"I can't take any of those pieces off, no matter how hot I get," she laughs. "Sorry, but I won't compromise! After all, a look is a look."
Hair: Mischa Goldbieski for Bumble & Bumble
Makeup: Joy Fennell using M.A.C. Cosmetics
Manicure: Elizabeth Garcia for Morgan Taylor Lacquer
Styling: Gabrielle Prescod; Amanda Richards
Bustle Team: Deputy Editor, Fashion & Beauty: Kara McGrath; Senior Fashion Market Editor: Gabrielle Prescod; Fashion & Beauty Editor: Amanda Richards; Booking/Production Manager: Guillermo Perez; Art Director: Bry Crasch; Junior Art Director: Brit Phillips