Tarte Is Having A 25% Off Friends & Family Sale & Eyeshadow Palettes Are Under $20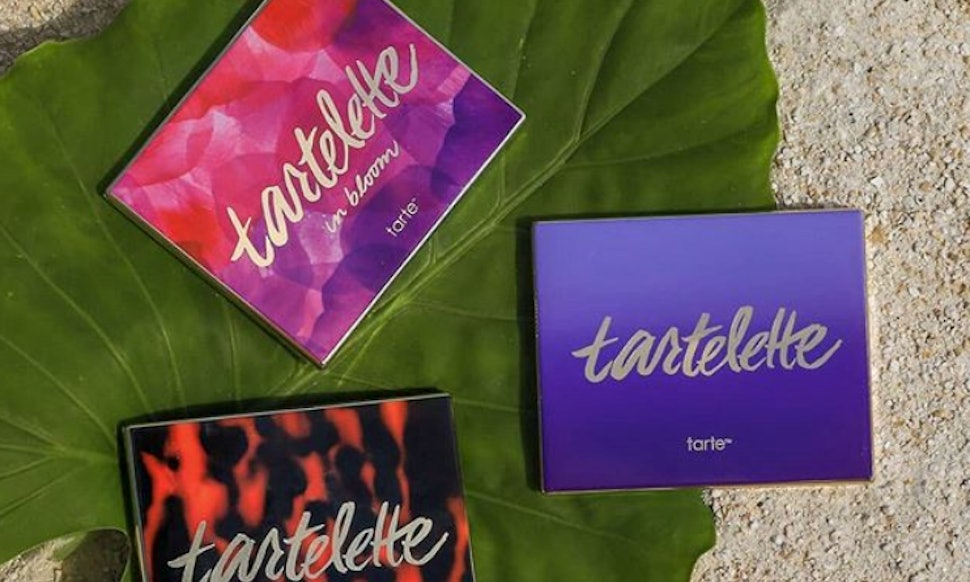 Tarte Cosmetics Instagram
It's time to cancel your plans for the day, because something important just came up. Tarte is having a Friends & Family Sale, and everyone is invited to the party. All you need is one tiny little code to get 25 percent off of almost every single item on the website. Palettes are under $20, lipsticks are $15, and sets are less than $10. Basically, it's Christmas in April.
Tarte's Friends & Family Sale is happening now through Apr. 12, so consider this your sign to stock up on new makeup. The brand is offering 25 percent off of everything from palettes and bestselling mascaras to lipsticks and brush sets. It's time to transition your makeup from winter to spring, and Tarte's here to help you save some money in the progress.
All you have to do to get the deal is enter the code "TARTEBFF" at checkout.
It's as simple as that, my friends. No minimum purchase amount needed at all. There is one little catch though — the Tarte Shape Tape Concealer and Foundation aren't part of the deal. While that is a total bummer, there are plenty of other incredible items up for grabs. Get you wallets ready, because there's a whole lot to be excited about.
With almost the entire website up for grabs, it can be easy to get a little overwhelmed. Whether you're looking to stock up on items that you've been eyeing up for months or just do some impulse shopping, there really is no way to do it wrong.
While there are tons of other items to choose from, these are the ones that will give you the most bang for your buck. Because even if you are getting these items for a fourth less than the normal price, you still want to stretch the discounts. Here are some of the best deals of the entire Friends & Family Sale, so you can shop accordingly.
1. Limited Edition Tarteist Treats Color Collection
Tarte
While this on-the-go palette is on sale as well, for $2 more you can get a mini lip product and mascara as well. You really can't beat all that for less than $20. Plus it's a great way to see if you like the products, if you're new to the brand. Heck, just about everyone loves a deal like that.
Buy Now
2. Lip Sculptor Lipsticks & Lip Gloss
Tarte
Odds are you've been in a situation where you're trying to find the perfect gloss to match your lipstick. Well, this product eliminates that issue. You'll get a full size lipstick on one end and a gloss on the other. Plus it's on sale, so it ends up being $9 per product.
Buy Now
3. Tarteist PRO Glow To Go Highlight Contour Palette
Tarte
With summer coming up, these on-the-go palettes come in handy. You'll get two highlighters and a contour shade for under $20. In case you're not realizing how great of a deal this is, let me break it down. That's $6 per shade for a high end product. Stop reading this and go shop.
Buy Now
4. Toast The Good Life Eye Brush Set
Tarte
Tarte's brush sets are some of the best around. These ones in particular are perfect for on-the-go and give you everything you need to create a full eye look. Not to mention that they're under $30 for a few days only.
Buy Now
5. Rainforest Of The Sea Skin Twinkle Lighting Palette
Tarte
This might just be the best product in the sale. The highlighter palette was originally $42, is on sale for $28, and you can get an extra 25 percent off. Pinch yourself, because this is not a dream.
Buy Now
6. Tarteist Creamy Matte Lip Paint
Tarte
Everyone could use some more lip colors in his or her life. This is the perfect time to stock up on rosy hues and even bright pinks and purples.
Buy Now
7. Rainforest Of The Sea Limited Edition Highlighting Eyeshadow Palette
Tarte
The best part about this deal is that the colors work all year 'round. If you're looking for a practical purchase, this is it.
Buy Now
You rally can't go wrong no matter what you buy, but you'll have to do it fast.