Taylor Hanson Is Going To Be A Father Of Six — Yes, Six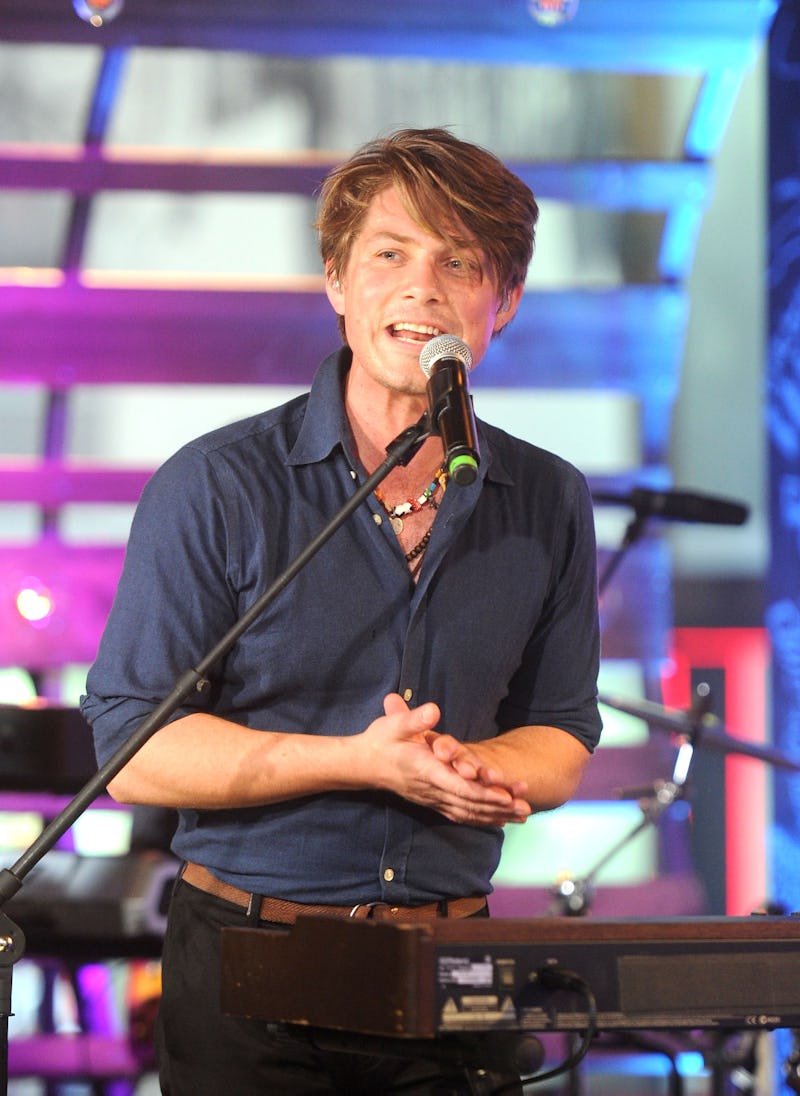 Jamie McCarthy/Getty Images Entertainment/Getty Images
MMMBop, this is a lot of kids. Taylor Hanson is having another baby, making him a father of six. He and his wife, Natalie Hanson, announced the news on Tuesday. Yes, you read that correctly, the Hanson singer will soon have six children. On Aug. 28, Taylor and Natalie revealed their exciting news by sharing sweet photos of their current family of seven on both Instagram and Natalie's blog, Nat On The Wall.
Next to an Instagram photo of Taylor, Natalie, their kids, and their adorable dog, the musician wrote,
"What's better than being a dad of five? Perhaps being a dad of six. Baby Hanson coming in December and we are over the moon."
As for Natalie, she posted another picture on Instagram of Taylor and their five children. She captioned it:
"Taylor and I are so thrilled to share the news that baby number six is coming this December! Ezra, Penny, River, Viggo and especially Wilhelmina can't wait to be big brothers and sisters again!"
You can check out more photos over on Nat On The Wall. In her pregnancy announcement post simply titled "Baby!!," Natalie said the beautiful images were taken by their friends Matt and Joanna. The soon-to-be mother of six gushed, "Taylor and I and all the children are so excited about the new family member coming this December! More than ever I realize how time flies and every moment with these people counts."
Taylor and Natalie felt like now was the right time to expand their family. Based on the schedule of Hanson's current concert series, String Theory, the married couple of 16 years decided timing couldn't be better.
"Because of the timing of these shows and everything going on with us, we decided now was a great time to stick together and do this as a family," Natalie wrote. "So, we are back on the road! Its been awhile since we've had the whole crew with us full time and its crazy to think how little they were in years past. Now we have these big kids who are so cool and fun and help out big time. So all you parents of little ones out there, hang in there! It gets awesome!"
Their oldest child, Jordan Ezra, is 15. They also have Penelope Anne, 13; River Samuel, 12; Viggo Moriah, 9; and Wilhelmina Jane, 5.
Like Taylor, his brothers, Zac and Isaac Hanson, also have big families. Zac and his wife, Kathryn Tucker, are parents of four. They have John Ira Shepherd, 10; Junia Rose Ruth, 7; George Abraham Walker, 4; and Mary Lucille Diana. As for Isaac, he and his wife, Nicole Dufresne, have Clarke Everett, 11; James Monroe, 10; and Nina Odette, 4.
The Hanson brothers come from a big family with a total of seven children, so maybe Taylor and Natalie will end up with seven kids, too. Like the 35-year-old singer told Today's Parent in November 2017,
"I think what's really cool about bigger families is that everybody develops this innate ability to figure out how to compromise, work with others and realize that the entire world doesn't revolve around you. It also encourages you to be an individual because you can clearly see your differences from a brother or sister. I see that with my kids: They're very different, but I see that they love and respect one another."
Taylor also said when you're part of a big family you fee like "you're part of a crew." Well, his family definitely seems to stick together and have a special bond, which will most likely grow even stronger once Taylor and Natalie welcome their sixth child.