Fans Really Hope This Rumor About Taylor Swift Being In A Suitcase Is True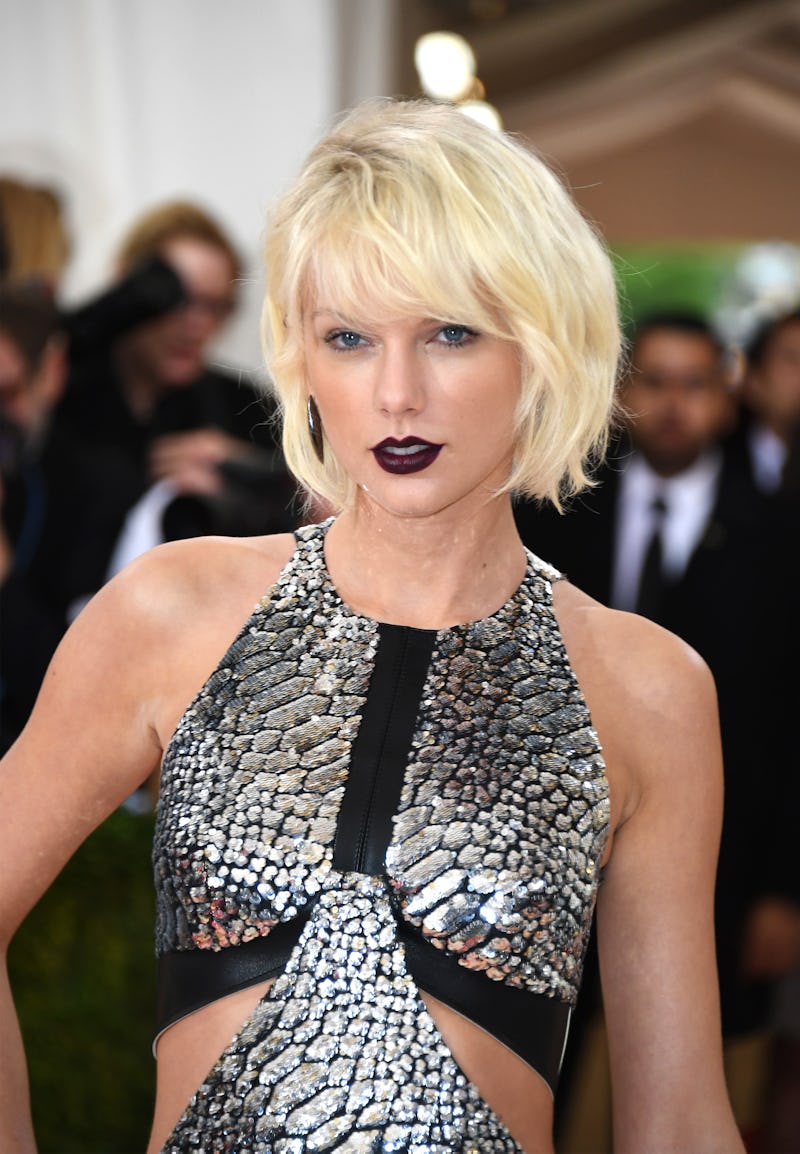 Larry Busacca/Getty Images Entertainment/Getty Images
Here is one totally out there T. Swift rumor. There are theories circulating that Taylor Swift left her apartment inside a suitcase. Photo website Splash News' caption (via Spin 1038) for an image showing men carrying a large suitcase outside of her apartment alleges she was transported in a suitcase from her home, which was then placed inside of a trunk. The Splash News caption also claims that two large Cadillacs, three SUVs, and "almost a dozen Taylor Swift security guards" arrived outside of her place to help move the suitcase. Bustle has reached out to Swift's rep for comment, but did not receive a response at the time of publication.
The photo's caption reads in its entirety, according to Spin 1038:
Taylor Swift being transported in a huge suitcase from her Tribecca apartment into her truck. A fleet of cars including two large cadillacs and three suv's arrive at Tailor Swift's apartment in Tribecca to move a large suitcase from apartment to truck. Almost a dozen of Taylor Swift security guards were present to move this package carefully as Taylor Swift remains to be unseen for a long time.
As you can see, there are many grammatical errors, including the misspelling of Swift's first name in the second sentence. Something definitely seems off with the caption, so it's not a stretch to think that there is good chance that the "Shake It Off" singer wasn't actually exiting her apartment via suitcase.
Of course, this isn't the first time something as ridiculous as this has been said about the singer. Swift has been accused of sneaking out of her apartment in this manner before. In a now-deleted tweet from Perez Hilton posted in May (via Cool Accidents), he wrote, ".@taylorswift13 fans are theorizing that she's been sneaking in and out of her NYC apartment IN THIS BOX!!! Stealth!" Bustle also reached out to Swift's rep for comment on past reports, but did not receive an immediate response.
Despite this being beyond ludicrous (would Swift really avoid being photographed by hiding inside a box?), there are many fans who hope it's true.
As you can imagine, Twitter has blown up with responses, particularly tweets expressing how much people want Swift's transportation choice to be a suitcase. There are also many individuals who are not shocked by the theory, because why wouldn't a 27-year-old adult woman hide inside a suitcase?
It's hard not to have fun with this theory, especially since it's so over-the-top. The following tweets are pretty hilarious, so good luck not trying to laugh as you read through them.
Totally Not Surprising
Is T. Swift hiding in a suitcase really expected?
T. Hiddles Is Proof It's Real
He was in on the scheme all along.
It's Been Her Dream
Music isn't her only passion.
Let's Put Money On It
What are you willing to bet she is absolutely in the suitcase?
It Needs To Be Real
It's so crazy — but, seriously, is it real?
Forget About Every Other Celeb Report
It's all that anyone can think about.
It's The New Get Away
Talk about making an exit.
The Only Celeb News That Matters
Sorry, Beyoncé, but your twins no longer matter.
Let's face it, Swift being carried in a suitcase probably isn't true, but fans can dream.