Here's Why Taylor Swift Fans Are Mad At Kim…Again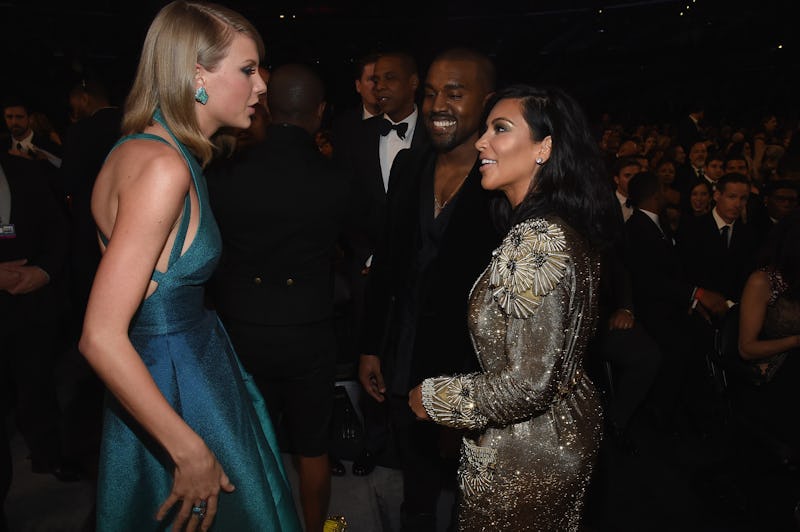 Larry Busacca/Getty Images Entertainment/Getty Images
In the words of Taylor Swift herself: another day, another drama. This time, the drama involves her fans, Swifties. Taylor Swift's fans are mad at Kim Kardashian after she posted a certain social media snap showcasing the "Reputation" singer. Yep, there's trouble brewing between these fandoms yet again.
The drama started when Kardashian posted a photo on Instagram which showcased her husband's, Kanye West's, "Famous" exhibition. The exhibition, which lasted for two days in August 2016, contained the same celebrity sculptures in bed that were on display in his music video for "Famous", according to CNN. Many Swifties weren't okay with Kardashian's throwback photo of the event because it showcased the Swift sculpture, in particular, naked from the waist up. They were angered by the fact that Swift's likeness was on display in a way that some deemed disrespectful to the singer. One fan, @MissTirado, tweeted about the photo and said, "@KimKardashian hate @taylorswift13 all you want but to post a picture of her naked likeness is wrong on so many levels."
The reality star's snap caused many of Swift's fans to flood the comments section of the post with rat emojis. Why that emoji though? Since Swift was called out on National Snake Day by Kardashian back in 2016, the snake description has been tied to the singer (a description she seemingly co-opted in August 2017). Because of this, Swifties have deemed Kardashian as a "rat" because, as one fan notes on Twitter, "Snakes swallow rats whole". So, yeah, this whole drama is pretty messy.
While this Instagram post was what caused the deluge of rat emojis, it's not the only post that got this treatment. Nearly every recent Instagram post and tweet of Kardashian's has gotten Swifties to comment with the particular emoji. In reply to a recent tweet highlighting the star's KKW Beauty line, fans tweeted back:
When the sculptures in this "Famous" exhibit were first introduced in West's music video of the same name, Swift and, subsequently, her fans didn't take kindly to it then either. According to HollywoodLife.com, the singer was "livid" about the music video and her naked likeness appearing in it. She wasn't the only celebrity featured in the video though, as others from Kardashian and West themselves to Rihanna were featured in it. The video was controversial, of course. But, the drama surrounding Swift's involvement in the song in the first place was possibly just as controversial.
As previously stated, Kardashian called out Swift back in July 2016 because of West's song. In "Famous", West sings, "I feel like me and Taylor might still have sex/Why? I made that b*tch famous". The "Ready For It?" singer came back to say, in a statement to Entertainment Weekly, that she did not okay the lyric. Her rep told the publication that, "Kanye did not call for approval" in reference to the song. Turns out, Kardashian had those receipts on Swift. On Snapchat, she posted a video of West calling Swift to let her know about the lyric. The songstress responded to the video in a (now deleted) social media post, which said that she wasn't aware of the "b!tch" part of the song, according to E!. All of this drama effectively ended whatever truce Swift and Kimye had going for them post that classic 2009 VMAs "Imma let you finish" incident.
So, this "Famous" photo actually has a lot of backstory behind it, which is probably why Swifties flocked to Kardashian's photo (and other social media posts). There's no telling whether she really was trying to cause drama with this photo though. But, given the two stars' backstory here, there's probably no way to avoid drama regarding anything related to "Famous".