Taylor Swift Just Announced She's Opening The AMAs With The Purr-fect Video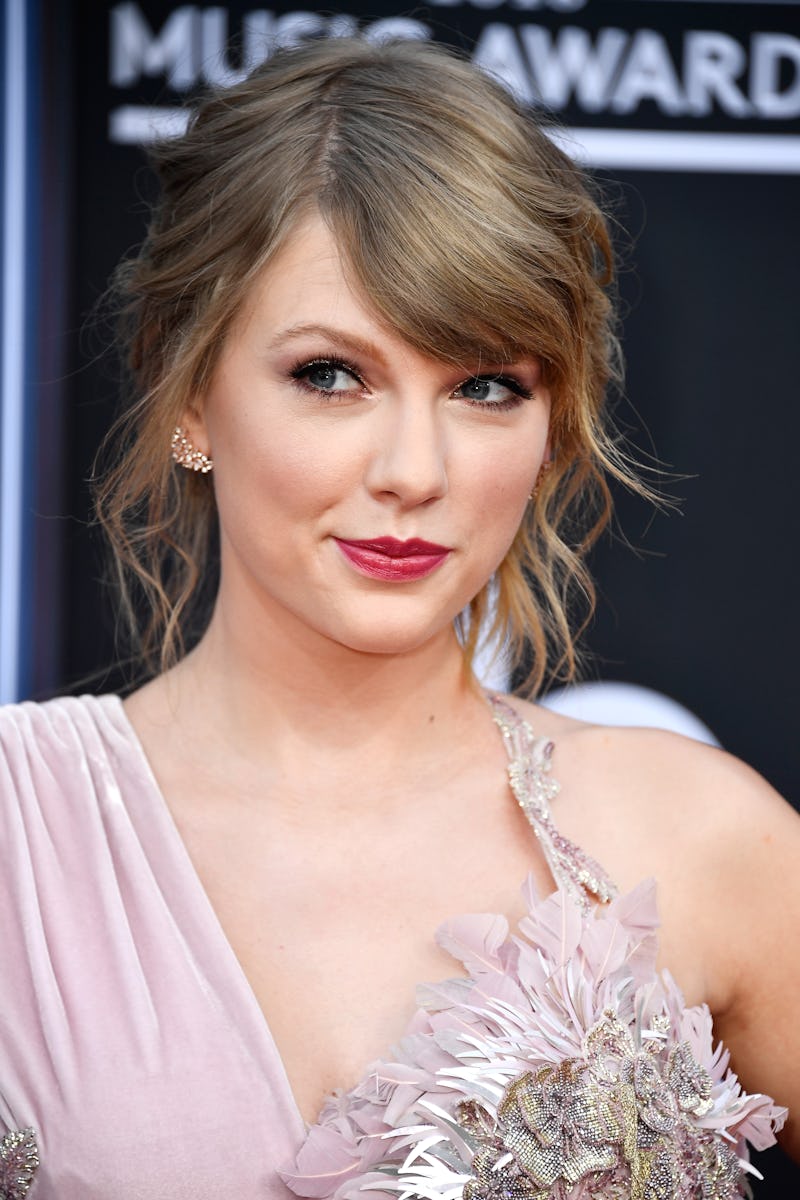 Frazer Harrison/Getty Images Entertainment/Getty Images
If you needed another reason to look forward to the American Music Awards, here's one straight from the Reputation singer herself. On Tuesday, Taylor Swift announced she's opening the 2018 AMAs in the most adorable video, and yes, her cat Meredith was involved. And even better than that? The song she's performing has the perfect amounts of sass and energy to kick off the show right.
In the video, which Swift shared on Instagram, she's sitting on a couch, surrounded by cat pillows that look like her furry friends and the real Meredith beside her. It looks like she filmed the video straight from her tour, which stops in Arlington, Texas, this Friday, because clearly, she had to get this news to her fans ASAP.
"Good morning, America. It's Taylor," she says to the camera in the video. "I just wanted to say, um — I'm going to be opening up the American Music Awards with a performance."
At that point, Swift was interrupted by Meredith, who promptly turned around and left after hearing the news.
"Don't be too excited about it, my god," she said to Meredith as she left.
Fortunately, Swift's fans will be way more pumped than Meredith was about her AMA gig — especially since, in the caption of the video, Swift shared that she'll be performing "I Did Something Bad."
Recently, reports have surfaced (and seemingly originated on Twitter) that "I Did Something Bad" would be Swift's next single, and if it is, her song choice for the AMAs makes a lot of sense. What better way to introduce a single than with a performance? And knowing Swift, chances are high that it'll be an unforgettable performance at that, since she tends to go all out at awards shows. Who can forget her 2012 AMA performance of "I Knew You Were Trouble"? This is going to be good.
Swift's fans have already taken to Twitter to share their excitement about the news, and it seems like the general consensus is that couldn't have picked a better song to make her AMAs return with.
And being that "I Did Something Bad" involves the lyrics, "If a man talks sh*t then I owe him nothing," it's become an anthem for many women who are living in this 2018 world where women are still fighting for equality... and to see Swift on stage belting out these lyrics? Powerful.
And already, fans seem to believe that this could end up being one of her best performances yet. That's setting the bar pretty high for a song that Swift hasn't performed on an awards show yet, but it does have a lot of wonderful potential.
And some are just straight up excited that Swift is performing at an awards show at all, because red carpet sightings of Swift have been few and far between since the 1989 era.
The 2018 AMAs air on Oct. 9, so there's not much longer to go until fans get to see Swift take the stage. So far, it seems like it's definitely going to be worth the wait.