Taylor Swift Raps On Her New Single & Twitter Is Totally Divided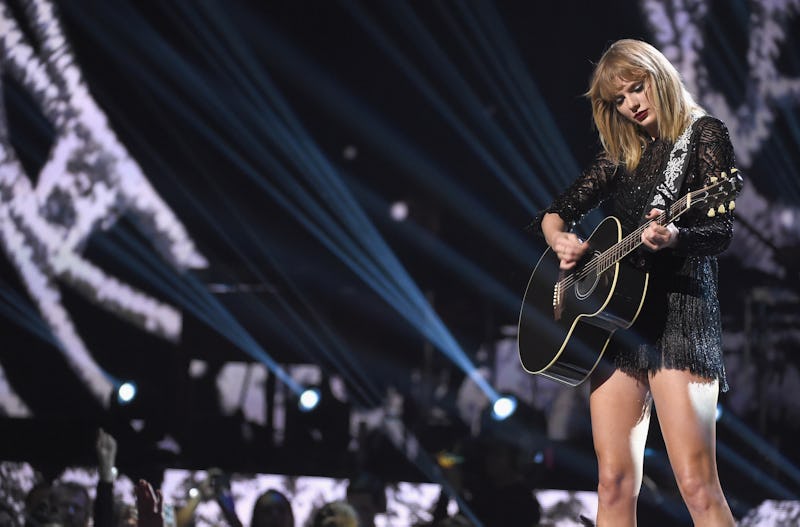 Kevin Winter/Getty Images Entertainment/Getty Images
On Saturday night, Taylor Swift dropped a new single off her forthcoming album Reputation. And this song, which was featured as part of a promotional video for college football, isn't your typical T-Swift tune. That's because in "Ready For It," Swift raps, and Twitter is of course all over this.
Many Twitter users were impressed by Swift's rapping abilities. "Who knew she could rap?" asked one Twitter user. "You rap it, Tay!" tweeted another. In "Ready For It," typical late T-Swift vibes (i.e. danceable pop music) is interspersed with tough rap lyrics. In the opening of the song, Swift, who started her career as a country musician, sings:
Knew he was a killer / First time that I saw him / Wonder how many girls he had loved and left haunted / But if he's a ghost then I can be a phantom / Holding him for ransom / Some, some boys are trying too hard / He don't try at all though / Younger than my exes but he act like such a man so / I see nothing better, I keep him forever / Like a vendetta
The song's opening follows similar themes as previous T-Swift works: the singer finds herself attracted to a man who is dangerous, but nonetheless appealing. But unlike in earlier songs like "I Knew You Were Trouble," in which Swift regretfully recalls a difficult but electrifying romance, Swift comes off as assertive in "Ready for It." Whereas Swift took something of a victim's pose in previous songs — "I realize the blame is on me," she sang in "I Knew You Were Trouble" — Swift sees herself as a force to be reckoned with in "Ready for It." In a later verse, she says: "Me, I was a robber / First time that he saw me / Stealing hearts and running off and never saying sorry / But if I'm a thief then / He can join the heist." Swift, it seems, is no longer the jilted girl we used to feel sorry for.
However, some Twitter users weren't as positive about Swift's rapping abilities. "There's a brand new Taylor Swift song and she's, uh, I think she's trying to rap and ... it's not good," one user tweeted about "Ready for It." This, of course, isn't the first time the country-turned-pop star has rapped. In a 90-second video released at the 2009 CMT Music Awards, Swift and T-Pain did a parodic rap, in which Swift rapped about still living with her mom and baking cookies.
While at least one Swift superfan has tweeted that "Ready for It" deserves a Grammy, it remains to be seen whether that pans out. And, of course, how the rest of Reputation is.