Here's What Taylor Swift Said When She Testified In Court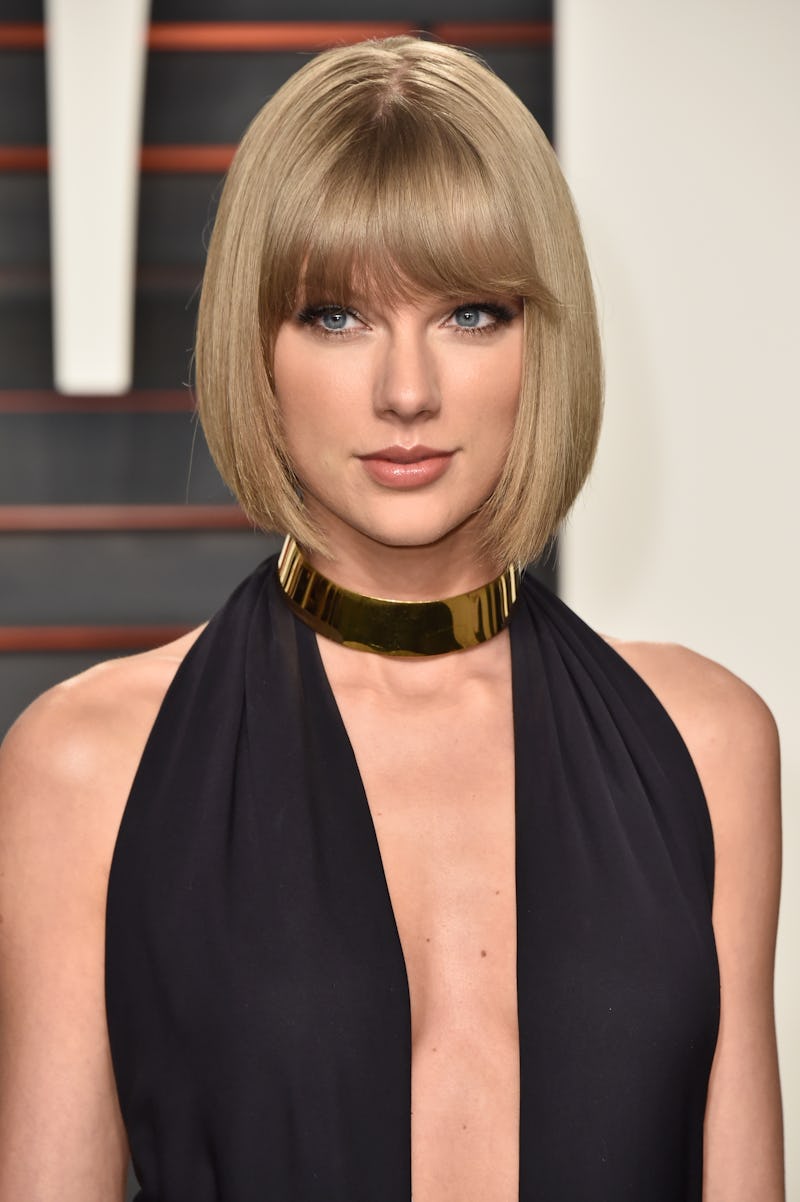 Pascal Le Segretain/Getty Images Entertainment/Getty Images
Earlier this week, the trial for Taylor Swift's case against radio DJ David Mueller began in Denver, Colorado. And after four days in court, on Thursday, Swift took the stand to testify. In the suit, Swift alleges Mueller groped her while they were taking a photo during a meet-and-greet in June 2013, which Mueller denies. Mueller filed a lawsuit in 2015 in which he claimed that Swift's allegations were false and asked for $3 million in damages after he lost his job; Swift then countersued. On Tuesday, the jury for the case was selected, and Swift's mother, Andrea, testified on Wednesday. Now, it's Swift's turn.
According to E! News, Mueller's attorney, Gabriel McFarland, called Swift to the stand for the first time on Thursday, questioning her about what happened and how long the alleged touching took place. She claimed:
"It was a definite grab. A very long grab ... I don't think it would be wise to estimate time in court, but I know it was long enough for me to be completely sure it was intentional ... He stayed latched on to my bare ass cheek ... I felt him grab onto my ass cheek underneath my skirt. The first couple of milliseconds I thought it must be a mistake, so I moved to the side very quickly so that his side would be removed from my ass cheek, but it didn't let go."
McFarland also asked Swift if she tried to get away after the incident. "It was a very shocking thing that has never happened to me before," she claimed. "This was not something I had ever dealt with. I got as far away from him as I possibly could."
She also claimed that she thanked Mueller and his girlfriend for coming in a "monotone voice" before continuing the meet and greet as usual, since she didn't want to disappoint the fans who were waiting. According to Buzzfeed reporter Claudia Rosenbaum, Swift claimed she told her photographer what happened, who allegedly mentioned that she'd seen groping occur, too. Swift claimed that she didn't blame her bodyguard for not stopping the incident because "it was horrifying, shocking, and we had never experienced it before."
Swift claimed:
"I have experienced every awkward encounter. This was not jostling. We were perfectly in position for the photograph to be taken ... He did not touch my rib, he did not touch my hand, he grabbed my bare ass ... I am not going to allow your client to make feel like it is in any way my fault because it isn't."
According to Rosenbaum, who tweeted live from the courtroom, after being questioned by McFarland, Swift's attorney said he had no further questions for her, and she was able to leave the stand.