Swifties Are Going Wild Over An Interviewer Telling Taylor Swift To Shower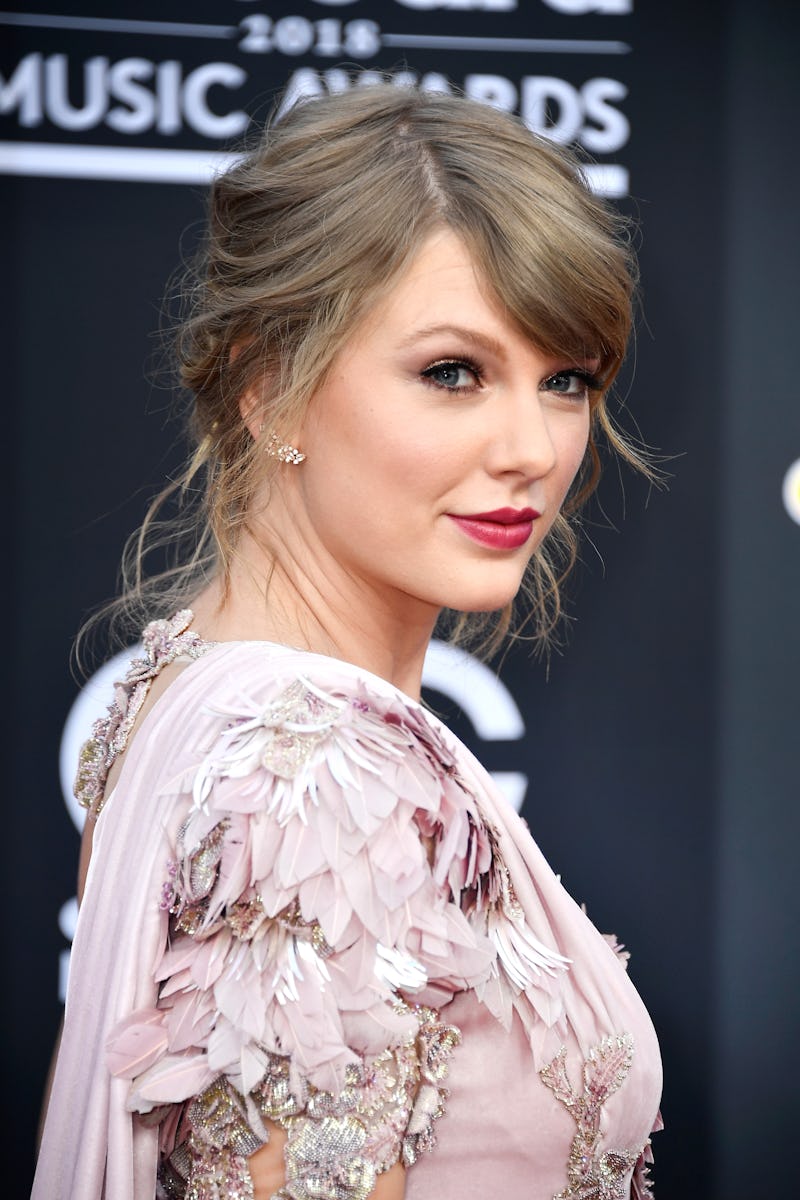 Frazer Harrison/Getty Images Entertainment/Getty Images
Following Taylor Swift's performance at the Biggest Weekend festival on May 27, she spoke with a reporter who had a very... interesting comment for her. As Us Weekly noted, an interviewer jokingly told Taylor Swift to shower. And the awkward moment definitely caught the attention of the singer's fans, who had a lot to say about it on Twitter.
During her interview with BBC Radio 1's Greg James, Swift managed to keep her cool when prompted by a somewhat awkward comment. James jokingly told her, "It's nice to see you. I think you need to have a shower now." Their interview came shortly after Swift had finished her performance at the Swansea, Wales festival, where, as US Weekly reported, the humidity was around 80 percent. So, it was totally understandable that she worked up a sweat as she performed some of her greatest hits.
Swift, as graceful as ever, didn't let his comment phase her. "I agree! And I'm not offended that you said that! There's a lot going on and none of it's good." Thankfully, the "Blank Space" singer didn't take James' comment to heart. Instead, she made light of it by simply saying that she agreed with his statement.
Like Swift, her fans everywhere took to joking around about the moment, too, as their Twitter responses show. Although, not all of her fans were laughing along.
Really?
One Twitter account tweeted out the video of the moment in question. They weren't happy about how the interview turned out, even if Swift herself was fine with it. The account stated that this BBC Radio 1 interview was her first recorded one in years and implied that it was annoying that the "shower" moment came with it.
Not Cool, Dude
Another Twitter user thought that James' comment wasn't cool, at all. They even pondered, "Where are your manners?" in their tweet. Yikes.
Not Feeling It
This Swiftie did not take kindly to James' "shower" comment, even though it was a joke. They wrote, in all caps, that one can't just say something like that to the singer. So, it's safe to say that they're not feeling his comment.
Unbelievable
While some weren't happy about the awkward moment, many others embraced the humor in it. One Twitter user joked that the comment was "#rude" and also included some laughing emojis for good measure.
"Pure Gold"
One Twitter user said that the moment was "pure gold" and that it was one of the highlights of their weekend.
A Total Highlight
Another user named "Felix" shared a similar sentiment as they said that it was the highlight of the Biggest Weekend festival to them, and, likely, to many others, as well.
Rude!
This user may have thought that the moment was "rude" but they still saw the humor in the situation, as they including a laughing emoji along with their tweet.
Just Imagine
Another user tweeted a very relatable statement about the whole situation. They said, "imagine telling THE Taylor Swift to take a shower." Well, James made that situation a reality with his recent interview.
She's Still A Queen
Regardless of James' comment about Swift taking a shower, this Swiftie still thinks that the singer looked "like a queen" during the interview. It's likely that many other Swifties would agree with that statement.
The Emojis Say It All
The emojis in this user's tweet really say it all: they're totally living for the fun, awkward moment.
Based on all of the fans' tweets, it seems like there was kind of a mixed response to the "shower" moment. While their reactions may have been mixed, one thing is for sure: Swift was cool about the whole thing and wasn't offended by James' interesting comment.