Taylor Swift Now Has A Reason To Come Out Of Hiding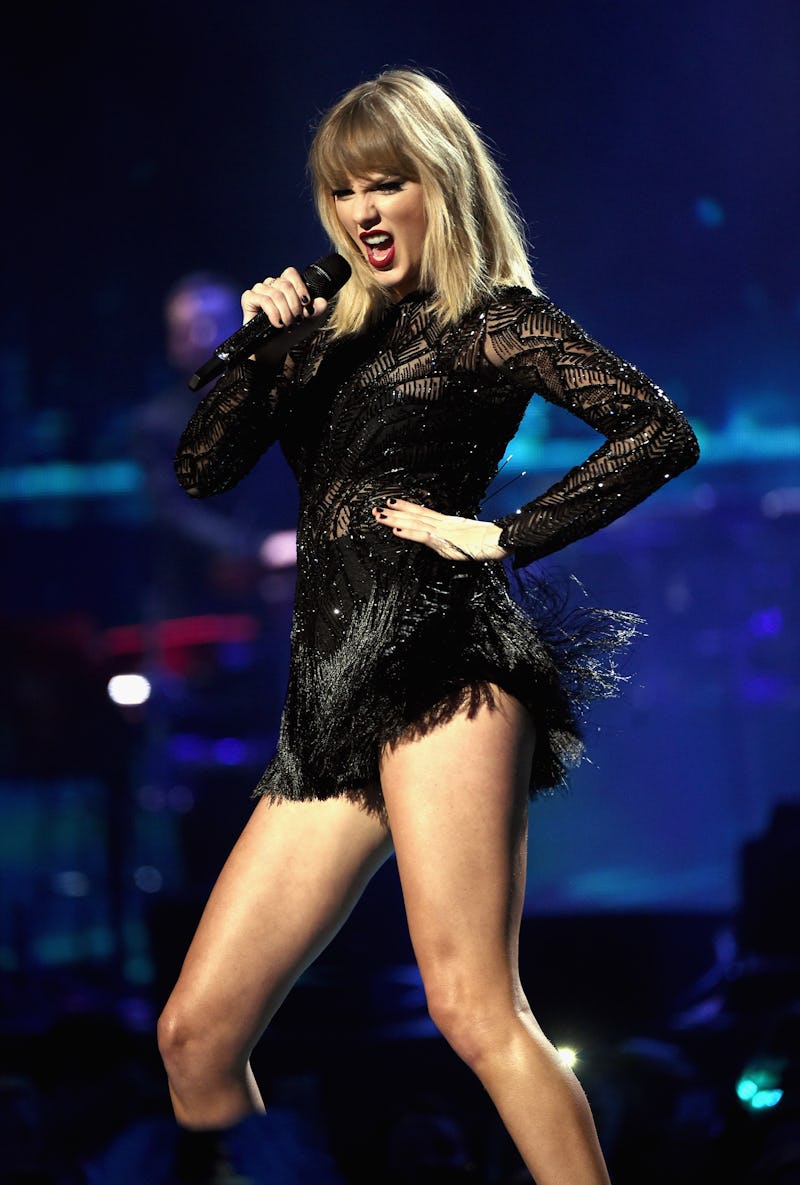 Kevin Winter/Getty Images Entertainment/Getty Images
It's been a hard year to be a Taylor Swift fan. Aside from the fact that she hasn't released a new album since 2014, she's also been largely silent on Twitter and Instagram and sitting out most public events, which gives the illusion that she's basically disappeared off of the face of the Earth. But the good news is that, thanks to a certain single that dropped at the end of last year for the Fifty Shades Darker soundtrack, she's somehow still on the map. Swift is nominated for a 2017 VMA, and the honor is a true testament to how much star power she's still holding onto, even during her disappearance.
When the nominations came out on Tuesday, it was announced that Swift and Zayn scored a VMA nod for Best Collaboration for their song "I Don't Wanna Live Forever." It's been all over the radio for months, so this doesn't come as too big of a surprise, but it's still impressive that Swift is still killing it, even in an off year.
Back when she was still regularly releasing singles and new music videos, Swift was an award winning machine. And even though she was basically off the map for the past year (and even longer, if we're talking about just musically), it didn't stop her from having the chance to take home a moon man at this year's VMAs.
The fact that she's still being recognized for her work when the only song she's released recently has been a collaboration with other artist shows that even though Swift has been flying under the radar, she's still making an impact in the industry. Yes, she worked with Zayn, whose solo career has seriously taken off since he left One Direction, but her contribution matters, and so does the positive way it's been received.
Another way this nomination is important to Swift is that it shows her star power still exists, and that just another sign that she's likely to be successful when she decides to finally release album number six.
It will be interesting to see if Zayn and Swift take this one home. They're nominated up against the following songs that have also include big radio hits:
Charlie Puth ft. Selena Gomez – "We Don't Talk Anymore"
DJ Khaled ft. Rihanna & Bryson Tiller – "Wild Thoughts"
D.R.A.M. ft. Lil Yachty – "Broccoli"
The Chainsmokers ft. Halsey – "Closer"
Calvin Harris ft. Pharrell Williams, Katy Perry & Big Sean – "Feels"
There's also the question of whether Swift will show up to the show on August 27. After she's been MIA for so long, it's definitely time for her to return to the world and show everyone she's still got it. This VMA nomination is already proof that she does.