Here's How Taylor Swift's New Record Deal Will Benefit All Artists On Her Label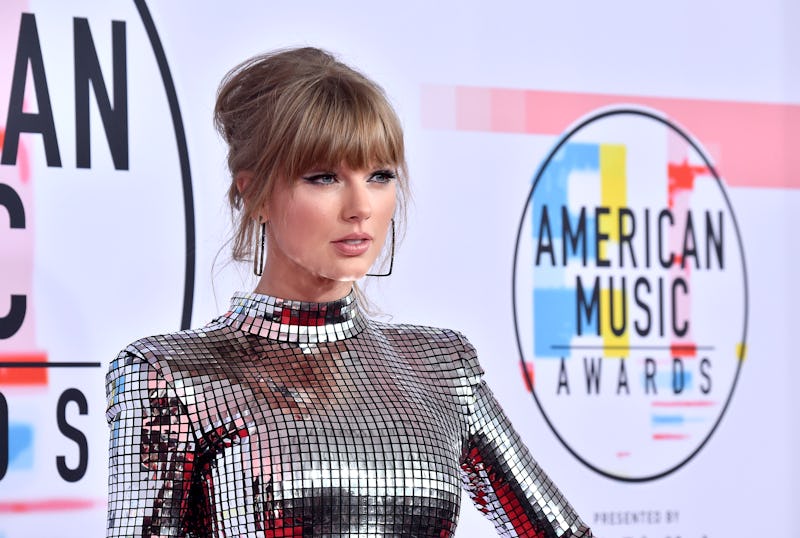 Frazer Harrison/Getty Images Entertainment/Getty Images
It's no secret that the digital age has ushered in a bizarre new set of business models for music industry personnel. Unfortunately, it's also pretty widely understood that those models have historically tended to benefit record labels over the artists they contract with. In light of that, Taylor Swift's new record deal announcement — which the musician shared to Instagram Monday morning, Nov. 19 — feels particularly special, and particularly important, for more reasons than one.
First — and perhaps most obviously exciting — Swift's lengthy IG announcement post revealed that she's signed a new contract with Republic Records and Universal Music Group. As Variety noted in its own report Monday, Swift was previously signed to Big Machine Records, the Nashville-based independent record label that gave the country-pop star her start way back in 2006. ("Teardrops on My Guitar," anyone?) Opening Monday morning's three-part announcement post on IG, Swift wrote,
"I'm ecstatic to announce that my musical home will be Republic Records and Universal Music Group ... It's so thrilling to me that they will be my label family moving forward."
According to Variety, Big Machine Records has forged a "strategic" partnership with Republic over the years, so it makes sense that Swift's newfound professional transition led her there. The transition in and of itself feels like a pretty huge deal (imagine how you'd feel switching companies after having worked at the same office for 12 years), especially since the outlet reported that the newly-drawn musical partnership will supposedly yield multiple albums over the course of multiple years.
Logistics aside, there was one facet of Swift's Monday announcement — and the contracts with UMG that made it possible — in particular that felt especially meaningful, beyond the expected bout of celebratory, gratitude-laden remarks. After revealing the exciting new partnership, Swift went on to explain those ways in which the record deal aims to create "positive change" for other artists, like her, in Universal's massive network. Continuing, the announcement read:
"There was one condition that meant more to me than any other deal point. As part of my new contract with Universal Music Group, I asked that any sale of their Spotify shares result in a distribution of money to their artists, non-recoupable."
Those who remember Sony Music's enormous artist payouts this past summer (after making $750 million in profits from Spotify stock sales earlier in the year, the company distributed the money out to its sweeping roster of musicians) know that Swift's agreement with UMG isn't the first of its kind. That said, the fact that she's managed to encourage another music giant to follow suit is a pretty incredible win for creators of all sorts, whether they're similarly signed to Swift's new label or not.
"I see this as a sign that we are headed towards positive change for creators — a goal I'm never going to stop trying to help achieve, in whatever ways I can," she wrote in Monday's IG post. Judging by the terms of her new contract, it definitely sounds like Swift is right. According to The Guardian, "non-recoupable" essentially means those artists don't have to pay the money back to Universal at any point, and those added bonuses won't be withheld due to outstanding debts with the label.
So, again, definitely a big win for creators, pretty much across the board. After reading through a statement from UMG Chairman and CEO Lucian Grainge, as reported by Variety, it sounds like Swift's forthcoming business partner would have to agree. "I have such enormous respect for Taylor, in particular for her use of her hard-earned influence to promote positive change," Grainge said, per the outlet's report. Continuing, his statement reportedly read:
"Because of [Swift's] commitment to her fellow artists, not only did she want to partner with a company that understood her creative vision ... she also sought a partner whose approach to artists was aligned with hers."
As far as professional partnerships go, it certainly sounds like Swift has met her match. Hopefully, Swift and UMG's newfangled approach to artists — and advocacy — doesn't stop here.