A Taylor Swift 'Reputation' Tour Documentary Is Coming To Netflix & We're "Ready For It"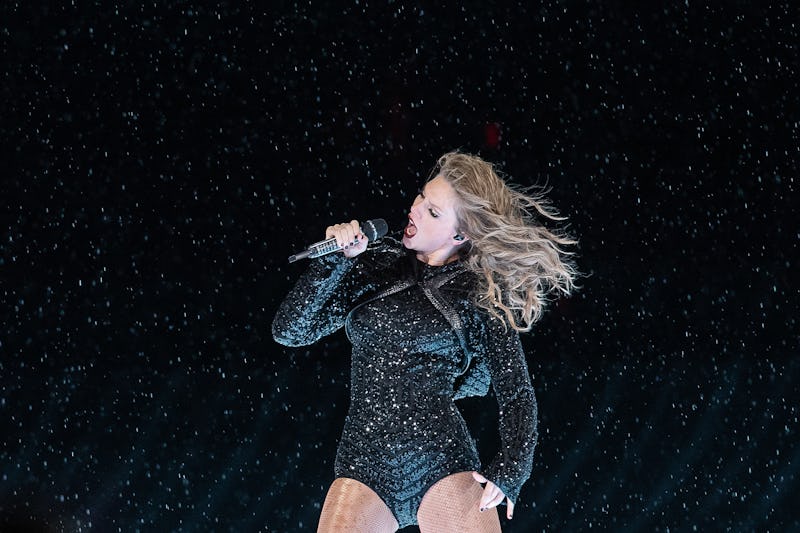 Mark Metcalfe/Getty Images Entertainment/Getty Images
"Are you ready for it?" One of the most well-known artists in the world, Taylor Swift, is bringing her most recent tour straight to the fans with the Taylor Swift Reputation Stadium Tour documentary coming to Netflix on Dec. 31. Her most recent tour will be shown in the new film, and it's going to give fans who missed out on seeing her live a look at what it's like to be at a Taylor Swift concert. Many Swifties already know the feeling of seeing their idol perform live, but for for those that don't, this will definitely be a New Year's Eve treat.
On Dec. 13, Taylor Swift posted a video on her Instagram, Twitter, and YouTube page that had the trailer for her stadium tour documentary. Basically, if you follow her at all, you've probably seen it. It's as dramatic and epic as her actual tour, but with a way better view, as cameras clearly got up close to Swift as she performed to her fans. While she's pretty personal at her concerts, this definitely looks like it's going to make for an even more intimate experience. The Taylor Swift Reputation Tour documentary is set to release on Netflix at 12:01AM PST December 31, according to her thorough Insta post. She also wrote, "I'm really excited that we will have this memento of the memories we all made together this year."
The trailer actually premiered on Swift's birthday (Dec. 13), and she thanked fans for their well wishes in her post. She then wrote, "Today I finally get to show you something we've been working on for a while... the trailer for the Reputation Stadium Tour!" It's a concert film, so typically that includes backstage access, which means fans will likely get the chance to see how Swift works and what goes into a full stadium tour, along with actual live performances. The rest of the post thanked those that made the whole tour great:
"You made this tour so insanely fun for all of us on stage... I also got to share the stage with such wildly talented people @camila_cabello, @charli_xcx, my band and dancers who shine so brightly in this film. You're the best. Thank you for everything."
If you've ever gone to a Taylor Swift concert, you'll know that she often takes chunks of time out to truly thank fans and give little words of wisdom to them. And judging from the trailer, fans will see that too. As reported Vanity Fair, during her Arizona concert, Swift opened up in one of those speeches. "A couple of years ago, someone called me a snake on social media and it caught on," she said. "Then a lot of people were calling me a lot of things on social media. And I went through some really low times for a while because of it."
Her message to fans was that no matter what someone calls your or tries to bully you with, you don't have to let it "defeat you," but "strengthen you instead." And that's exactly what she did, creating a full-on snake theme for her tour. She really took a bad thing and spun it in her favor. The Reputation Tour was deemed the most successful U.S. tour to-date by Billboard.
So whether you're a Swiftie, or a casual listener, you'll probably be satisfied with Swift's Reputation Stadium Tour movie. Because no matter what you think of her, you've got to admit that she's got the performance thing down to a science.