Taylor Swift Didn't Let A Stage Malfunction Ruin Her Latest 'Reputation' Tour Stop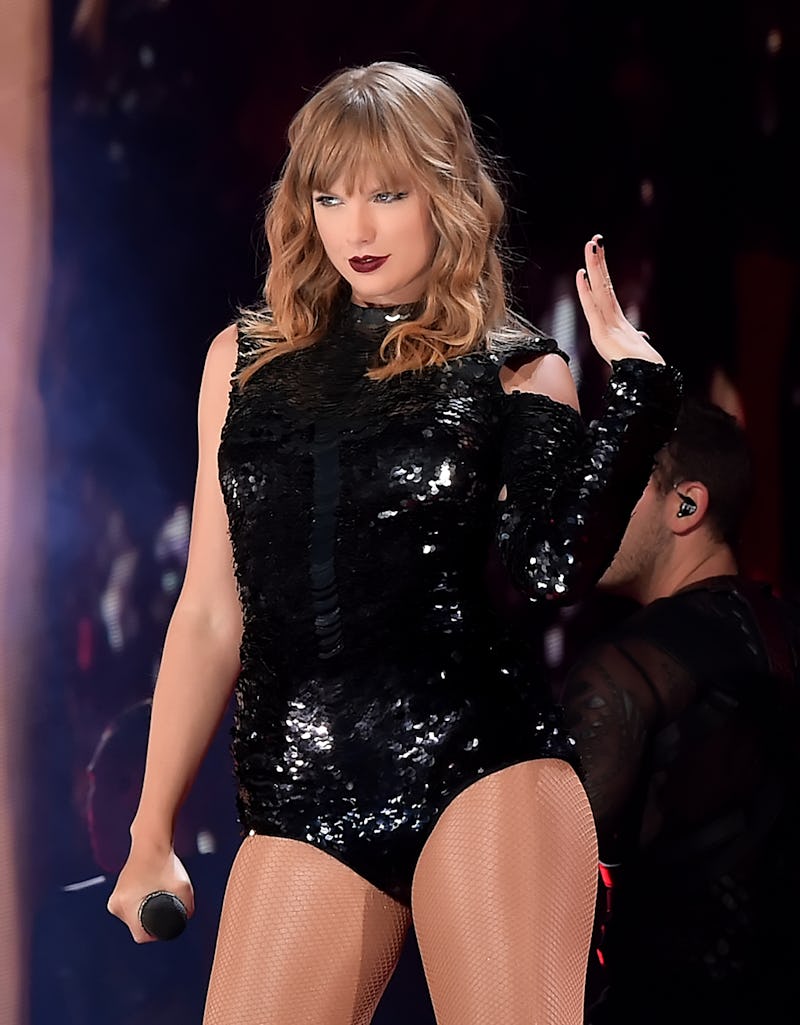 Kevin Winter/Getty Images Entertainment/Getty Images
You know the saying "the show must go on"? Apparently, Taylor Swift takes that expression very literally. At her Philadelphia Reputation Tour stop on Saturday night, Swift's stage malfunctioned, leaving her hanging in the air above the crowd. A mishap like that might throw anyone off their game, but instead, she took the time the crew spent getting her up and running again to make that moment extra special for everyone in attendance.
If you've yet to see Swift perform this tour, her flight across the stadium is something that happens every night while she performs her single "Delicate," taking her from the main stage to the B stage, where she can get a little closer to fans sitting in the back of the venue. She got through part of the song (and her ride) before she realized she was stuck, saying, "I'm pretty sure I'm stuck up here. It's a nice view, though."
Being that this is something she does every night, it's not like she's not used to the height. But where anyone else might be panicking, she stayed totally chill about the situation.
Here's the moment Swift realized that she was, in fact, stuck midair above thousands of people, captured by Lisa Marie Latino, who was at the show and shared the experience with her followers on Twitter:
After the song, she was able to be lowered back down, but unfortunately, she'd still missed her mode of transportation across the venue. While the crew figured that out, she filled her fans in on what was going on.
"What you just saw was me going straight up and down in this sparkly basket," Swift said, according to E! News. "It's supposed to take me to the other side of the stadium. I have another flying thing across there that works apparently. Or wait! So there are people talking in my ear. This is so boring for you, I'm sorry."
And instead of letting things get awkward, Swift used the time to do what she does best: Perform a couple of extra songs for her fans as they waited for the fix. Although Swift always chooses one of her older songs to sing each night, this time, she chose to perform "Wildest Dreams" and "Our Song" — without music, of course, because it's not like anyone on her tour would have known to anticipate this happening until it actually did.
It's hard to say what part of this experience was the most magical: the fact that fans got to hear two unexpected extra songs at the show, or the way everyone sang along with Swift when the only sound in the stadium was their voices. Either way, she turned what could have been a major bummer into something that concertgoers will never forget. No one can ever say Swift doesn't think quickly on her feet.
And then, once she was back up and running again, the show went on as usual. She made it to the B stage and continued on with the acoustic portion of the evening, performing "So It Goes" from Reputation.
After years of touring and too many sold-out concerts to count, it's no wonder that Swift has picked up a few tricks along the way in case of an emergency. Hopefully, she doesn't end up getting stuck in the air again, but if she does? Seems like she's already figured out the perfect way to handle the situation without sacrificing the quality of her concert. If this doesn't convince you to catch her at one of the dates on the rest of this tour, what will?