TBS Just Canceled Louis C.K.'s Animated Series 'The Cops' Amid Sexual Harassment Allegations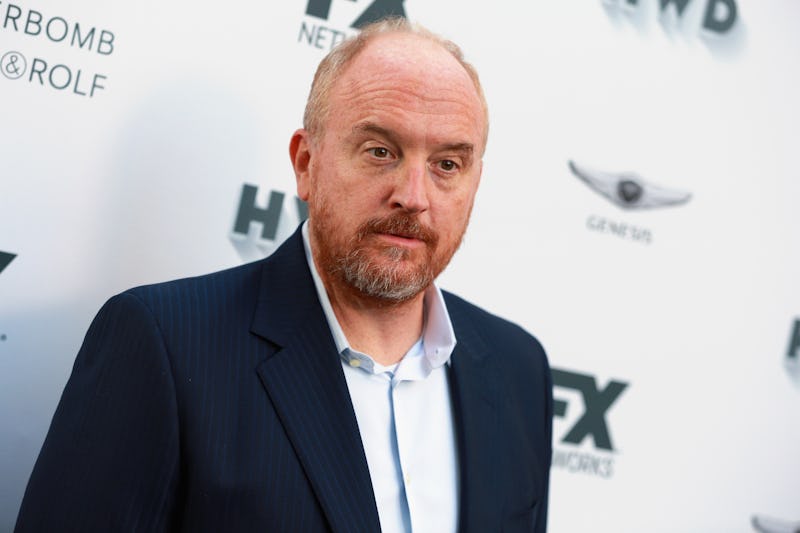 Rich Fury/Getty Images Entertainment/Getty Images
Following the sexual harassment allegations made against Louis C.K., TBS has reportedly decided to end its relationship with the comedian. According to the Hollywood Reporter, TBS has canceled Louis C.K.'s animated sitcom The Cops. TBS confirmed to Bustle that the network is no longer moving forward with the series. Bustle has reached out to Louis C.K.'s rep, but has not yet received a response.
The network had previously suspended the series in early November following a New York Times report in which five women accused the comic of sexual misconduct, including allegedly masturbating in the women's presence without their expressed consent. C.K. has admitted to the allegations against him, telling the NYTimes "These stories are true."
According to Deadline, the C.K. produced 10-episode animated series was co-created by fellow comedian/filmmaker Albert Brooks, with the two main characters, both Los Angeles patrol officers, voiced by Brooks and C.K. The Cops was originally scheduled to premiere in January 2018.
At the time of the November suspension the production company behind the series, FX and FX Productions, had announced that C.K. would "no longer serve as executive producer or receive compensation" from any of the shows he worked on with the company. These series included The Cops, as well as Better Things, Baskets, and One Mississippi.​
FX was also the home of C.K.'s critically-acclaimed comedy Louie and the network explained its decision to sever its ties with Louis C.K. in a statement to Bustle in November 2017, which read:
"We are cancelling the overall deal between FX Productions and his production company, Pig Newton. He will no longer serve as executive producer or receive compensation on any of the four shows we were producing with him – 'Better Things,' 'Baskets,' 'One Mississippi,' and 'The Cops.'Louis has now confirmed the truth of the reports relating to the five women victimized by his misconduct, which we were unaware of previously. As far as we know, his behavior over the past 8 years on all five series he has produced for FX Networks and/or FX Productions has been professional. However, now is not the time for him to make television shows. Now is the time for him to honestly address the women who have come forth to speak about their painful experiences, a process which he began today with his public statement."
FX and TBS are not the only networks to cut ties with the comedian. Per The Hollywood Reporter, HBO cut Louis C.K.'s performance from Jon Stewart's fundraising special Night of Too Many Stars: America Unites for Autism Programs. The premium cable network also removed the comedian's projects from its on demand and streaming platforms, including stand-up specials One Night Stand, Shameless, and Oh My God.
Netflix also chose to cancel a previously announced stand-up special the comedian was going to release through the streaming giant. Netflix said in a statement to the New York Times: "Louis's unprofessional and inappropriate behavior with female colleagues has led us to decide not to produce a second stand-up special, as had been planned."
Additionally, C.K.'s black and white movie I Love You Daddy, which was scheduled to be released November 17, 2017, was dropped by its distributor, Orchard. According to the New York Times, C.K. has since bought back the rights to the film. In it, C.K. plays a divorced father whose teenage daughter (played by Chloë Grace Moretz) becomes a subject of interest for an older director (John Malkovich), whom C.K.'s character has always admired.
There have since been rumors that C.K. might choose to release the picture for fans on his website. C.K. has previously self-released projects this way, including his webseries Horace and Pete and his 2015 stand-up special Live at the Comedy Store.
Since releasing his statement to the New York Times, C.K. has mostly remained silent since the sexual misconduct story broke. "The hardest regret to live with is what you've done to hurt someone else," C.K. wrote of the women accusing him. "And I can hardly wrap my head around the scope of hurt I brought on them."
If you or someone you know has been sexually assaulted, call the National Sexual Assault Telephone Hotline at 800-656-HOPE (4673) or visit online.rainn.org.