Science Says Your Adult Soccer League Could Help You Live Longer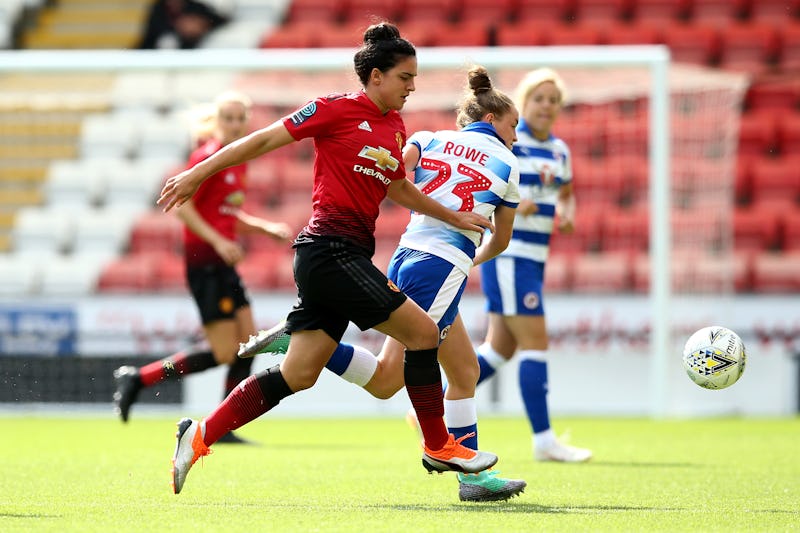 Jan Kruger/Getty Images Sport/Getty Images
If you're usually ridin' solo when you exercise, you might want to consider bringing a friend to your next sweat sesh. A new study published in Mayo Clinic Proceedings found that the social interaction you get from working out with a partner or participating in team sports can actually be more beneficial than working out alone, adding years to your life, TIME reports. Although any exercise is better than no exercise at all, TIME says the researchers found that social sports like tennis, badminton, or soccer are better for life expectancy than solo sports like cycling, swimming, jogging, or a solo gym workout.
"For both mental and physical well-being and longevity, we're understanding that our social connections are probably the single-most important feature of living a long, healthy, happy life," study co-author Dr. James O'Keefe, a cardiologist at Saint Luke's Mid America Heart Institute told TIME. "If you're interested in exercising for health and longevity and well-being, perhaps the most important feature of your exercise regimen is that it should involve a playdate."
According to The New York Times, the researchers monitored 8,500 adults in Denmark, who were all white, for about 25 years. The researchers found that the participants who didn't exercise at all were the most likely to have died during the research period than those who did exercise, The New York Times reports. Those who did exercise? That's where researchers started to see an association with team sports and longevity. After controlling for participants' educations, socioeconomic statuses, and ages, the researchers found that team sports were associated with longer life spans. Tennis was associated with an extra 9.7 years of life; badminton was linked to an extra 6.2 years of life; and soccer was linked to an extra 5 years of life. But life spans shortened with solo sports, like an extra 3.7 years with cycling and an extra 3.2 years with running, The New York Times reports.
"Any exercise is better than none," O'Keefe told TIME. "[But] when our physical activity also allows us to play, it basically magnifies the benefits, because you get not only the musculoskeletal and cardiovascular benefits of physical exercise, but you also get that emotional bonding, which turns out to be probably just as important."
And research has shown that social isolation and loneliness isn't good for your cardiovascular health no matter how much exercise you get, TIME reports. In fact, says TIME, researchers have found that you're more likely to have a stroke or heart attack if you don't have a strong social network. "It would be important to maintain existing relationships by meeting family members or friends face-to-face," Christian Hakulinen, professor of psychology and logopedics at the University of Helsinki Finland, told TIME. "Finding people with common interests — for example by joining a hobby [or] club — is likely a good way to make new social connections."
If your social network isn't where you want it to be right now, consider looking for recreational sports leagues you can join or group fitness classes where you might meet some new, friendly faces. Who knows — you might just meet a new friend who'll help you get the most out of your next gym session.